How Gap's Pop Culture Influence Earned it a Kanye Collab
It's catchy ads, brand partnerships and '90s appeal may have played a part.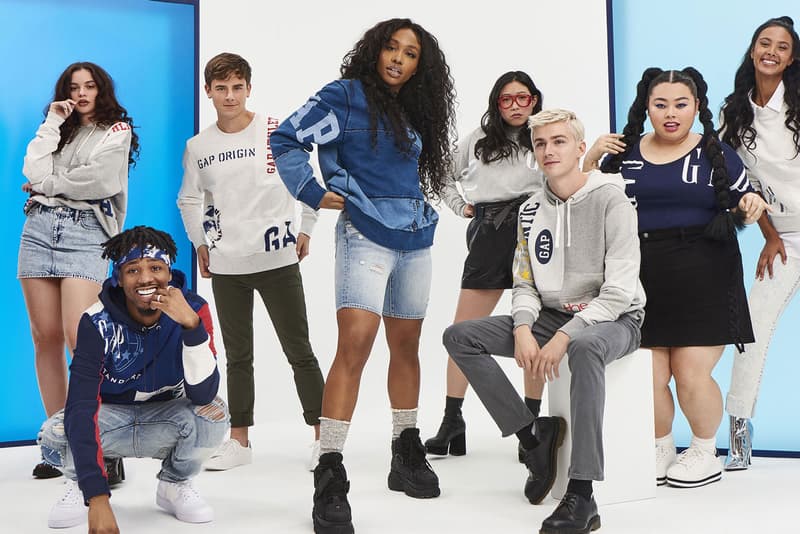 The recent announcement of Gap's partnership with Kanye West's YEEZY label may have left some baffled. West has really only worked with adidas since the inception of his label. Other fashion fans, however, are extremely excited. In terms of cultural cache, both names carry weight. Kanye West is a music icon and profitable fashion mogul whose $1.3 billion USD fortune comes from his clothing and footwear empire.
Gap on the other hand, influenced a whole generation of mall shoppers in the '90s with its trendy casual apparel, accessible price points and preppy cool identity. At its peak in 1999, Gap Inc., which includes Banana Republic, Old Navy and other brands, raked in $11.6 billion USD in revenue. While the company has struggled with sales and customer appeal for the past decade, there was a time when Gap was a money machine and the quintessential clothing brand of the youth.
Gap is an icon in the world of fashion and pop culture. Its celebrity cosigns, influence on streetwear and global store presence make the company an attractive business, despite the current lull in sales. Kanye West working with Gap feels like a seamless partnership given West's celebrity relationships and affiliation to streetwear. Some of the designers Gap previously worked with like No Vacany Inn, John Elliott and Heron Preston are West's close confidants. The mogul is also determined to democratize all his products. This is evident in the rapper's decision to increase the production of adidas YEEZY sneakers, desire to create low-income housing and his idea of designing the perfect hoodie to be available at Walmart and Costco for $60 USD. Fast-fashion brand Gap partnering with Kanye West will make the designer's clothing available to the mass market.
In the 1990s, Gap was the epitome of simple cool with its coveted basics and celebrity-infused ads. Consumers couldn't get enough of the brand's turtlenecks, khakis and jeans, which defined the casual style explosion of that era. Advertisements featuring the likes of rapper LL Cool J, actor Luke Perry and supermodel Naomi Campbell cemented the label's massive pop culture appeal.
Advertising was key to Gap's early success and cultural reach. Its black and white "Individuals of Style" campaign in the '80s featured artists and musicians like Anthony Kedis of the Red Hot Chili Peppers, actor John Malkovich and musician Lenny Kravitz, among others. Annie Leibovitz and Patrick Demarchelier were just a few of the photographers who brought the project to life. The campaign turned Gap into a culturally savvy brand, able to harness the influence of celebs to not only sell clothes but tap into a new "cool" consumers.
As the company grew, the brand relied more on ads featuring influential people. Will Ferrell, Sarah Jessica Parker and Michael K. Williams are just a few names in a long list of actors and actresses that have starred in Gap campaigns. As for musicians, Madonna, Mary J. Blige, Daft Punk and Aerosmith have all performed in a series of commercials for the brand. Rap star Future also appeared alongside Cher for a duet in 2017 and most recently, R&B songstress Sza and producer Metro Boomin showed their dance moves in an ad for Gap's Logo Remix Collection.
Denim was big for Gap. When the company opened its first store in 1969, the shop carried Levi's, one of the hottest brands at the time. An in-house line of denim followed which marked the beginning of Gap as a clothing brand and not just a retailer. Young consumers loved Gap stores in its early days for the fact that they could buy jeans in hard-to-find sizes. Today, 1969 is the company's special line of denim, available in a variety of cuts, sizes and washes with quirky names like, "The Cheeky Straight," "The Mom," "The Girlfriend" and "The Perfect Boot." Gap's turtleneck was a popular product for the brand as well. In 1996, Sharon Stone caused excitement amongst fashion fans when she wore the label's black turtleneck with an Armani blazer to the Academy Awards. The "high and low" ensemble is considered an iconic Oscar fashion moment.
If there was one product synonymous with Gap, it would be khakis. Khakis informed the brand's popular louche style and influenced the growth of the casual basics trend of the '90s. The changing attire in the workplace also contributed to Gap's rise. "Where the Gap really kind of took off was in the casualization of the office," Marni Shapiro, Managing Partner at the Retailer Tracker said. "The last leg of casualization came when people started to wear khakis to work on Fridays — casual Fridays, is the easiest way to think about that."
Gap dedicated numerous ads to khakis. One of the brand's earliest campaigns, "Who Wore Khakis?" featured archive images of Salvador Dali, James Dean, Muhammad Ali and more wearing the popular clothing staple. Gap also ran a number of 30-second commercials all about khakis in the late '90s withtaglines like "Khaki Swing," "Khaki Groove," "Khaki Soul," "Khaki a Go-Go," "Khakis Rock," and "Khaki Country." "Khaki Swing" was one of the brand's most popular TV spots. The visual had dancers wearing the label's chinos performing the lindy-hop set to Louis Prima's song "Jump, Jive an' Wail." The other commercials, "Khakis Rock" featured skateboarders, and "Khaki Country" showcased line dancing cowboys and cowgirls. Gap at this point tapped into a variety of cultures, meshing clothes, songs and dances to exhibit its fun, approachable style. The commercials also helped the company become less perceived by consumers as just a denim brand.
Gap has never been short on cultural clout. While its appeal amongst consumers has waned, other brands and designers continued to form partnerships with the label. In the past decade, Gap sewed itself into the cultural fabric that connected art, fashion and streetwear, adding to the company's cool credibility.
In the late 2000's, Gap pursued collaborations that brought excitement to the fashion and art world. A 2008 artist series made up of T-shirts featured works of renowned creatives. Among them were Jeff Koons, Barbara Kruger, Kenny Scharf, Glenn Ligon and Kerry James Marshall. Popular concept store colette also partnered up with Gap to develop multi-brand product collaborations. The project included a coat featuring French artist André's illustrations, a Kangol hat and a pair of Converse Chucks among others. For Gap's 40th anniversary in 2009, music and fashion icon Pharrell Williams got involved in the celebration with a collaborative capsule consisting of khakis, a T-shirt, hoodie, shoes and a bag.
Gap's knack for connecting with fashion and art subcultures continued throughout the 2010s. Products created alongside Japanese retailer Beauty & Youth, Visionaire, Diaspora Skateboards, Heron Preston and Madbury Club have helped Gap tap into new markets related to street culture. A seasonal "Best New Menswear Designers in America" collection also emerged with men's magazine GQ. Some notable collaborators for the project included John Elliott, Saturdays NYC and Kinfolk. In 2018, Balmain, Opening Ceremony and No Vacancy Inn were chosen under the renamed program, "The Coolest Designers on the Planet." New York City-based creative Telfar Clemens was also tapped by Gap to create a collection but both revealed their work is postponed.
Ultimately, Gap's fate now rests in the hands of Kanye West. With a 10-year agreement, Gap is looking to West's billion-dollar profile to turn things around, but will it be enough? It's still a toss up and we currently only have the rap mogul's redesigned Chicago Gap store as physical evidence of the collaboration. However, '90s nostalgia has also been an integral trend in today's fashion, evidenced by concert band tees, rehashed street styles from rap culture and luxury fashion's ongoing obsession with the decade — look no further than Balenciaga, Prada and Off-White™ for proof. With Gap's nostalgic ethos and Kanye West's cozy, street-inspired looks coming together, the industry could see one of the most successful fashion partnerships in recent history.