Increase of Pink Ice in Italy Spikes Climate Change Concerns
Scientists say it could speed up the glacier's melting rate.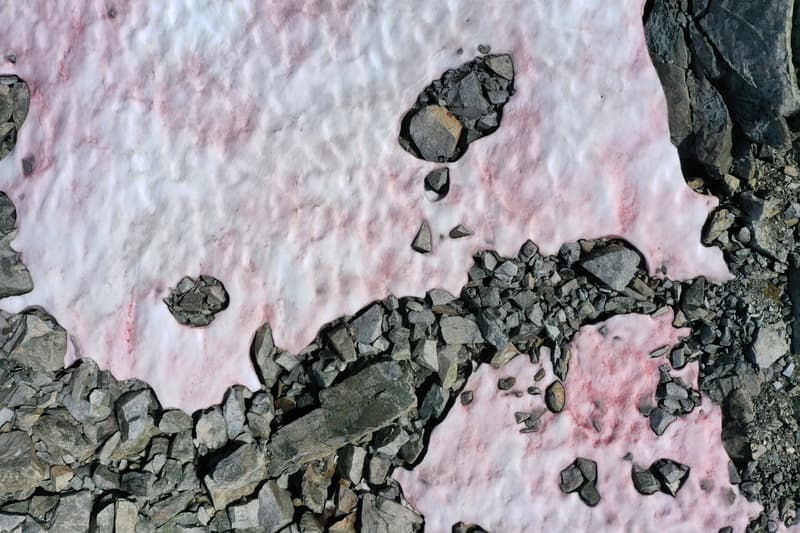 The Presena Glacier in Northern Italy by the Alps now appears pink, which has caused concern among various scientists regarding an increase in the rate of melting and climate change.
According to Biagio Di Mauro of Italy's National Research Council, the alga — also known as Ancylonema nordenskioeldii — is not dangerous in itself, and occurs naturally during warmer months: "The alga is not dangerous, it is a natural phenomenon that occurs during the spring and summer periods in the middle latitudes but also at the Poles." This year has seen particularly low snowfall and high atmospheric temperatures, which Di Mauro says is "the perfect environment for the algae to grow."
Despite not being dangerous, however, Di Mauro worries that the algae will increase the rate at which the glacier is melting. Under normal conditions, ice can reflect more than 80 percent of the sun's radiation, but with the growth of pink algae, which significantly darkens the ice, heat will be more readily absorbed, causing the glacier to melt quicker. "Everything that darkens the snow causes it to melt because it accelerates the absorption of radiation," said Di Mauro.
Tourists visiting the glacier voiced their concerns to The Guardian as well: "Overheating of the planet is a problem, the last thing we needed was algae," said Marta Durante, a tourist visiting the region. "Unfortunately we are doing irreversible damage. We are already at the point of no return, I think."
In other related news, Facebook managed to use 86 percent renewable energy in 2019.
A glacier in Italy is turning pink. The color is caused by algae growth — and scientists worry it will make the glacier melt faster, because darker colors absorb more radiation.

Past studies report 50% of ice in the Alps' glaciers will be gone by 2050 because of climate change. pic.twitter.com/cgGwWQcG81

— AJ+ (@ajplus) July 7, 2020