Best New Tracks: Drake, Joey Bada$$, Lupe Fiasco, BENEE & More
10 new musical offerings that you need in your life this week.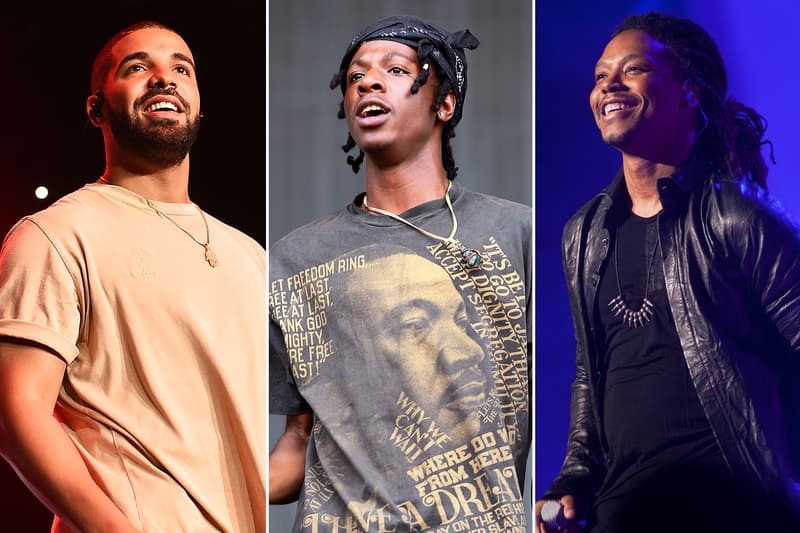 As the week in music comes to a close, HYPEBEAST has rounded up the 10 best projects for the latest installment of Best New Tracks.
This week saw Drake return in the form of two new singles helmed by DJ Khaled. While "POPSTAR" and "GREECE" both echo the never-ending opulence and constant victory laps that are conjured in the world of the "We The Best" producer, Drake does offer enough in the vocal department while experimenting with pitches, melodies and flows to hold us over until his inevitable sixth studio album drops later this year. Joey Bada$$ made his long-awaited solo return with a three-song EP while partaking in a traditional voodoo ceremony captured by Kerby Jean-Raymond. He decries mumble rap, harkens back to his favorite golden-era of 1990s hip-hop and collaborates with Pusha T. Elsewhere in the music world, Lupe Fiasco and Virgil Abloh teamed up on a new song and rising Flint-born, Houston-based rapper/mailman BfB Da Packman made McDonald's corporate front office furious over his hilarious new music video for "Made Me Mad".
Tap in for the full rundown of HYPEBEAST's latest Best New Tracks below.
---
Drake & DJ Khaled – "POPSTAR"
Drake's gearing up for his first studio album since 2018's Scorpion. He's dropped off a number of projects to hold his fans over like last year's Care Package and May's Dark Lane Demo Tapes, both solid but full of songs that either leaked or were dropped off in previous years. For his latest effort, the Canadian superstar teams up with DJ Khaled for two promotional singles ahead of Khaled Khaled in "POPSTAR" and "GREECE". "POPSTAR" is filled with forward motion and would be an undeniable club anthem if people were encouraged to actually go outside. Drake toys with a slurred yet melodic delivery, each bar blending into the next as he details the lifestyle that comes with being a pop-star. This isn't a pros and cons Drake verse either — "POPSTAR" lacks all melancholy to keep in DJ Khaled's lane. For that, you'll have to wait for Drake's next full-length, promised to release later this year. For now, "POPSTAR" will suffice.
Listen: Spotify | Apple Music
---
Joey Bada$$ – The Light Pack
Joey Bada$$ made his long-awaited return by participating in a traditional voodoo ceremony for his "The Light" music video directed by Kerby Jean-Raymond. It's his first solo offering since 2017's All-Amerikkan Bada$$ and follows his involvement in the hip-hop supergroup Beast Coast compilation album. What resulted was his three-piece The Light Pack where he raps about getting his mojo back, gets into the "Top 5" rappers of all-time conversations, and demands "mumble-rap extermination." In his quest to bring back 90s golden-era hip-hop, Joey can at times cross into the pedantic, but his flows are always varied and his intentions always pure. He taps Pusha T for "No Explanation," and their chemistry alone is reason enough to revisit this short but sweet offering.
Listen: Spotify | Apple Music
---
BENEE – "Night Garden" ft. Kenny Beats & Bakar
Rising 20-year-old New Zealand pop singer-songwriter Stella Rose Bennett, better known throughout the music world as BENEE, tapped Kenny Beats and Bakar for a high-profile collaboration titled "Night Garden." While her last single "Supalonely" got a major push from TikTok, BENEE proves that she's so much more than the backing to cringeworthy sub-30-second internet videos made by adolescents bored in quarantine. "Night Garden" is seriously smooth and Kenny's production is refined and minimal to give BENEE the entire spotlight.
Listen: Spotify | Apple Music
---
Lupe Fiasco – "Shoes" ft. Kaelin Ellis & Virgil Abloh
Lupe Fiasco's upcoming collaborative project with producer Kaelin Ellis wouldn't have happened had he not checked his DMs on Twitter. The duo's soon to be released HOUSE EP kicks off with "SHOES" featuring a spoken word piece from Virgil Abloh. While Lupe delves into sneaker culture, the track ties in the current Black Lives Matter movement and nationwide protests. Abloh describes the hypothetical design behind shoes that Ahmaud Arbery was wearing when he was murdered. The jazz-undertones matches the vintage cover art inspired by old Columbia Records blues albums. HOUSE premieres July 24.
Listen: Spotify | Apple Music
---
BfB Da Packman – "Made Me Mad" ft. Dice Soho
As recent as last month, Flint, Michigan-born and Houston, Texas-based rapper BfB Da Packman was working a 9 to 5 as a mailman living a normal life that included picking up his kids from school and being chased by dogs while in work clothes. It's only when he hits the booth that he transforms into one of the year's most dynamic rappers — he's a king of one-liners, his verses are packed with unexpected twists and turns and full of humor. Last month he connected with Sada Baby for "Free Joe Exotic" where he waxes about his low self-esteem while showing off his belly fat. "My b*tch about to leave me 'cause I'm built like Patrick," he raps. On "Made Me Mad," BfB continues his winning formula, wearing a mask at McDonald's while ordering a Filet-O-Fish and filming the rest of the video in the parking lot. "I bought these clothes from Walmart, is they really fly?/ Saw Boosie arguing with Webbie and it made me cry," and "My kids kinda ugly, had to ask her, 'Is they really mine?'" Given the status of the Trump administration defunding the Postal Service ahead of November's election, the one silver-lining could be BfB focusing on his music full-time.
Listen: Spotify | Apple Music
---
Problem – "Don't Be Mad At Me" (Remix) ft. Freddie Gibbs & Snoop Dogg
Veteran Compton, California rapper Problem dropped his latest extended volume of work with Coffee & Kush, Vol. 1 earlier this year. Now he's returned with his "Don't Be Mad At Me" (Remix) featuring Freddie Gibbs and Snoop Dogg. The running theme here is each rapper getting their respective love interests to forgive their misdeeds (even if it sounds like there isn't an actionable plan to change in the future). On the "Don't Be Mad At Me" (Remix), each rapper is over 35 and still bring more-than-solid verses to the track. 2020 has really been a year defined by a veteran presence in the hip-hop world — just comb through HYPEBEAST's The 25 Best Albums of 2020… So Far recap for more proof.
Listen: Spotify | Apple Music
---
Kenny Mason – "Give" ft. Deante' Hitchcock
Atlanta rapper Kenny Mason dropped one of the year's best debuts with his hard-hitting, experimental and emotive Angelic Hoodrat. Fellow ATLien Deante' Hitchcock also made his memorable debut with BETTER. On the surprise single "Give", the two connect through an addicting soul-backed loop with brief horns hitting every few bars. Deante' injects his energy with themes of the loss of innocence, his stance on religion and more. Toward the end of Kenny's verse he's rapping double-time without a breath to spare throughout the internal rhymes. "All my boys done been…/ Raised by bullies and grazed by bullets/ In a neighborhood where *** gave out goodies/ Got 'Paid in Full'/ Ate a full plate out ovens/ While everybody who stayed in school ain't got money," he raps.
Listen: YouTube
---
Bladee – 333
After collaborating with Yung Lean on "Opium Dreams", Stockholm's own Bladee returned earlier this week with his surprise album 333 featuring executive production from Whitearmor. Bladee has always been an adept world-builder, filling his songs with sonics singular to his multi-layered inner-life. 333 hides moments of melancholy with upbeat instrumentation (see "Mean Girls") and delves into the grips of toxic love. Even with all of the lovelorn echoes and teetering on the edge of heartbreak, Bladee's latest is a sweet surprise.
Listen: Spotify | Apple Music
---
The Twilite Tone – "Do It Properly"
Anthony Khan, also known as the veteran producer and multi-faceted musician The Twilite Tone, returned earlier this week with his new single "Do It Properly" out via Stones Throw Records. The synth-heavy track is described by Khan as an "ever-evolving suite" that harkens back to different eras like the 1980s — where he originally got his start by linking up with Common as his DJ and connecting with No I.D. While there's an overarching nostalgia on "Do It Properly", Tone adds modern touches throughout for something that's truly original. He's been operating behind the scenes for decades helping craft hits like Kanye West and company's "Mercy" and collaborating with Gorillaz. His solo Stones Throw effort will push him into the spotlight when it drops later this year.
Listen: Spotify | Apple Music
---
Pink Sweat$ – The Prelude
Philadelphia artist Pink Sweat$ returned late this week with his new Prelude featuring six new tracks. The project is his Atlantic Records debut and finds him meld his R&B sensibilities with some upbeat pop. His visual for "Icy" shows off his star-power through fish-eyed lenses capturing his journey through Los Angeles's sun-filled streets. He breaks out into some choreographed dance numbers and rollerblades down vacant streets. "Thank you for your support and patience this artwork represents a lot of things and say to you dare to dream dare to think that you are good enough believe in the impossible," the artist stated on Instagram. Expect more from Pink Sweat$ coming later this year.
Listen: Spotify | Apple Music
---