What Max Means to Me: A Nike Air Max Day Roundtable
Don C, Aleali May, Salehe Bembury, Steven Harrington, Patta's Edson Sabajo & Gillaume Schmidt and more share their personal Air Max stories.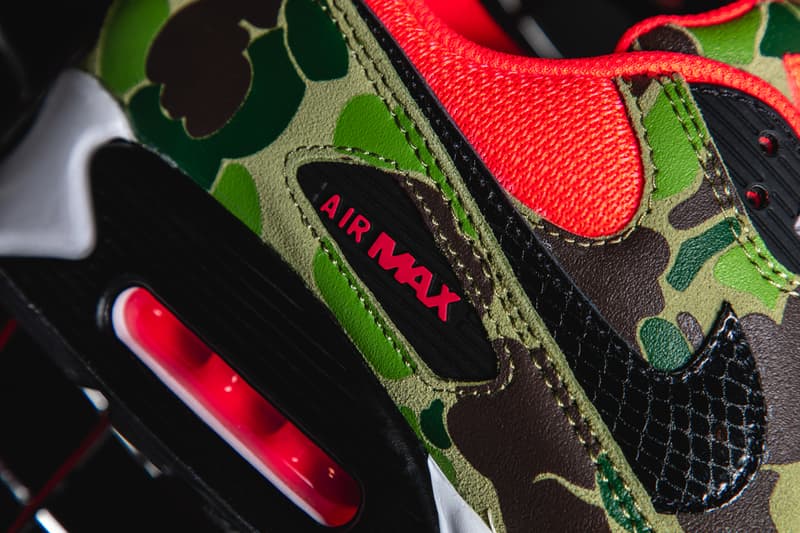 Footwear changed immeasurably on March 26, 1987, when Nike introduced the Air Max 1 — the first-ever shoe with visible Air cushioning. Inert gas encased in flexible polyurethane plastic, Air Max was created by aeronautical engineer M. Frank Rudy to serve as a springy, responsive cushioning setup for runners, and had been encased in Nike's midsoles since 1978's Tailwind. When Rudy's tech was first made visible by the Tinker Hatfield-designed Air Max 1 however, it transcended its performance-geared purpose to become a pillowy pillar of sneaker history.
Now, more than three decades later, Air Max is the most recognizable athletic footwear technology in the world. It's a bubble that's never burst, and only continues to expand — setting down deep roots in metropolises of culture, from New York and London, to Amsterdam, Tokyo and beyond.
What makes Air Max so impactful from a cultural standpoint? The answer is simple: its stories. Creatives from all walks of life — designers (both at Nike and elsewhere), musicians, artists and tastemakers — have deeply personal connections to Air Max, borne of childhood desires, cultural status, hyper-local backstories and more. These stories are all unique in their own regard, but all have one common thread: the influence and impact that the technology had (and still has) on them as they continue to be written.
Nike knows the gravity and significance of these tales, so since 2014 it's celebrated the "birth" of visible Air with an annual Air Max Day celebration. Past iterations of this "holiday" have seen everything from commemorative versions of the original Air Max 1 and a "Vote Back" event that let fans select a favorite Air Max to return from Nike's archives, to a "Revolutionair" design contest that let a new generation have a shot at stamping its name in the annals of Air Max. Max itself has evolved as well: the now-omnipotent VaporMax launched in full on Air Max Day, and this year we saw the official arrival of the Adapt Auto Max, the first-ever mass market Air Max shoe with power lacing technology.
Air Max Day has become a cultural event, and to celebrate its seventh anniversary we've tapped more than a dozen luminaries of sneaker culture to discuss what Max means to them. From high-fashion house footwear designers to pro skaters and lauded collaborators who've created some of the most desirable Air Max silhouettes of all time, and even some of HYPEBEAST and HYPEBAE's own editors whose job entails telling the story of Air Max day in and day out: these are the people that have shifted, shaped and — above all else — held Air Max aloft as a paradigm of sneaker culture.
What's your favorite Air Max, silhouette or colorway, and why?
Don C (Founder/Designer, Just Don): The one that comes to mind is the Air Max 90 "Infrared." That, and the OG Air Max BW. I [came up in] the '90s, so I gotta go old school. Those two come to mind initially, but I also love the OG Air Max 1s and the Air Max 95s. Back in 95, [the Air Max 95s] were made perfectly. Ever since then, they haven't made 'em the same though — they're real wide.
Hirofumi "Koji" Kojima (Director, atmos): The Air Max 1 is my utmost favorite silhouette. It is a classic, and the design is simple and practical. It's the ultimate "basic" model. That's why there are so many Air Max 1s in the [ongoing] collaborations between Nike and atmos.
Salehe Bembury (Vice President of Sneakers & Men's Footwear, Versace): The Air Max 95, especially the OG "Neon" — it's a classic like Blue Magic. There are few times in footwear where a designer can achieve the perfect shape. In the case of the Air Max 95, Sergio Lozano did just that. There have been footwear silhouettes that I loved during my childhood that lost their allure into my adult years (ex: Air Jordan 11), however, the Air Max 95 has withheld the test of time. Juxtaposing a flawless shape with an iconic color execution made the AM95 an instant favorite of mine.
In the '90s there was rarely a sneaker that looked equally as good with sweatpants as it did with jeans. The Air Max 95 was that sneaker that you wore to be active, get fresh, or be comfortable … potentially all at once.
Thibo Denis (Head Footwear Designer, Dior): [The] Air Max 95. I grew up in the suburbs of Paris, and we were all obsessed with [Air] bubbles. The 95 was the first time you could see those bubbles in the front part of the sole. Also, the colorways were so nice — the "Neon" is iconic. I also have massive love for the Air Max 95 "Mowabb" from 2004.
Edson Sabajo (Co-Founder, Patta): Air Max 1, Air Max 90, Air Max Light, Air Max 93, Air Max 94, Air Max 95, Air Max 97, Air Max 98 and Air Max 2014, 'cause they're all fly and comfortable.
Guillaume Schmidt (Co-Founder, Patta): There have been endless good make ups of the Air Max 1: The "Curry," the atmos Purple Check and the "Albert Heijn." As you can see, that's a hard choice. And let me add in the slept-on grey and teal JP AM1, it's a gem.
Aleali May (Designer/Stylist): The Coral Studios Air Max 95. [It's] inspired by coral reefs, with fluorescent accents and ombré blue [shades inspired by the] sea surface to the dark sea floor. Proceeds were donated to the Great Barrier Reef Foundation. My friend Ish, who designed the shoe, is from Harlem, New York, where the Air Max 95 is a staple in any Uptown-goer's closet.
Adrian Carter (Marketing Director, UNDEFEATED): My favorite Air Max silhouette would be the Air Max 95. I distinctly remember when that shoe released and how that particular style impacted the area I grew up in [Washington, DC/Maryland]. The choice footwear when it comes to running shoes in the DMV has always been New Balance. The AM95 penetrated that tradition and was cemented a classic going forward. I was always intrigued by that.
I was also amazed at the versatility of the gradient grey design that allowed many different pop colors to exist on this shoe. Sergio Lozano was truly in his bag when they finalized the shoe design and colorway.
Steven Harrington (Artist): If I absolutely "had" to choose a favorite Air Max silhouette then it would be the Nike Air Max 1. It all started with the Air Max 1. Not only is it a timeless shoe, but it's comfortable, authentic, and you can wear it with just about everything. As boring as it sounds, the Air Max 1 OG "University Red" is still one of my favorite colorways — plus they even look great when they're beat to shit. You can run them into the ground and they get better and better (I'm not the greatest at keeping my kicks crispy).
If I had to choose my favorite "wearable" colorway it would be the Air Max 1 "Master" in black — it's probably my favorite Air Max 1 design of all time. I love the detailing, love the colors, and overall love the story/heritage. And lastly, if I had to choose my favorite "shelf" colorway then it would be the Air Max 1 "Susan." I'm a big stop-motion animation nerd and they were created to celebrate the animated movie Missing Link. I was sent the friends-and family pair, which has this crazy 3-D rendered toy fur under the laces and is super rare.
Ju Working on Projects (Artist): My two favorite Air Max silhouettes are the Air Max 180 and the Air Max Triax 94. A lot of my enthusiasm behind sneakers stems from what I was wearing when I was a toddler in the early '90s. I keep a pair of Triax that my buddy Ben Kirschner gave me hanging in my art studio since the soles started crumbling.
Ishod Wair (Pro skateboarder, X Games athlete): My favorite Air Max silhouette would have to be the Air Max 95. They're just cool. I like how they use the gillies and there's a lot of different colors they can play with the shoe — plus it's a little chunky.
Dashawn Jordan (Pro skateboarder, X Games athlete): The Air Max 1 "Anniversary Red." The color scheme is my favorite aspect of the shoe. The overall tone of the shoe looks clean and the colors go together really well.
My favorite Air Max collab is Sean Wotherspoon's Air Max 1/97 . The colors pop without making it look too crazy. Even though it's super bright, it's still a neutral shoe that you can wear with a lot of fits. I think it gives off Easter vibes because of the color scheme, and is naturally positive — which is everything I'm about.
James Whitner (Founder, Whitaker Group): The OG Air Max 1 is my favorite, because it's the first one I bought with my own money back in my Nautica sweatshirt and Air Max 1 days. Or the OG black and purple Air Max BW.
Liz Beecroft (Mental Health Therapist): I'm a big fan of the Air Max 180. It's a clean silhouette and I love the fact that it was collaborated on by both Tinker Hatfield and Bruce Kilgore. It's also a sneaker that really impacted art and culture with its Kanye West and Eminem associations.
The CDG x Air Max 180 is an all-time favorite. I feel like that particular collab gave a refresh to the 180 silhouette, regaining the attention of many people. An honorary mention would be the Patta x AM1 "Chlorophyll.". Patta usually wins in the collab front for me.
Robert Marshall Jr. (Managing Editor, HYPEBEAST): The Air Max Tailwind 4. It just has a special place in my heart.
Ross Dwyer (Associate Footwear Editor, HYPEBEAST): The Air Max 90 "Warhawk." As a kid, I was fascinated with history, especially World War II and its fighter planes. Needless to say, the first time I saw the "Warhawk" I was instantly transfixed. It's an amazing combination of past and present passions for me, plus it's so visceral with those sharp teeth on the forefoot.
Zarah Cheng (Editor-in-Chief, HYPEBAE): My favorite would have to be the Air Max Plus. There isn't really a profound reason why, but I just love the aesthetics of it. It feels so genuinely nostalgic and it's one of those shoes that has the potential to go from zero to a hundred in a flash – I've seen some that are very subdued and muted, which is typically what I prefer, and also others that are very flamboyant. Not to mention, it's just a really comfortable sneaker.
What was your first pair of Air Maxes?
Don C : Man … probably the Air Max 95 "Neon." I don't think I really wore Air Max before then. I was more into Jordans and other basketball shoes. So I didn't really get into Air Maxes until high school, where it wasn't about basketball — it was more about what looked fresh.
Hirofumi "Koji" Kojima: The Air Max 95. It's a legendary silhouette that started the sneaker boom in Japan, and I was crazy about it.
Salehe Bembury: My first pair of Air Maxes was the Air Max Sensation. This was a time where most basketball sneakers were pretty clunky, so this sneaker broke the mold. The toe and Swoosh also made it very unique for its time. I strangely remember Marcus from Smart Guy wearing them a lot. They were a big part of '90s basketball culture and sitcoms. At nine years old I thought I was going to the NBA and studied every sitcom, so this shoe represented a lot for me.
Thibo Denis: An Air Max BW, bought in Andorra.
Guillaume Schmidt: In the mid '90s, I went to Beverwijk (a town in the Netherlands, famed for its "black market") to get triple black joints. All whites are also a staple that I remember as first joints.
Aleali May: The Air Max 90.
Adrian Carter: The Air Max Triax.
Steven Harrington: That's a good question! I have so many pairs of Air Maxes at this point, but it definitely started with the AM1 — I think first was the OG "University Red".
Ju Working on Projects: The Air Max 180.
Ishod Wair: The Air Max 90s. I'm not exactly sure what color they were because I got a couple pairs at the same time.
Dashawn Jordan: I actually created my first pair of Air Maxes on the NikeID app. I customized some Air Max 95s and rocked those for a while. After that, I started digging into the history of Air Maxes and became a super big fan of the Air Max 1s.
Liz Beecroft: My first pair was an Air Max Plus from … I want to say, 2000? They were grey, navy and white. All the kids in grade school at the time were wearing them and I begged my parents for a pair right out of the Eastbay catalog.
Do you have a fun (or maybe not so fun) early Air Max memory you can share?
Don C : I was like 14 or 15, and my dad took me to Korea. I went to this shopping area in Seoul called Itaewon and went crazy on video games and sneakers. I got some Air Tech Challenges and the Air Max 93. I came back stunting, cause people in Chicago didn't really have [either of those shoes]. That was one of my first big stunts.
Salehe Bembury: I really wanted the Kevin Garnett 2 (Air Flightposite 2) when they released. A friend told me that if I popped the Air bubble [on my shoes] with a needle and sent it back to Nike they would send me the Air Flightposite 2s, no questions asked. I thought his story was bogus and it took some convincing, but I did it — and he was right! About four weeks later, a brand new pair of size 12 Air Flightposite 2s were at my doorstep.
Thibo Denis: [When I was young] it was kind of my dream to get a pair with "bubbles," though they were mega expensive at the time. I managed to convince my dad to stop in Andorra on our way to Spain for vacation, where [shoes] were much cheaper. I kept that pair for so long.
Edson Sabajo: Getting pairs in the Beverwijk black market — some leather joints from these dudes who also had a shop in the east of Amsterdam. It was amazing, they had [every color], strictly leather, no mesh. We can talk sneakers all day though … It's one of my four hobbies.
Guillaume Schmidt: I had a pair of "Albert Heijn" Air Max 1s, they got stolen. You can imagine that I still dread that. Love to all the haters, but bad karma to the thief.
Aleali May: My aunt Laura bought [Air Max 90s] for me my freshman year of high school. She used to wear BAPE and dress so 2000s, I loved it. The Air Max 90s she bought me were white with red and had embroidered gold leafs toward the back. I remember it was spirit week and for the school's spirit day assembly, I rocked my 90s (pun intended) with a whole Roc-A-Wear fit. From the vest to the shirt and carpi starch denim pants and baby hairs laid, I felt like I was the freshest in the school that day.
Adrian Carter: I actually have a not-so-fun story to tell. Back when I was younger and far more invested in collecting footwear, I remember a time that forced me to turn away from the footwear community — as I was scammed by someone I thought was an ally. After multiple transactions, the biggest one fell apart and I lost out on a pretty solid return. All of the pairs in question were Air Maxes. In short, I got got.
Steven Harrington: I used to run cross country back in high school and I always used to think the Air Max 1 was such a "dorky" shoe. It reminded me of Forrest Gump or Seinfeld or something. All I knew is that it was comfortable and functional. Now in looking back, it's so funny to see how much culture has embraced the shoe and how it remains so relevant and timeless.
Dashawn Jordan: I used to steal my sister's Air Maxes because she was a big sneakerhead. I would sneak into her closet and grab them before I went out. Most of her shoes were unisex so my homies and cousins couldn't tell that they were actually my sister's. I used to do it all the time until she caught me and got mad. I understood but like … I was trying to look fresh!
James Whitner: When I was young [my family was] broke and my mom couldn't afford Air Maxes. My cousin gave me his BWs. They were too small and I still pulled the pad and squeezed my foot in them. Those are still my favorite to this day.
Liz Beecroft: One (not so fun) memory I have is being in high school and wanting a pair of the Air Max 180 Easters around 2006. I think I was in 8th grade when they came out. I was a fan because of the easter egg on the tongue. I tried so hard to save and get the money for them but by the time I had enough, my size was gone. To this day I still want them.
Robert Marshall Jr.: Man, the reason why I love the Tailwind 4 so much is because I didn't really get a chance to enjoy the ones I had back in the early 2000s. I was in high school then, and I had two pairs: one got swiped from my gym locker, along with my Track & Field trainers. The second pair then became my practice shoes until I could convince my mother to cop me a new pair — that took awhile, so I cooked the second pair. I stopped seeing Tailwinds after that, because Nike booted them out of production up until last year.
Ross Dwyer: In 2006, I mowed lawns all summer to buy a pair of Air Max 360s, the classic gray and blue colorway. That was the first really nice pair of shoes I'd ever owned and I absolutely adored them, especially because I'd worked so hard for them. Shortly thereafter, I got my first real job working in a chain sneaker store. In my first month there, I stepped on a sensor pin and popped the left shoe's cushioning unit. As you can imagine, I was absolutely heartbroken — and I'm still looking for a replacement to this day.
Zarah Cheng: It's a little embarrassing, but it was the Air Max Thea in "Triple White." For years and years, I only wore Dr. Martens boots. When I first started getting into sneakers without really knowing about the culture, I remember seeing the Air Max Thea in a Nike store and thought it was just the sleekest, coolest shoes I'd ever seen. That was sort of my gateway sneaker into discovering unisex silhouettes like the Air Max 90 and Air Max 1, which have similar shapes to the Thea, but are more transcendent when it comes to gender expectations.
What does Air Max mean to you?
Don C : On some real stuff, when I was coming up [Air Max] always cost more — they were the most expensive Nikes. If you had Air Maxes, you were really stunting your paper level as a teenager. That exposed Air Max bubble is like the [Mercedes] S-Class of Nike.
Hirofumi "Koji" Kojima: Air Max is a big part of my life. When I was about 15 years old, I got hooked on sneakers because of the Air Max 95 boom [in Japan]. After that, I started working in the sneaker industry as a 19-year old, and began working for atmos in 2000 — I'll have been working for atmos for 20 years this year. I grabbed my Air Max dream. atmos's Air Max 1 "Elephant" was selected as the winner of [2016's] Air Max Day "Vote Back" event. It's like a gold medal for someone working in the sneaker industry, and I'm very honored by it. [Thanks in part to Air Max], atmos and my name has spread to the world.
Salehe Bembury: Air Max represents innovation at its finest. Footwear creation is primarily about design-led problem solving, and using air to contribute to comfort solutions is an inspiring display of this. Rarely do we see footwear brands create something new in the [athletic footwear] space. It's even more rare for this creation to spawn an ancillary business. Air Max is the epitome of the classic model of problem, insight, innovation and solution.
Thibo Denis: It means a lot. [Air Max is] the reason I became obsessed with Nike in general. Again, it all comes back to the bubbles — and [Air Max] was such an obsession [when I was young]. With age, I've grown to appreciate the Air Max 1 more and more, and now I'm looking for [unheralded] Air Max silhouettes that never became so iconic or popular. So many good designs.
Guillaume Schmidt: It's the staple of the city [Amsterdam, where Patta is based]. Let's put it back in its spot at the top.
Aleali May: Air Max represents the start of a new history for sneaker culture. It's amazing how much influence the Air Max has had through time. I feel it's a part of the genetic makeup for not only Nike but the sneaker industry as a whole. I think it also represents the creativity of people and technology together. It's classic and informative, it's the past and the future.
Adrian Carter: Air Max signifies one of Nike's most impactful solutions to a function we utilize daily. Whether running or walking, Air Max is one of the most historic ongoing catalogues in footwear technology.
Steven Harrington: Air Max is the perfect balance of comfort and style. Not only are they one of the best products in the world, but they also last forever.
Ju Working on Projects: Nike Air Maxes reflect the synchronicity of art and athletics. Visible air in a shoe — who would have thought?!
Dashawn Jordan: Two words: staple and culture. Air Maxes are a huge staple in sneaker culture. Everyone knows about Air Maxes, and everyone has at least one pair. You don't have to be a sneakerhead to know that Air Maxes are sick.
James Whitner: Air Max is about owning your own voice. Air is authentically Nike, and one of the things that is undisputedly their own. When I think of that, it pushes me to be authentic to myself and own my voice and narrative, my passion and my message.
Liz Beecroft: Air Max means innovation; being ahead of the curve and pushing boundaries to stand out from the rest, whether that be through sneakers or using one's imagination to create something that hasn't been done yet.
Robert Marshall Jr.: Innovation. What has been more revolutionary than walking on air?
Ross Dwyer: Endless possibility, boundless technical innovation and deep cultural significance.
Zarah Cheng: Air Max means legacy. Heritage silhouettes are brought back and refined, are continuously updated and modernized – while still treating the original designs with respect. Nike continues to write and rewrite sneaker history with Air Max innovation.
What model or colorway should Nike bring back?
Don C : I'd like to see some basketball Air Maxes: Barkleys, the Air Force 180 — they were all so lit!
Hirofumi "Koji" Kojima: Because I like the Air Max 1, I want to see the Air Burst release again.
Salehe Bembury: The Air Max 180 "Opium." That is still one of the hardest colorways ever.
Thibo Denis: I love the Air Max 96 II.
Edson Sabajo: Air Aces, Delta Force Highs and Lows, Air Flights, Lady Vectors, Columbias. I mean, the list goes on. More early '00s shoes, I guess. Plenty of pairs in the catalogue.
Guillaume Schmidt: Air Max 2015 all day.
Aleali May: I love the Supreme x Nike Air Max 98 "Snakeskin." They should definitely re-release them in smaller sizes so the girls can flex! It's that perfect play on [the style of] shoe you'd see your older brother or your neighborhood hustler wear. With the silver mesh upper, it [looks like a] high-end Prada sneaker.
Adrian Carter: The Nike Air Max2 94 and the Nike Air Max 96…the right way, SMH.
Steven Harrington: I've always wanted a pair of the OG Air Max 1 "Safari," the original ones that [Nike] first released with atmos. I'm not talking about the weird re-release with yellow Big Bird fur on the toe — I never really understood the new yellow fur! That said, I'm also really excited about watching where things go next. I've been loving all the latest innovations recently: Air Max 720, Air Max 270, Air Max 270 React, Air Max 270 Bowfin. Massive shouts to product designer Dylan Raasch up at Nike working on all the latest creations. He's like the modern day Tinker Hatfield and always excited to see what he thinks up next!
Ju Working on Projects: I think that Nike should bring back an aged Air Max 180. A "Game Worn" version.
Dashawn Jordan: Nike should bring back the 2005 Parra x Air Max 1 "Amsterdam." Parra did a Nike SB collab recently, which got me interested in some of his other work. I did a little digging on his past shoes and these got my attention right away. Orange is one of my favorite colors so it's always going to catch my eye. But I'm a big fan of how he used all of the bright colors together: the blue, orange and yellow pop.
James Whitner: Bring back the OG BW, the right way.
Liz Beecroft: The 2004 Air Max 90 "Premium Crepe." The textures are insane.
Robert Marshall Jr.: Hmmm…you know, I wouldn't mind seeing the Sunder make a come back, especially some of those ACG versions that had GORE-TEX uppers.
Ross Dwyer: The Air Max Light 3. It's a little before my time, but it's just a wild interpolation of styles: little bit of tech, little bit of "dad," plenty of zig-zagging accents, all the underrated mid-'90s Max goodness you could ask for.
Zarah Cheng: The Air Max 360 II.
---
Be sure to share a photo of your Air Max collection or one of your favorite cops on Instagram with the hashtag #hypebeastairmaxday, and we just may share your photo with our followers. Happy Air Max Day!