A Film Review of Kanye West's 'Jesus Is King'
Preaching stillness before the storm.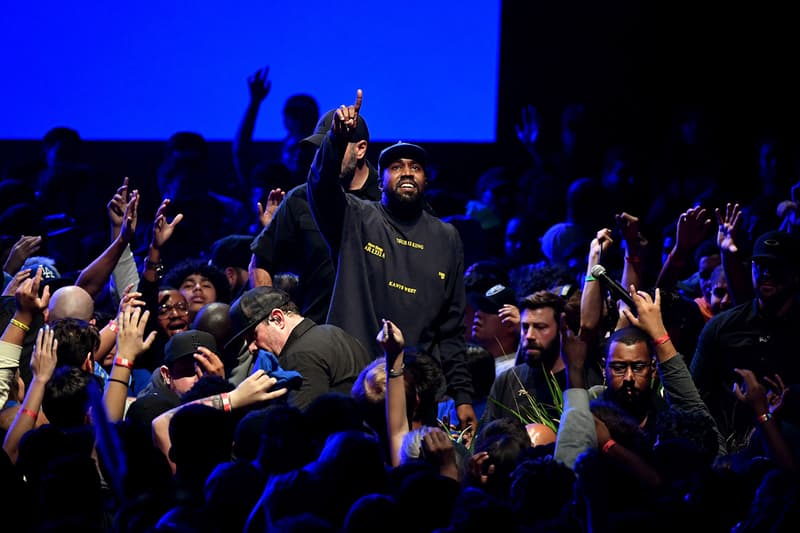 The last time Kanye West delivered new music was just over 500 days ago. Since then he's continued his ongoing battle with bipolar disorder without the aid of medication. He settled an eight-month-long dispute over publishing rights with EMI. There was an entire project's worth of potential Yandhi songs leaked to Spotify under a tongue-in-cheek all-caps pseudonym. He even attempted to tackle low-income housing with DIY dome structures on a roaming Calabasas property.
Now Kanye returns to Christianity.
The Jesus Is King IMAX experience is both beautiful and efficient. Kanye appears on screen for short intervals of time, instead delegating most of famed fashion-photographer-turned-director Nick Knight's symmetric, circular shots to the setting: artist James Turrell's Roden Crater installation in Painted Desert, Arizona. Every frame is on the verge of being screen captured into your next desktop background. The lighting is natural, the shots static and minimal, and the runtime at just over 30 minutes, mirroring Kanye's 2010 Runaway short; but not an avant-garde plot-driven affair like its predecessor. The theater was surprised to see the end credits so soon.
In the 15 years since "Jesus Walks," Kanye has transitioned from soul and gospel samples, collaborating with a lone violinist to conducting his own personal choir. He telestrated the move alongside his pastel purple entourage during his Coachella Sunday Service performance. Kanye revisiting scripture fits right into the current era where Fear of God-clad pastors are considered influencers. But Jesus Is King's tone is both hopeful and redeeming. It doesn't quite align with his politics but will surely deliver an uplifting sentiment heading into the holiday season — right before Kanye's next Jesus Is Born project releases on Christmas Day.
For all of the chaos and contradiction in Kanye's past two years, 'Jesus Is King' offers up a half-hour meditation — an attempt at stillness.
One of Kanye's most redeeming traits is his ability to deliver unwavering vulnerability. Even if he appears to tread backwards or stand firm in the face of self-inflicted controversy, his reflection and personal growth will always retain a loyal fanbase (and for good reason). Kanye's impromptu adaptation (like the 'Shot on iPhone' album artwork for Ye) to whatever inspiration enters his ever-aware and sometimes-manic orbit is as signature here as ever. His non-secular pivot doesn't appear to be fleeting. As everything Kanye does, it shines as authentic, even if the Blade Runner-esque typeface on the Bible scripture cards doesn't necessarily serve as a good fit next to Knight's photography.
The Jesus Is King documentary is a wonderful companion to Kanye's ninth solo studio album. He revisits 808s & Heartbreak's "Street Lights" while literally sweeping the floor in a single shot reminiscent of Tom Sach's 'How To Sweep' YouTube tutorial. In another frame, a close crop of his aging hands holding his infant son Psalm is paired with soft lullabies. For all of the chaos and contradiction in Kanye's past two years, Jesus Is King offers up a half-hour meditation — an attempt at stillness. Now onto the rush for stadium tour tickets, regional merch, and that Kenny G collaboration.
"JESUS IS KING"
Midnight pic.twitter.com/EMYldzBXCU

— ye (@kanyewest) October 24, 2019
For deeper insight into Kanye West's current mindset, watch his recent two hour conversation with Zane Lowe, and check out the latest in his seemingly never-ending Jesus Is King merch drops.