JJJJound's Newest BAPE STA Collab Dazzles In This Week's Best Footwear Drops
Alongside the Air Jordan 7 "Olive," ADER error x Converse Chuck 70, Nike LeBron 7 "FAMU" and more.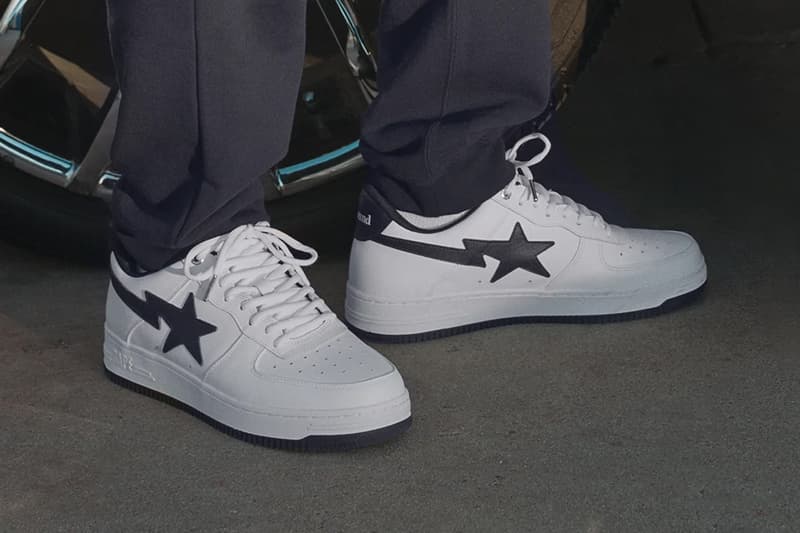 Footwear brands have spared no time in cutting to the chase in 2023 with Nike and its subsidiaries, New Balance and Reebok set to make noise with a wide variety of launches. However, let's first recap what news hit the web this past week before we break down where to spend whatever holiday money remains in the first 2023 installment of Weekly Footwear Drops.
In our latest edition of Sole Mates, the Hypebeast team connected with former University of Oregon football player Garren Strong. Strong shared the story of Phil Knight hooking him up with his first internship, his adoration for the Air Jordan 1 and his coveted collection of Jordan Brand PEs. Elsewhere, the Hypegolf team rounded up its favorite golf shoes of 2022.
Pivoting to what brands had in store for sneakerheads, Nike revealed its 10 most popular releases of 2022 on SNKRS. Rumors of a Nike SB Dunk "Heineken 2.0" also popped up while early looks at a Nike SB Dunk Low Pro "Wheat/Navy" and Dunk Low CO.JP caught the attention of Dunk collectors as well. The Swoosh went on to also unveil a "Light Grey" MMW 005 Slide alongside a "Year of the Rabbit" Dunk Low.
For Jordan Brand, it was sample season as looks at a wildly colored Air Jordan 1 "Rubik's Cube," a festive Air Jordan 8 "Eight-Nog" and unseen fragment design x Air Jordan 1 High "Croc" all surfaced. Carrying over momentum from 2022, the Air Jordan 1 Low was shared in a "Panda"-like "Black/White" and Korean-exclusive "SNKRS Day" colorway. An official breakdown of the brand's upcoming "Year of the Rabbit" collection featuring complementary apparel was joined by looks at early pairs of the Air Jordan 3 "Lucky Green" and Air Jordan 5 SE "Craft."
Outside of the Swoosh and the Jumpman, the end of an era was made official with news of Eastbay closing its doors in 2023. adidas' upcoming Sean Wotherspoon collaboration on the Orketro was revealed alongside the Three Stripes' Chinese New Year collection with Melting Sadness. Vault by Vans similarly tapped into the CNY theme with its "Year of the Rabbit" capsule having launched exclusively via BILLY's. Lastly, Nissin Foods lended its Cup Noodle designs to Converse with three flavorful pairs.
Now that you've had the chance to catch up on the latest in sneakers, dive into this week's most notable releases below and be sure to check out HBX afterwards to shop styles available now.
Nike Dunk Low "Mars Stone"
Release Date: January 4
Release Price: $120 USD
Where to Buy: Feature
Why You Should Cop: Nike's interplanetary journey with a cosmic colorway of the Dunk Low is scheduled for yet another launch. Taking inspiration from the red dust that covers Mars' cratered surface, the Dunk's upper features a unique finish at its base. Supporting the Martian layer, chocolate brown leather overlays complement it nicely while a "Comet Blue" soars across its Swooshes and supporting brand elements, offering a sharp contrast to the out-of-this-world look.
New Balance 650 "Black/Red"
Release Date: January 4
Release Price: $140 USD
Where to Buy: New Balance
Why You Should Cop: For decades, black and red have teamed up to create some of footwear's most sought-after creations. Especially prevalent on basketball-themed silhouettes, New Balance has tapped into this history with its high-top 650 bearing the classic color scheme. Equipped with a layered leather upper, red branding elements pop against the shoe's black base while also covering the puff and stitch collar. While its court-readiness no longer holds up to modern standards, the 650 still offers a combination of street style and comfort.
Air Jordan 37 "Bordeaux"
Release Date: January 5
Release Price: $185 USD
Where to Buy: SNKRS
Why You Should Cop: When the latest Air Jordan entry was said to pull inspiration from the Air Jordan 7, many sneakerheads were puzzled by the 37's reveal lacking discernible references. However, Jordan Brand was quick to clarify its intent with the 37 releasing with remastered classic Air Jordan 7 colorways such as the OG "Hare" and "Raptors." Now, the iconic "Bordeaux" makes its return as it cleanly dresses the 37 in a black and gray with supporting hits of maroon, gold, green and teal.
Nike Air Force 1 Low "Color of the Month"
Release Date: January 5
Release Price: $150 USD
Where to Buy: SNKRS
Why You Should Cop: Nike continues its Jewel Swoosh-equipped Air Force 1 Low "Color of the Month" series with a minimalistic "Light Smoke Grey." In 1984, this theme revived what has become one of the sneaker world's most popular shoes as sports shops in Baltimore asked for custom colorways to sell, noting their popularity in the region. Turning back history, this entry features a retro heel logo while being dressed in a crisp suede. To top it all off, you can keep your pair fresh with its complimentary shoe-cleaning toothbrush.
Dime x Reebok Workout Plus
Release Date: January 6
Release Price: $125 USD
Where to Buy: Reebok
Why You Should Cop: If you missed out on December's launch of skate brand Dime and Reebok's Workout Plus, it's not too late to grab a pair for retail. Reebok is set to release both the all-white and all-black colorways this week. The retro sneaker has been gifted a modern edge highlighted by silver Dime branding elements, including a prominent dubrae. Premium garment leather outfits both pair's uppers as the presentations of the shoe have been upgraded for skaters around the world to enjoy.
Air Jordan 7 "Olive"
Release Date: January 7
Release Price: $210 USD
Where to Buy: SNKRS
Why You Should Cop: Missed out on the Air Jordan 7's 30th anniversary last year? It's never too late to celebrate. Featuring some of the West African detailing found on 2022's "Afrobeats" look, this "Olive" colorway refreshes the black overlays found on 1992's "Bordeaux" by introducing new patterning at the heel. In terms of color composition, black and olive have teamed up with supporting maroon and "Chutney" accents, offering a modern twist on a Jordan Brand classic.
JJJJound x BAPE BAPE STA "White/Midnight Navy"
Release Date: January 7
Release Price: $230 USD
Where to Buy: JJJJound
Why You Should Cop: From tasteful to timeless, JJJJound and BAPE have elaborated on their 2022 collaboration with a new "Midnight Navy." Ditching the grayscale look that fit snugly with JJJJound's traditional color palette, this iteration of the BAPE STA still manages to offer the design studio's acclaimed versatility as it provides a mostly white upper with the shoe's almost-black navy featured at various points. Grab some complementary "A Timeless Ape" apparel while you're at it and let the world know you're not like other BAPEheads.
Nike LeBron 7 "Florida A&M University"
Release Date: January 7
Release Price: $200 USD
Where to Buy: SNKRS
Why You Should Cop: Nowadays, Nike and Jordan Brand's official university-themed colorways rarely see a public release, opting to remain player exclusives instead. However, Florida A&M University continues to break the mold as its black LeBron 7 is set to hit shelves. Fans of the Rattlers are treated to a slick black, white, green and red look that is court-ready while proudly carrying FAMU's rattlesnake on its tongue.
Air Jordan 9 "Light Olive"
Release Date: January 7
Release Price: $200 USD
Where to Buy: SNKRS
Why You Should Cop: Time continues to fly by as 2023 marks the 30th anniversary of the Air Jordan 9. While the old-school silhouette has kept a steady output, it's remained lowkey with its releases. However, it's kicking the year off strong with a remix of its classic "Olive" colorway. Notably, its black leather base and "Light Olive" nubuck mudguards return while "Bright Concord" and "Aqua" accents make a splash on the branding elements.
ADER error x Converse Chuck 70
Release Date: January 9
Release Price: $115 USD
Where to Buy: ADER error
Why You Should Cop: Closing out the week, ADER error has brought its "The new is not new" motto to Converse as the duo have dressed the Chuck 70 in an aged presentation that features modern styling. The South Korean label flipped the famous shoe with an asymmetrical presentation that features canvas cut-outs in blue attached at various spots. Co-branding elements team up with the motto's appearance on the toe and left shoe, offering a distinct ADER error touch to the look.