Garren Strong and the Air Jordan 1 Hi '85 for Hypebeast's Sole Mates
The former Oregon football player and Nike employee sheds light on Phil Knight getting him his first internship, his favorite Air Jordan 1 Hi' 85 colorways and more.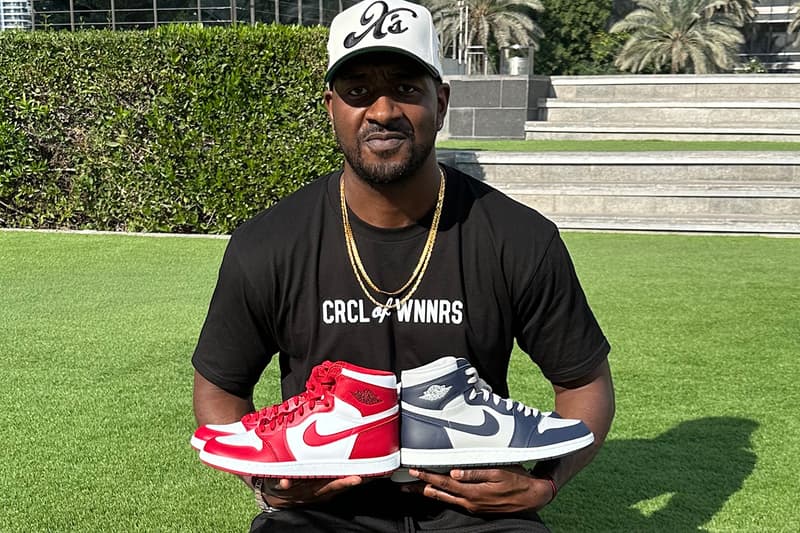 Garren Strong wouldn't be where he is today without sneakers. Growing up in the Bay Area, he was a multi-sport athlete, so he understood the importance of how shoes boosted your confidence and helped you bring your A game. As a highly-touted recruit in high school, he went on to play football for the University of Oregon — one of the most prestigious football programs in the country and known for its wealth of exclusive gear and close ties to Nike. Injuries shattered Strong's aspirations of making it to the NFL, but these setbacks rerouted him to a marketing career that was set up by the Shoe Dog himself: Phil Knight. As a Swoosh employee for a decade, Strong had a hand in contributing to the brand's football, sportswear and training marketing initiatives, but his impact was mostly felt through his work with the Jumpman team as he reshaped the strategy of the Air Jordan 1 franchise.
For his Sole Mates installment, it only makes sense that he selected to highlight the Air Jordan 1 Hi' 85. To Strong, they're more than just shoes. They're a symbolic and physical representation of the greatest player to touch the hardwood and a figure whose had arguably the biggest impact on sneaker culture to date. Hypebeast caught up with Strong to talk about his Oregon experiences, how his views on sneakers changed after working in the industry and more.
Who or what got you into sneakers?
I have a lot of cousins that were hoopers growing up so they would always put me onto sneakers. I grew up in the Bay Area and played a ton of sports from basketball to soccer to football, and because of that, I would always need sneakers to play in. Through watching my favorite childhood athletes like Michael Jordan, Deion Sanders and Kevin Garnett, I was also naturally paying attention to the kicks that they were wearing.
Do you remember what kicks you were really into growing up?
Fortunately, my dad was open to having me always having the latest and greatest silhouettes. I remember gravitating towards Jordans to play in, and this included Team Jordans and models from his signature line.
You chose to highlight the Air Jordan 1 Hi' 85 for this feature, why does this silhouette resonate with you?
I remember seeing the first sample that came in before the '85 was going to come back for a retro run — seeing that was incredible. It was exciting, and feeling the authenticity of a recreation of one of MJ's original shoes really hit me. I appreciated the craftsmanship and sentiment that was tied to the product.
Many sneakerheads would agree that the Air Jordan 1 Hi' 85 is the best model out of the Air Jordan 1 lineage, even the entire Jordan catalog as a whole. What are your favorite design elements about it?
I love the view of the shoes from the top down and seeing how smooth the transition in its construction is. The lateral view is amazing as well because you can appreciate the height and just how sleek the model is compared to any other shoe that's out there right now.
"Jordan is amazing at storytelling and moments. They want to treat the colorways that sneakerheads love as a moment and strategize how to release it, bring in the best people to tell the story and think about how to draw new consumers in."
What are your favorite colorways of the Air Jordan 1 Hi' 85 and why?
Some have yet to be produced, so my favorite colorway ever is the Air Jordan 1 Hi' 85 "Chicago" so once that drops that will be the all-time one. Out of the ones that have been released, I love the "New Beginnings" and the "Georgetown" colorways.
As a former Jordan employee, can you speak on how Jordan decides to bring back certain classics?
There's a method to the madness. Jordan is amazing at storytelling and moments. They want to treat the colorways that sneakerheads love as a moment and strategize how to release it, bring in the best people to tell the story and think about how to draw new consumers in. I've always looked at it as a break glass in case of an emergency type of deal. They continue to push with new color-blockings, materials and executions and if business goes bad, they always have a colorway on-deck that can get consumers right back.
I read that Phil Knight helped you get your first internship at Nike. How did that happen?
With Oregon having that relationship with Nike, we would always see Phil Knight before and after the games in the locker room. His presence was well known and felt around the team and the campus and I remember him always shaking hands with everyone when we would come out whether it was a win or loss. He cared about the players so much that he would always do his research on them to the point that he knew who you were, where you were from and even what your parents' names were.
And I remember I formally introduced myself after one game and talked about my aspirations about working at Nike. Within a week he had me meet with one of the athletic directors and they set up a brand marketing internship for me in the brand's football, baseball and lacrosse categories.
You had the luxury of playing at the University of Oregon — arguably the top school in terms of having the best uniforms, facilities and exclusive shoes. How did it feel to be part of that institution?
It was an incredible experience. While my playing career was plagued by injuries, the overall experience shaped me into the man I am today. Oregon does a great job at staying relevant and understanding who the current athlete is, what they're into and the type of lifestyle they want to live. It really separates itself from other schools.
I remember there was one game when we played against Oregon State and we warmed up in one uniform, went back to the locker room and came out in a completely different uniform that we were debuting for the new season. People don't realize how many accessories like cleats, wristbands, helmets and uniforms we got. And on top of all that, everything that Tinker Hatfield is doing with his Air Jordan PEs is not only elevating the program but influencing the culture.
Do you have any favorite "Oregon" PEs?
In terms of the Jordan pairs I love, both of the Air Jordan 3 colorways. Outside of Jordans, the Nike Zoom Revis that they did were hard.
Do you have any fond shoe stories to share from your time at Oregon?
For me it was just amazing to witness my former teammate and friend Jason Williams design various Jordan PEs with Tinker. He was also someone that aspired to work at Nike as a designer after he was done playing football and I watched him bring both iterations of the "Oregon" Jordan 3 and Jordan 4 pairs to life under the tutelage of Tinker — the most recognized designer in sneaker history. These kicks shifted PE culture and what it means for college programs to be part of it.
Now that you've worked on the brand side at Nike and were essentially a Nike athlete playing at Oregon, do you view shoes differently?
Yes because I pay more attention to the details, the process of why a shoe launched or why they ended up doing a certain colorway. Something that I definitely keep in mind is to not pass judgment as I have a lot more empathy and respect for product creation as it takes plenty of approvals, working with different teams, understanding how a consumer is going to receive the shoe.
The Air Jordan 1 continues to be Jordan Brand's most popular silhouette today. What role did you play at Nike in terms of strategizing how to amplify that model's franchise?
I was able to look at what was happening in the market and felt like there was a disconnect between the Air Jordan 1s. I felt that they had their own place in the sneaker community and that they should be held up as high as any other retro. I was able to truly understand where the Jordan 1 was from a consumer standpoint and a business standpoint. And then it was about seeing opportunities, whether it was price points, models or new spaces to help build out its franchise. I wanted to build out the actual franchise to where it was more well-rounded and not just focused on the Air Jordan 1 Retro High OG.
Why are sneakers and their stories important to you personally?
Sneakers are a vehicle of expression. You can learn a lot about someone just by the sneakers they wear. Being an athlete and knowing how important your feet are, I've always loved how sneakers can make you feel good, keep you comfortable so that you can perform at your best and give you a sense of emotion.