Lebron James Drops Season-High 47 Points on 38th Birthday
Along with 10 rebounds and 9 assists.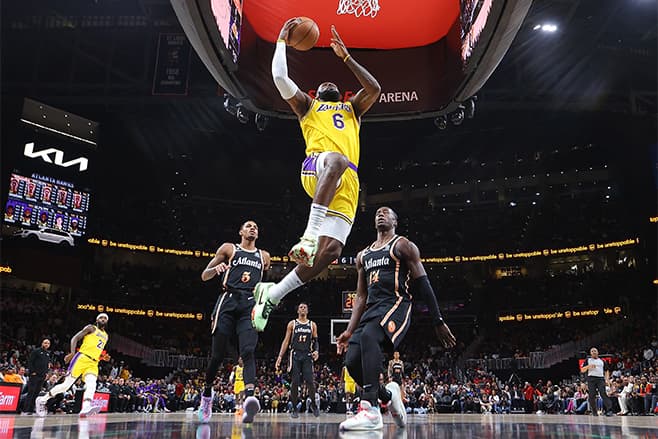 On his 38th birthday, LeBron James showed out for a monster performance against the Atlanta Hawks on Friday night, dropping a season-high 47 points with 10 rebounds 9 assists, and a block on 18-for-27 shooting — defying expectations once again to prove he's still King.
The stunning performance makes James the fourth player over 38 years old in league history to record over 45 points in a game, joining Michael Jordan, Kareem Abdul-Jabbar, and Jamal Crawford. With 20 seasons in the league, James currently trails Abdul-Jabbar by 527 points as the runner-up for all-time NBA points leader title. Just one rebound shy from becoming the first player to record a birthday triple-double, James lead the Lakers to a 130-121 victory with 16 points in the fourth quarter alone after starting 1 for 5.
After the game, James gifted his signed jersey to Atlanta native 2Chainz. Ending 2022 with a win on the road, the Lakers are set to face off against the Charlotte Hornets on January 3.
"I've been scoring 30 and it hasn't worked so I'm gonna try 40," James said in a post-game interview.
47 PTS
10 REB
9 AST
Lakers W

LeBron showed out on his 38th birthday. pic.twitter.com/33lO5BnVpo

— NBA (@NBA) December 31, 2022
Father Time? Don't know him. pic.twitter.com/sN2TdGxrHO

— Los Angeles Lakers (@Lakers) December 31, 2022
"I called it before the game so I had to make it happen. After starting 1-for-5 I didn't know it was going to happen." @KingJames with @LakersReporter on his 47-point performance against Atlanta. pic.twitter.com/R2GFUhg7AN

— Spectrum SportsNet (@SpectrumSN) December 31, 2022
47 points on 38 years.

LeBron. James. ? pic.twitter.com/XR3mOEnWIA

— Los Angeles Lakers (@Lakers) December 31, 2022
In other news, Luka Dončić records the first 60/20/10 game in NBA history.