Sole Mates: Marco Henry Negrete and the Air Jordan 1
The former Jordan Brand Global Editorial Lead and new VP of Content and Communications at SoleSavy speaks on the Air Jordan 1 and working with the Jumpman family.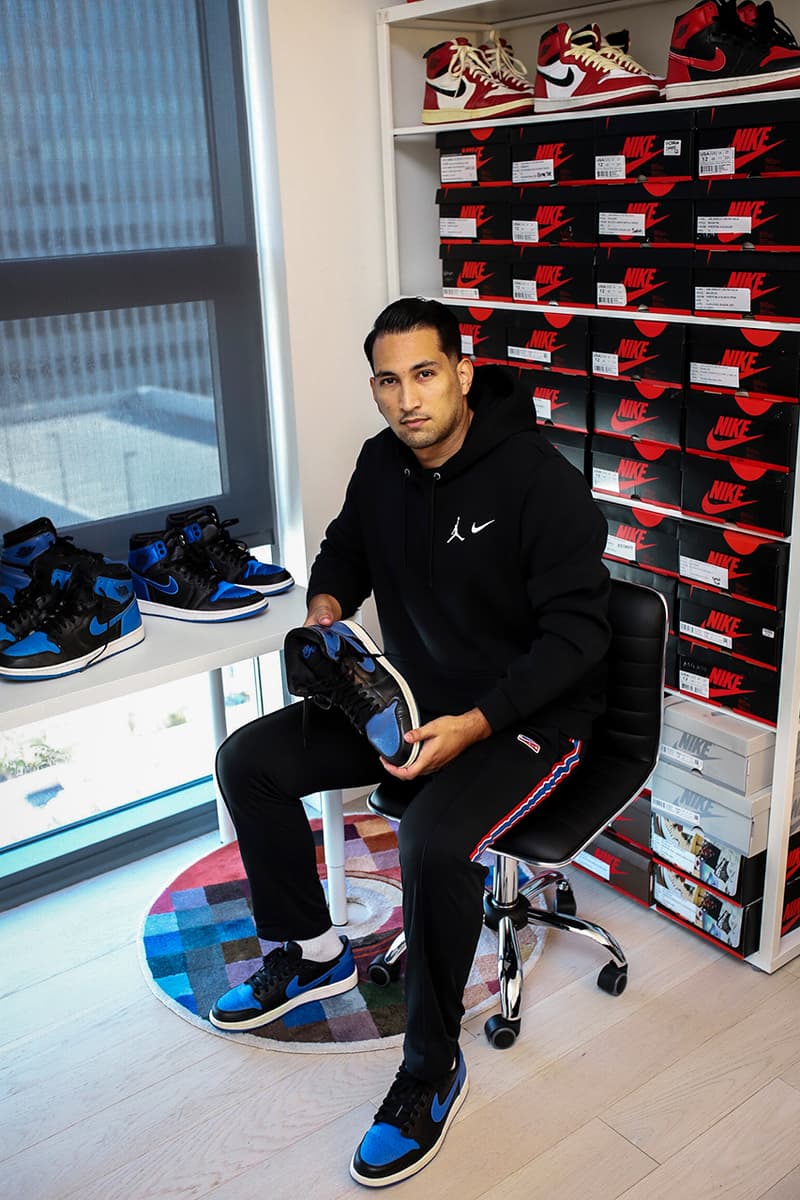 Sole Mates: Marco Henry Negrete and the Air Jordan 1
The former Jordan Brand Global Editorial Lead and new VP of Content and Communications at SoleSavy speaks on the Air Jordan 1 and working with the Jumpman family.
Whether it be in the streets or on social media and blogs, sneaker aficionados see and read about the hottest Air Jordan kicks daily. However, seldom do we hear about the individuals who bring that MJ magic to life. Marco Henry Negrete — the former Global Editorial Lead for Jordan Brand — did exactly that. Negrete has been working within the sneaker industry since 2014 when he started writing for Finish Line's The Fresh Press blog as a side gig. From there, he worked his way up to a role at Jordan's Beaverton headquarters. During his tenure with the Jumpman, Negrete worked on both the communications and editorial sides of the brand, enabling him to witness the ins and outs of creating and communicating some of the most innovative and culture-shifting products in the world first-hand.
In a nutshell, his job was to produce content and stories that would resonate with sneakerheads both old and new. From 2017 to early 2021, if any Jordan Brand-related news posts or features went live on Nike News or on Jordan Brand's site, it's likely that Negrete was responsible in some capacity. Some of his most notable projects include features with industry icons like Virgil Abloh, J Balvin and Chris Gibbs, helping coordinate events such as the 2019 House of Jumpman for Paris Fashion Week and kickstarting the Jumpman's Welcome to the Family editorial series — which highlights Jordan Brand's incoming signees such as the 2019 #1 overall NBA Draft pick in Zion Williamson.
Like many other folks who grew up in the early 90s — the prime of the Showtime Lakers and the peak era of the "6-6 guard from North Carolina" that Jordan Brand is named after — Negrete first gravitated towards sneakers via basketball. The first silhouette he fell in love with? The Air Jordan 1.
For our latest installment of Sole Mates, HYPEBEAST spoke with Negrete — the recently-appointed VP of Content and Communications for SoleSavy — about his relationship with the Air Jordan 1, its current popularity wave, and his experiences working for Jordan Brand.
HYPEBEAST: Who or what got you into sneakers?
Marco Henry Negrate: My dad. He was a big sports fan and I grew up during the primetime Lakers and peak Jordan era. I've got baby pictures of me in original Jordans that he would buy me from the time I was two years old. It also came from me playing basketball and seeing the style of these NBA players. Being fresh is a big part of being a basketball player.
You grew up in Fillmore, a small town outside of LA. Was a love for sneakers widespread in your hometown? How did you get access to sneakers back then?
Well this is pre-internet so myself and my other basketball-playing friends were mostly just getting hand me downs from their older brothers or their aunts and uncles. I had to get my access to culture through magazines like CCS, Eastbay and XXL. I used to get a lot of my shoes from the Nike outlets, Marshalls, Ross — I was really just trying to find steals.
When was the first time you became aware of the Air Jordan 1?
It was 2001. I was at Warehouse Shoe Sale in Oxnard, CA, a store that's still around today. I spotted the Air Jordan 1 "Royal" on the shelves there and was immediately attracted to it because in middle school and all of high school, my school colors were blue. Unfortunately, I was never able to get it. They didn't have my size at that moment, and when my mom went back the next week they'd sold out. My dad and I looked through the Yellow Pages just to find different shoe stores in our area that would maybe carry them, but we didn't have any luck.
Do you remember when you got your first pair of AJ1s?
In 2003, my freshman year of high school, the black and gold patent leather Air Jordan 1s came out. I remember going to the Finish Line at the Pacific View Mall in Ventura, CA to get them. I played basketball in them, I wore them to prom, to formal events like weddings. I didn't own dress shoes and since these were patent leather, these just became my dress shoes. At the time, they were my most prized possession. I still have the box and everything.
"Maybe if I had gotten the shoe back when I was in 7th grade, my hunger would have been satisfied, I never would have obsessed about the shoe for a decade, and maybe I wouldn't be here."
When did you finally get your hands on a pair of "Royals?"
When they dropped again in 2013. I was out of college and so I bought them with one of my first work checks from Kixify. Back in the Bay Area, hyped shoes were hard to get. Getting an OG colorway of any Jordan shoe was equivalent to hitting on a collab today. I wore that pair into the ground. Funny story: I wore them on a Facebook Live show with Russ Bengtson when I was working at Complex back in 2017 and, everyone thought they were '85s because they were so beat up.
From there, that shoe became a symbol of wanting to jump into this industry for me. And who knows? Maybe if I had gotten the shoe back when I was in 7th grade, my hunger would have been satisfied, I never would have obsessed about the shoe for a decade, and maybe I wouldn't be here.
Jumping ahead, can you describe what your role as Global Editorial Manager for Jordan Brand was in a nutshell?
It was to identify the best stories to tell for the community on our platform. Jordan Brand had the best designers in the world, so [those designers] created the magic and I spoke with them about their creations and how to translate those stories to the masses. My goal was always to craft stories that were going to appeal to the OG fans, as well as the new consumers who maybe just got into sneakers yesterday. I remember the feeling of being a little kid, getting a pair of Jordans and lacing them up, being in my room practicing moves and not being able to sleep the night before a basketball game. Those shoes made you feel like a superhero. I wanted to take that feeling that I had and that I still experience today and give it to as many people as possible.
Part of your job was to interview high profile Jordan Brand family members from Virgil Abloh to J. Balvin and Bradley Beal. Aside from the product itself, what was it about Jordan Brand that stars like these guys enjoyed most?
I think Jordan Brand represents the pinnacle of greatness in sports and beyond. Naturally, as an athlete or as somebody who's in a position to be signed to the brand or be affiliated, you want to be associated with that greatness. It's also inspiring. You can't be representing the brand and not want to be great, right? That's part of the deal. These people could be so successful, world champions at the peaks of their careers, but there's something about wearing Jordans that still makes them feel special.
"Kanye West and other entertainers adopting [the Air Jordan 1] was important because that's when the blog era of sneakers was born."
The Air Jordan 1 is the most ubiquitous — and arguably the strongest — Jordan silhouette right now. What do you think of its current popularity wave?
Michael Jordan is a big part of what sneaker culture is. It's only right for the shoe that started it off for him, Jordan Brand, and really sneaker culture as a whole to get its time. Plus it's just a great shoe. Like the Air Force 1 or the Chuck Taylor, the Air Jordan 1 is just such a staple silhouette. I'm not into the idea of something only being special to me. I was at the brand for four years, and my little sister recently asked me for [Air Jordan 1] "Mochas" — I got super excited because I realized that it's gotten to the point where the Air Jordan 1 is becoming important to the next generation.
Also, Kanye West and other entertainers adopting that shoe was important too because that was when the blog era of sneakers was born. Now here we are 10-12 years later, and you're seeing that shoe every day. It's not a coincidence.
Personally, I associate a little bit of the stardom of the Air Jordan 1 "Royal" with Kanye West and Frank Ocean. I remember Frank wrote on his Tumblr before the 2013s dropped saying something along the lines of "Dang, they're about to retro my Royals."
Yeah I remember Frank Ocean got that crazy fit off with the bandana and the Supreme Thunderbird hockey jersey on SNL. I think that era was a segue in terms of the shoe's influence because once Ye and Frank started rocking it it instantly turned into a fashion shoe. It wasn't just a shoe that was important to me anymore; it was important to everybody.
What are your favorite Air Jordan 1s besides the "Royal"?
The easy answer would be "Breds", "Chicagos" and "Shadows", but some of the more recent ones would include the Art Basel "Rust Pink" and the recent "Black/Gold" patent leather because that started it all for me.
Why are sneakers important to you?
They're mementos and time capsules of my life. I can look back at every chapter of my life and tell you what sneakers I was wearing then, and that they make me feel good when I put them on. Shoes are part of my identity now, Jordan Brand is part of my identity. That was the case before I started working there and it's the case now that I stopped working there. Everybody has their hobbies and their passions, and that's just who I am.
Tell us about your new role at SoleSavy.
SoleSavy has built a passionate community of sneakerheads and our mission is to make entering, participating, and thriving in sneaker culture more accessible and fun. I'm excited to apply the knowledge I gained in my past roles to help change the sneaker industry for the better. Everything we do is rooted in our members and my role is to help create the best content and experiences for them and the sneaker community as a whole.