Popeyes' First-Ever Fish Sandwich Slated to Release Nationwide
McDonald's Filet-O-Fish is about to get a run for its money.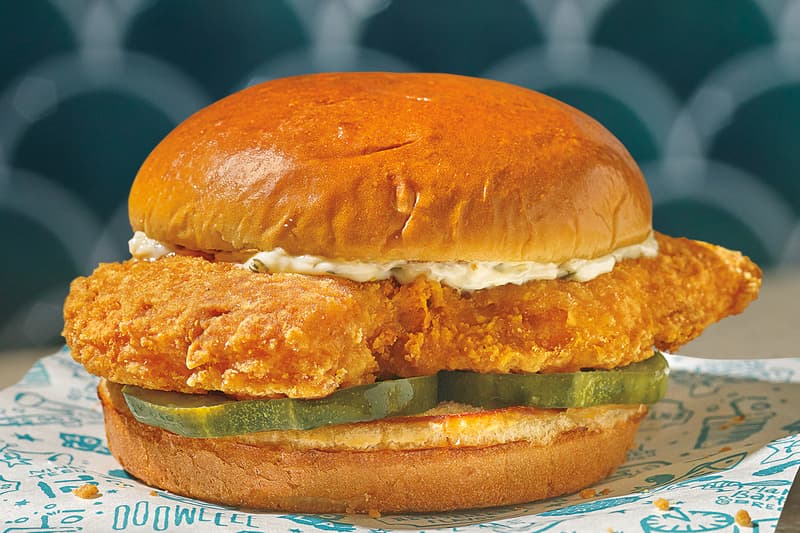 Every year there's always new uprises of food and beverage trends, but perhaps one of the biggest to ever occur was when demand for Popeyes' fried chicken sandwich sky-rocketed in 2019 and caused nearly every restaurant across the US to empty its inventory for several consecutive weeks. Fast forward two years later, the Louisiana Kitchen is now aiming to generate another widespread movement as they have just announced the launch of its first-ever fish sandwich.
Behold, the Cajun Flounder Sandwich. Set to be stocked on menus nationwide, the new item essentially features all of the same ingredients as the aforementioned poultry option such as the extra-buttery brioche buns, cured pickles and Popeyes' legendary tartar sauce, only it will now be highlighted by the flakey and edible demersal fish that sits in the middle. Not only is this a chance to infiltrate the market (and our stomachs) with a fresh new product but it can also be considered the newest arch nemesis to McDonald's highly-revered Filet-O-Fish.
"After seeing the response to our Chicken Sandwich in 2019, we are excited to deliver yet another delicious sandwich to our fans that is sure to reset industry standards," boasted Sami Siddiqui, the Americas' President of Popeyes, in a statement. "At Popeyes, we don't take shortcuts on quality and strive to ensure our ingredients are the best of the best. That's why we're proud to be serving up the most authentic, Cajun Flounder Sandwich in QSR."
The new Popeyes Cajun Flounder Sandwich will be available in restaurants and for delivery nationwide for $4.49 USD starting on February 11. When adding the Cajun Flounder Sandwich to another order on the Popeyes app on launch day, skeptics can pay an additional 15 cents for "sandwich insurance," just in case they're wary of the new delicacy.
For more delicious sando news, Fuku's gold-dusted sandwhich is spotlighted for Amex and Uber Eat's Valentine's Day meal.