Documentary on Donald Trump's Four Season Total Landscaping Press Conference Is in the Works
Titled, 'Four Seasons Total Documentary'.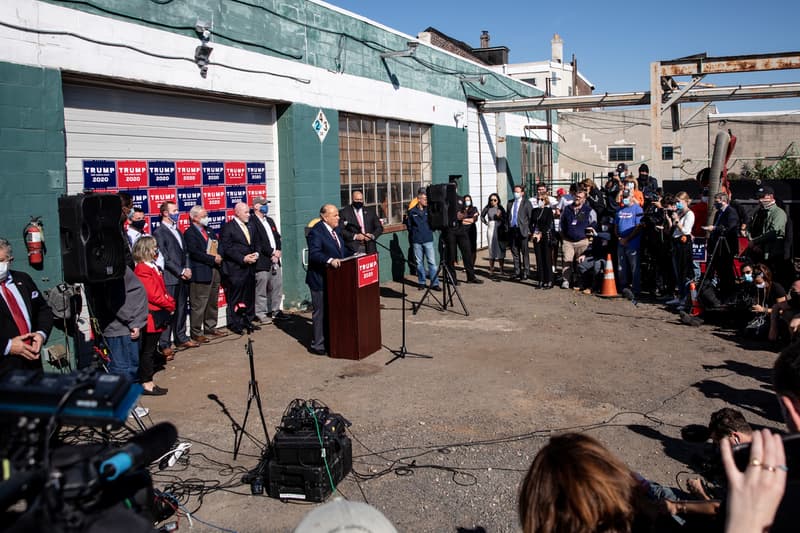 A documentary on Donald Trump's infamous Four Seasons Total Landscaping press conference fiasco is confirmed to be in the works.
The Philadelphia-based small business, and arguably 2020's presidential election breakout star, gained notoriety after Rudy Giuliani mistakenly organized Donald Trump's post-election press conference there instead of at Philadelphia's Four Seasons Hotel branch.
The upcoming doc, titled Four Seasons Total Documentary is set to be produced by Oscar-winning producers Sean Stuart and Glen Zipper. Christopher Stoudt has reportedly signed on to direct.
The press release states that the documentary, "will give a firsthand account of the roller-coaster journey that one well-meaning small business in Philadelphia went through when they agreed to host a political press conference in the midst of the most hard-fought American election in recent history."
The film is expected to include key interviews with executives of Four Seasons Total Landscaping, including owner Marie Siravo and Sean Middleton, Director of Sales. Production of the documentary is looking to be completed by end of this month. However, the film has yet to confirm its distribution.
There is currently no further information regarding the release date of the Four Seasons Total Documentary.
In case you missed it, CW orders pilots for three projects, including The Powerpuff Girls live-action reboot.