Best New Tracks: Conway The Machine, Fireboy DML, Freddie Gibbs & More
Also featuring Janelle Monáe's musical return, James Blake's Frank Ocean cover and a new Gorillaz joint.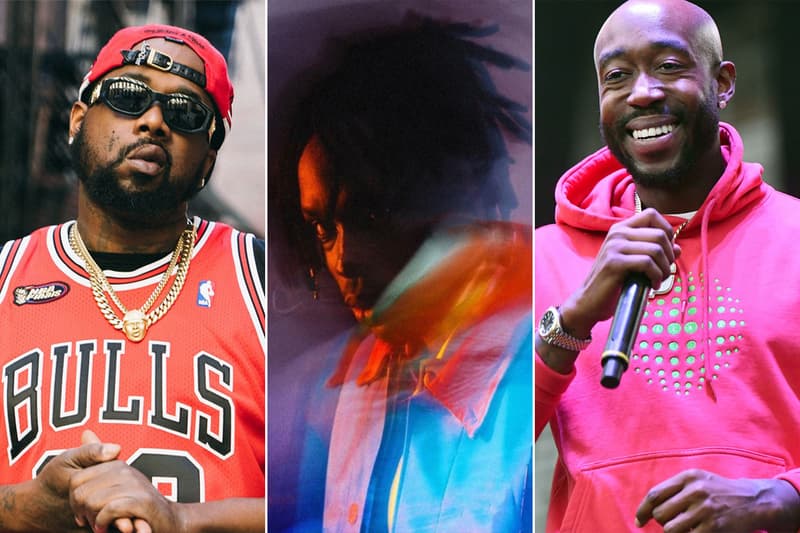 As the week in music comes to a close, HYPEBEAST has rounded up the 10 best projects for the latest installment of Best New Tracks.
Conway The Machine has evidently been busy in the studio, officially dropping off his third release of the year, From King To A GOD. This marks the Griselda heavyweight's first solo release in almost a year, following LULU with The Alchemist in March 2020 and No One Mourns The Wicked with Big Ghost LTD in May 2020.
Contrasting Conway and his frequent releases is Janelle Monáe with "Turntables," her first piece of new music in over two years. Her stance on the impending change about to hit America is a powerful reminder to keep fighting the good fight, no matter how tiring it can be. Fireboy DML, Afro-life's god of light, also blessed us with his festive APOLLO project and offered a well-rounded album filled with narrations of the highs and lows of life. Other standouts include NBA YoungBoy's Top, Spillage Village's collaborative "Baptize" joint with Ant Clemons, Luke James and Gallant, Stormzy, M.I.A. and more.
---
Conway The Machine – From King To A GOD
Conway The Machine has truly completed his ascension From King To A God. Although a familiar list of guest appearances make their way on to the album — Griselda core Westside Gunn and Benny The Butcher, The Alchemist — the project doesn't come up short on surprises, showcasing the evolution of Conway The Machine. "Typically, when I create an album, I tend to focus on being the best rapper and having the best bars. With From King To A GOD, I wanted to show growth; how much I've grown as an artist and how much I've grown as a man," the artist said in a statement. The album also serves as a precursor to his upcoming Shady Records debut, God Don't Make Mistakes.
Listen: Spotify | Apple Music
Janelle Monáe – "Turntables"
As the U.S. presidential election draws nearer, many artists have begun using their platform to promote the act of voting and educate the public about voters rights and suppression. Janelle Monáe is furthering her cause with "Turntables," her first release since 2018's Dirty Computer, which also serves as part of the soundtrack to the political documentary All In: The Fight for Democracy.
Speaking to Zane Lowe, the multifaceted artist notes that she is not acting as a leader, but rather an observer during this time of unrest. "We are changing things. The tables are turning. The rooster has come home to roost. So this song is capturing direction," she explained. "I'm simply watching, examining and wanting to highlight all of the people who are on the front lines, fighting for our democracy, fighting against racial inequalities, fighting against white supremacy, fighting against systemic racism and systemic oppression."
Listen: Spotify | Apple Music
Fireboy DML - APOLLO
Inspired by the Greek and Roman deity, Fireboy DML channels APOLLO affinity for music and dance, light and poetry, and truth and healing. His harmonious and melodic synthesis of Afro-pop, R&B, Alté and Afro-fusion perfectly complement the range of lyrical themes the young star offers — essentially personifying his term Afro-life. "Afro-life is not a genre. I can't just wake up one morning and say, 'Oh, I just created a genre,'" he clarified with HYPEBEAST. "To me, it's my way of defining my music, because it's different and it deserves its own identity. That's what Afro-life is to me."
Listen: Spotify | Apple Music
NBA YoungBoy – Top
YoungBoy Never Broke Again's defensive demeanor has played a major part in his public image, but his select offerings on Top share a different side to him. The Baton Rouge rapper, who's only a few months shy of turning 21, opens up about his childhood, the absence of his father and his own take on fatherhood. NBA YoungBoy's quick rise to fame also hears him question the authenticity of a majority of his relationships, but he manages to transform these personal issues into engaging cuts that pique the interest of both old and new listeners.
Listen: Spotify | Apple Music
Spillage Village Feat. Ant Clemons, Luke James and Gallant – "BAPTIZE"
Spillage Village takes us to church (at least two version of it) in the visual for their newest single "Baptize," featuring Ant Clemons, Luke James and Gallant. Dreamville's EarthGang and J.I.D. keep in line with the theme of the religious rite and utilize lyrical references to Christianity — namedropping Adam and Eve, comparing David from the tale David and Goliath to Tom Brady and reading from the book of Genesis — while the music video sees them always standing in front of a group dressed in all white, with one group acting as the choir and the other as armed allies. The Atlanta Collective is set to drop their upcoming album Spiligion on September 25.
Listen: Spotify | Apple Music
James Blake – "Godspeed"
Fans saw James Blake perform Frank Ocean's "Godspeed" in 2017 and again in January 2020 via social media, and now the English singer-songwriter's stellar rendition is finally available on streaming platforms. The three-minute track is only supported by a simple piano backdrop, but his warm and heavenly vocals offer an even more intimate touch to cover. If you didn't already know, Blake actually co-produced the Blonde cut with Ocean, Om'Mas Keith and Malay Ho, and sampled it on his 2016 track "Always," crediting Ocean as the co-writer in the process.
Listen: Spotify | Apple Music
Stormzy – "Superheroes"
Stormzy revisited his Heavy Is The Head release with a visual for "Superheroes." The animated music video is an emotional yet empowering homage to the Black community, reminding everyone of their capability and the power within them that they can harness to be the best they can be. Stormzy's version of superheroes take the form of students, caring children and great parents, as well as the likes of Marcus Rashford, Little Simz, Malorie Blackman, Dave, Venus and Serena Williams and the late Chadwick Boseman.
Listen: Spotify | Apple Music
M.I.A. – "CTRL"
As M.I.A. preps for the release of her long-awaited album 111111th, the Sri Lankan Tamil-British rapper took a moment to show her solidarity with Julian Assange with her new song, "CTRL." The hypnotic track hears M.I.A. rallying for free speech, also sharing a statement that reads, "The significance of this moment and this case is like nothing we have seen in modern jurisdiction. THIS IS NOT A LEFT THING, ITS NOT A RIGHT WING, ITS NOT ABOUT A BLACK THING VS WHITE THING, ITS ABOUT THE RIGHT THING!"
Freddie Gibbs Feat. Benny The Butcher – "Frank Lucas"
Freddie Gibbs and The Alchemist went back to their revered Alfredo project to drop an accompanying music video for "Frank Lucas," featuring Griselda Records heavyweight Benny The Butcher. Gibbs and Benny go down to Miami to enjoy the luxurious activities the area has to offer, and even shows the Gary, Indiana rapper in front of his own mural. Speaking to HYPEBEAST about the themes of fatherhood both in "Frank Lucas" and Alfredo, Gibbs said, "Being a father changed the way I rap because I used to rap like I ain't have nothing to lose. Now I have everything in the world to lose because I have beautiful children and a good family structure. My daughter's special. My son is special, man."
Listen: Spotify | Apple Music
Gorillaz Feat. Robert Smith – "Strange Timez"
"Strange time to be alive," The Cure frontman Robert Smith aptly sings in his collaborative effort with Gorillaz. The Godfather of Goth aids the animated band on their own moon landing, appearing as the face of the moon, the screen of an orbiting satellite and the face of a portal that brings Murdoc to another dimension. "Strange Timez" also acts as the title of the Song Machine: Season 1 collection, which is set to feature an impressive list of guest features that include 6LACK, Beck, CHAI, Earthgang, Elton John, Fatoumata Diawara, Georgia, Goldlink, Joan as Police Woman, JPEGMAFIA, Kano, Leee John, Moonchild Sanelly, Octavian, Peter Hook, Roxani Arias, ScHoolboy Q, Skepta, Slaves, slowthai, St. Vincent, Tony Allen, and Unknown Mortal Orchestra.
Listen: Spotify | Apple Music
---