Fireboy DML Is Afro-Life's God of Light
In a summer defined by isolation, the rising Nigerian artist's 'APOLLO' celebrates individuality.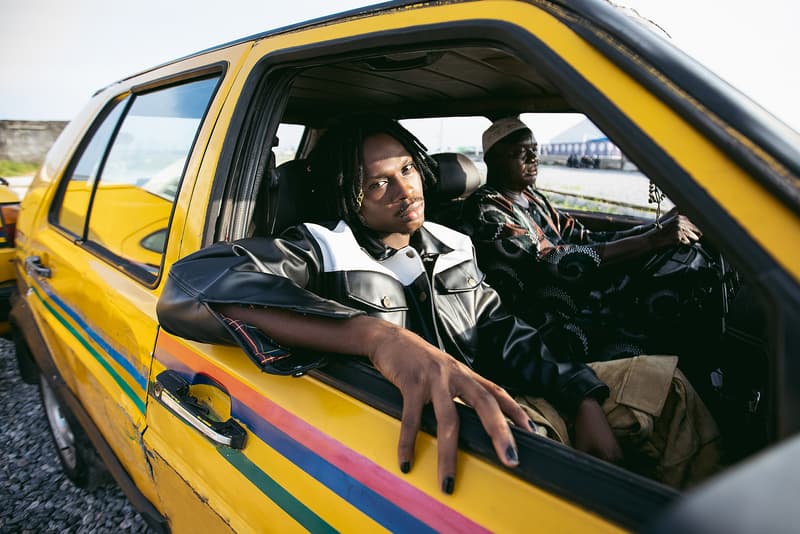 Listening to Fireboy DML's new album APOLLO is an uplifting and festive experience. His songs are coated in celebration yet tied together through personal pain and self-reflection. At 24 years old, the Nigerian singer-songwriter arrived stateside at the perfect moment.
Fireboy, born Adedamola Adefolahan, is fresh off the momentum of last year's hit "Jealous" and his first album, Laughter, Tears & Goosebumps. On both the single and the full record, his star-power was immediate, song concepts fully formed, and narrative journey rooted in introspection. He brought his singular, harmonious combination of Afro-pop, R&B, Alté and Afro-fusion along for the ride. Fireboy christened his movement "Afro-life," calling his approach "more lyrical and soulful" in comparison to the traditional genre labels that he felt often miscategorized him.
A year later, his latest project APOLLO features melodious peaks and an attention to detail that makes even the mundane intricacies of his life vibrantly candid. It's expansive and ambitious. Even the album name is ostentatious. Fireboy was inspired by the Greek and Roman deity Apollo, the god of music and dance, of light and poetry, of truth and healing. These joyous characteristics are readily apparent in the music. But even the god of light had his flaws, namely his ego and unchecked desires. Fireboy leans into his kindred imperfections with mindfulness and even nostalgia.
The album was tailor made for the optimism and energy of summer — and then the coronavirus pandemic hit. "Lifestyle" would have been a staple for DJs if clubs were open and full of patrons ready to dance the night away. The intro "Champion," is a triumphant, chest-thumping proclamation of overcoming obstacles tinged with autotune and a resounding chorus. "New York City Girl" showcases Fireboy's narrative songwriting abilities disguised with, "I just want to have a good time," sensibilities.
When asked who pushed his creative journey in his early years, Fireboy told HYPEBEAST, "Honestly, no one else but myself. I was a loner as a child, always brooding. I struggled with low self-esteem at some point, but discovering my creative talents helped me get myself back. Maybe I can say pain pushed me to continue my creative path."
Even if the venue has changed for APOLLO's arrival, some of the underlying themes like unrequited love, longing and loneliness reverberate through an earnestness that makes this record fitting for the current and unprecedented isolation. Fireboy DML ends the album with "Remember Me" singing, "Tell them my story, my struggles and my glory/ Don't leave anything behind." APOLLO won't be forgotten anytime soon.
HYPEBEAST: Who laid the blueprint for you in terms of wanting to pursue a career in music?
Fireboy DML: I grew up listening to a lot of artists — some from living with my parents and most from my personal discovery. My dad put me on to Celine Dion, 2face, and my mom made me listen to Yoruba gospel singers Yinka Ayefele and Tope Alabi. I personally fell in love with Afropop pioneers like Wande Coal, Wizkid, Davido, Olamide then other musicians like Elton John and James Blunt. These artists laid the blueprint, but I consider three people to be the foundation of my sound — Wande Coal, Passenger and Jon Bellion.
At what age did you start recording music seriously?
I started in 2012, I was a 17-year-old undergraduate at Obafemi Awolowo University, Ile-Ife, who just found himself in the studio one day and made a song. I had always known I could sing but I never took it seriously until then. In fact, I used to be a rapper at some point. I was confused. But life has a way of making things happen and so it did. I found purpose that day and music became my sole aim since then. However, I struggled with finding my sound for five years until 2017, when I had a clearer picture of the whole thing.
How has your hometown of Abeokuta inspired you?
Abeokuta is an ancient, historic town. It's a town of warriors and survivors. Its whole history is rooted in pain, survival and victory. With old, rusty brown roofing sheets, busy markets and lively vocations by the roadsides — it's filled with so much, and you can't help but get inspired. I never really got out much. I spent most of my time as a kid reading and writing sad poems, but when I did go out things were always happening and I always remembered them. I saw people's stories etched on their faces and some of those stories reflect in some of my songs. I love Abeokuta, it reminds me of my roots and how important they are to human growth.
You're now in Lagos. How has that city breathed new life into your creative output? What inspired you to move there?
Ha, Lagos. Eko. The city of Lagos cemented everything for me to be honest. I had to come to Lagos after school to hustle, rediscover myself, hence discovering my sound. Lagos helped me with clarity on a lot of things — music and its industry, human nature, finance and life in general. I owe it all to the people I met here and the impacts they have all had made in my life. Lagos is where everything happens here in the Nigerian music industry.
The introduction song for your new project, "Champion," is such an uplifting and motivational track. You mentioned pain pushing you along your journey, so how did that song come about?
Yeah [APOLLO] is a very deliberate project, so I needed to start with a deliberate song — a statement. Also felt the need to inspire other people out there looking to take this path that I'm on. There is nothing that can't be achieved if you have the mindset of a champion. I was in a very introspective mind space when I wrote the song so it just flowed out.
What's your writing process like? Are you taking time to write each song, or are you approaching it from a stream-of-consciousness perspective and free-styling?
I always write my songs but before that, I do a lot of listening and writing in my head because the melodies have to be tone-perfect. My creative process depends on the vibe. Sometimes I take my time to listen, digest and vibe. Other times I'm just so in-tune with the sound, I just get into it on the spot. But in all, I pay attention to my lyrics and make sure my songs are well-written.
You burst onto the scene with Laughter, Tears & Goosebumps last year. The sonics on this new record show some serious expansion in your sound. How do you think you've grown?
Growth has always been important to me, because I am very particular on mental health and its intricacies. Laughter, Tears & Goosebumps was a phase in my life, and I projected that so much in the music. Since then I have grown, I have lived more, loved more and experienced a lot. More money, more fame, met more people and ultimately, I have spent more time with myself as my own little hermit. These things have affected my music in one way or another — also my way of thinking. Evolution cannot be avoided.
I experimented more on this project, because evolution as a musician is very important to me. Big ups to the producer, Pheelz for being an absolute genius on this record. Music has always been a universal language and it is vital to always push boundaries and test new grounds to know how strong one is as a creative. I have never been scared to sail unknown waters, I've been doing that my whole life. The aim is to take African music global and this is the only way to do it.
Can you speak on your collaborators for the project?
Wande Coal is my idol. My debut project was never gonna have any features but I just had to get him on this one. He's so special to me and we had a special moment creating "Spell." I watched him do the things I'd been listening to my whole life and that moment was surreal.
I work with Pheelz mostly, because we have that synergy plus he's part of the YBNL family so the connection is seamless. P Priime is a young prodigy, and also has an amazing personality so it's easy working with him. For Type A and me, it's always been the sonic part of our friendship that matters most. Iambeatz created a smash hit, "Vibration," in a dingy hotel room in Lekki, Lagos and since then, it's been pure magic. These producers worked with me on this project so they mean a lot to me. I appreciate them.
You prefer to call your music "Afro-life." Can you explain your reasoning behind that movement? People have often categorized your sound as Afro-R&B and Afrobeats, even Afro-pop, but I'm interested to hear your take on "Afro-life."
Afro-life is not a genre. I can't just wake up one morning and say, "Oh, I just created a genre." To me, it's my way of defining my music, because it's different and it deserves its own identity. That's what Afro-life is to me. Basically I am an Afro-R&B/Afro-pop artist, but my approach to it is different — it's more lyrical and soulful. So it's always been about the identity for me, not it being a genre. If you're asking about a genre, then that's me. I am my own genre.
Laugher, Tears and Goosebumps was also said to be recorded in just five days. Did you switch up your approach at all for APOLLO?
Yes, I recorded my debut album Laughter, Tears & Goosebumps in five days. The atmosphere was great and the music was even greater. Beautiful stuff. APOLLO is an entirely different body of work and it's more comprehensive, so yeah this one took weeks. Nothing changed about the atmosphere, in fact I made sure I maintained the same head space because it's very important not to lose oneself. I had fun, made music, experimented with more sounds and made sure I enjoyed every bit of it. This one is more personal and a tad bit deeper than Laughter, Tears & Goosebumps though.
"New York City Girl" was poised to be this mega-hit, especially in the states before everything shut down due to the coronavirus. What is it about New York City girls that have left a lasting impression on you?
Big shoutout to the good people at HYPEBEAST for the love, I appreciate that. The song is about a brief moment I shared with a friend of mine who came to visit from New York. I needed to relive that moment in a song, and I also wanted to create something I know a whole lot of guys like me can relate to. So it's really not about all the New York City girls, it's just about one.
Your music has an incredibly honest and emotive quality. Do you feel like you're working through interpersonal pain or things that have happened to you in the past? Were there any songs that were difficult to work through on APOLLO?
It has always been about that for me — hitting at people's emotions and making them relate so easily. Honesty is the soul of songwriting. Sometimes, it's my story and other times it's just my imagination of the story of a million other humans. Either way, it's honest, pure and true.
Writing the interlude, "24," was painful for me because it's a very deep and personal story and it took a lot for me to let it all out, or maybe I didn't let it all out. Little wonder the song is so short.
What's next for you after the release of your latest work?
I'll go on to doing what I've always been doing — being a superstar, making music and making my fans happy. There will be tours and I can't wait to rock with the fans, I owe them that much. Main message? Fireboy DML has evolved — from human to God.