Errolson Hugh Breaks Down HBX's ACRONYM x Nothing Knew Giveaway
The founder shares his introduction to Kojima Productions and why the silver Nike VaporMax collab never released.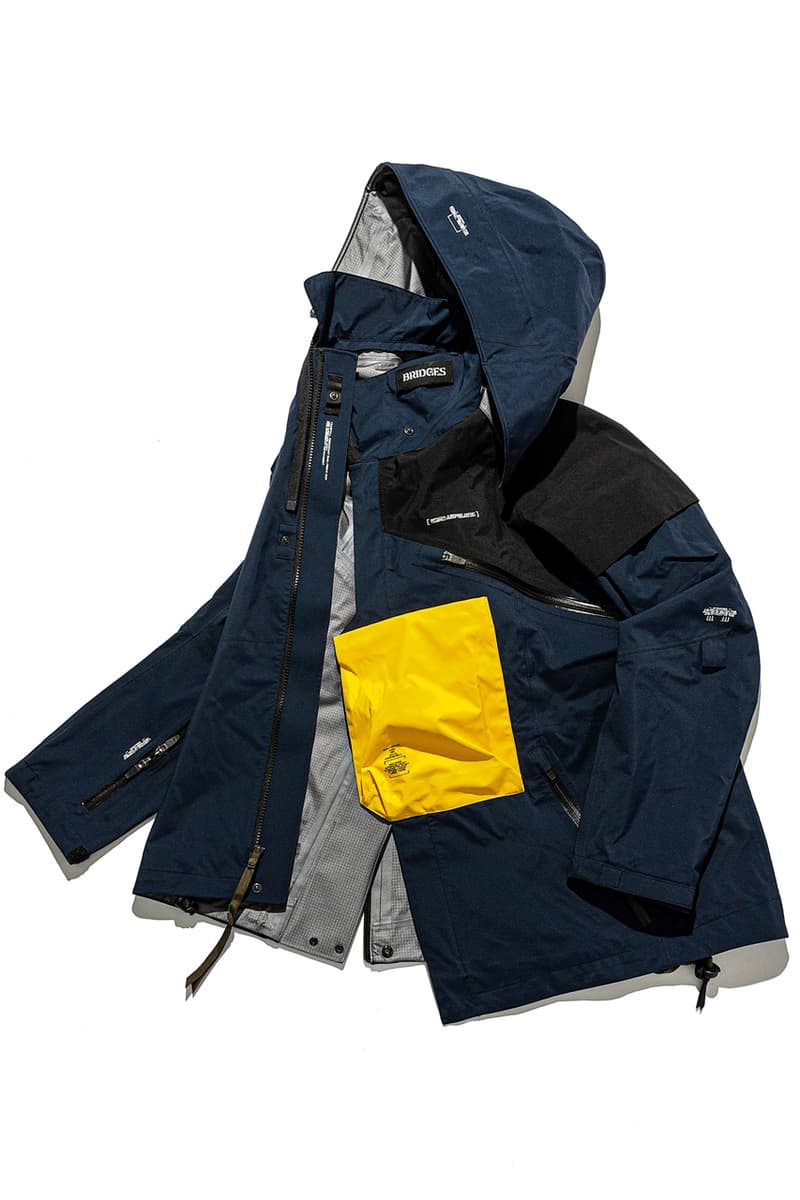 Errolson Hugh Breaks Down HBX's ACRONYM x Nothing Knew Giveaway
The founder shares his introduction to Kojima Productions and why the silver Nike VaporMax collab never released.
Errolson Hugh and Karl Nikolai's charitable ACRONYM x Nothing Knew giveaway was conceived to benefit Olympia Auset's SÜPRMARKT, but it'll also help out a few lucky ACR fans craving unique pieces from the German brand's archive. Most of these one-of-a-kind goods have never been made available to the public, making this a rare opportunity to snag exclusive garments while also doing good.
Still, it's important to remember the reason behind the event, best explained by Hugh himself: "My hope is that by releasing items that you couldn't normally get your hands on [via giveaway], it's accessible to more people. It's not just some bidding war where it just goes to the person with the deepest pockets. Let's get as democratic as possible."
During his conversation with Nikolai, Hugh expounded on the meaning behind the items included in the giveaway, referencing personal stories and specific design cues. We've edited those reflections below.
Join the giveaway and read more about the exclusive items on HBX's site.
1 of 2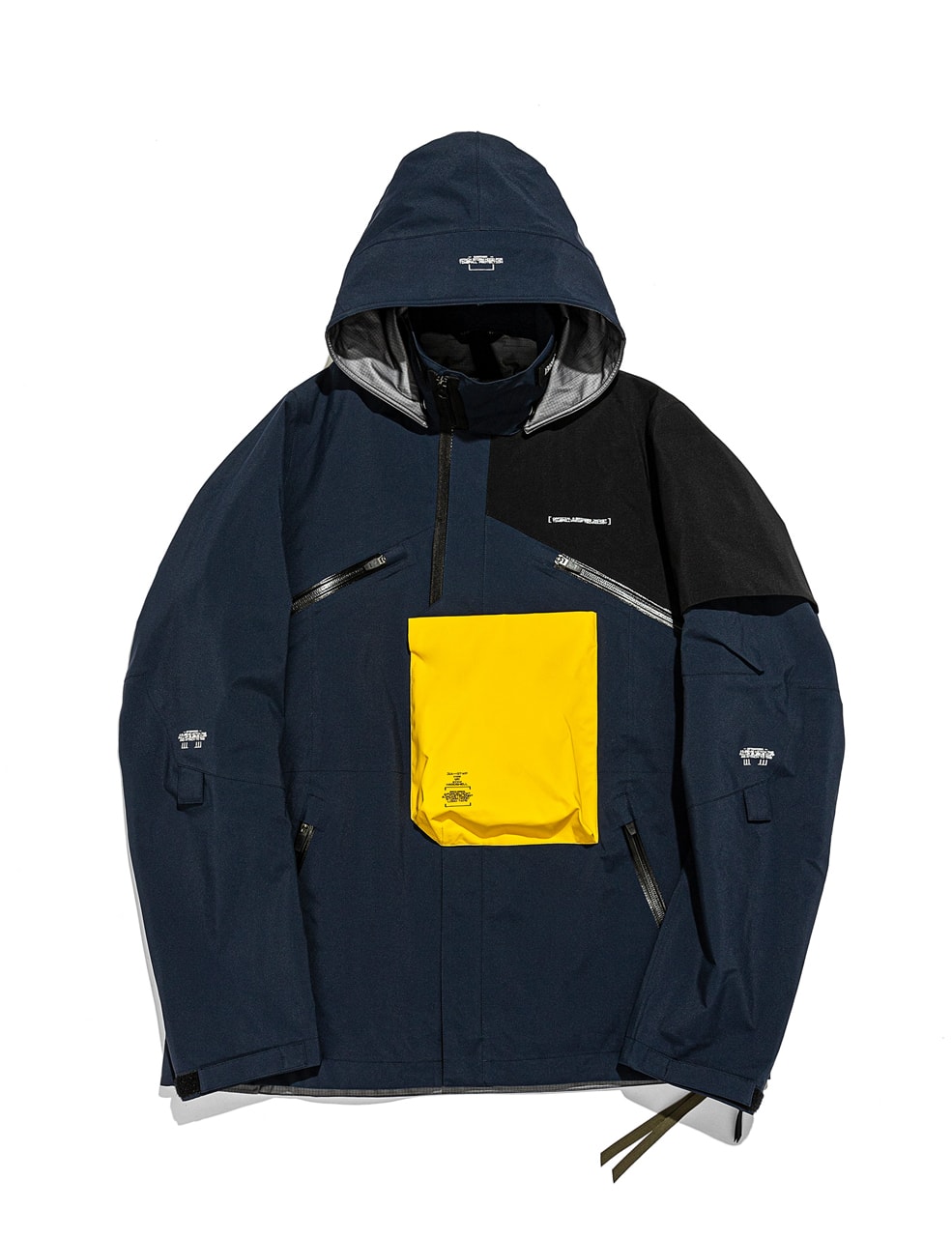 2 of 2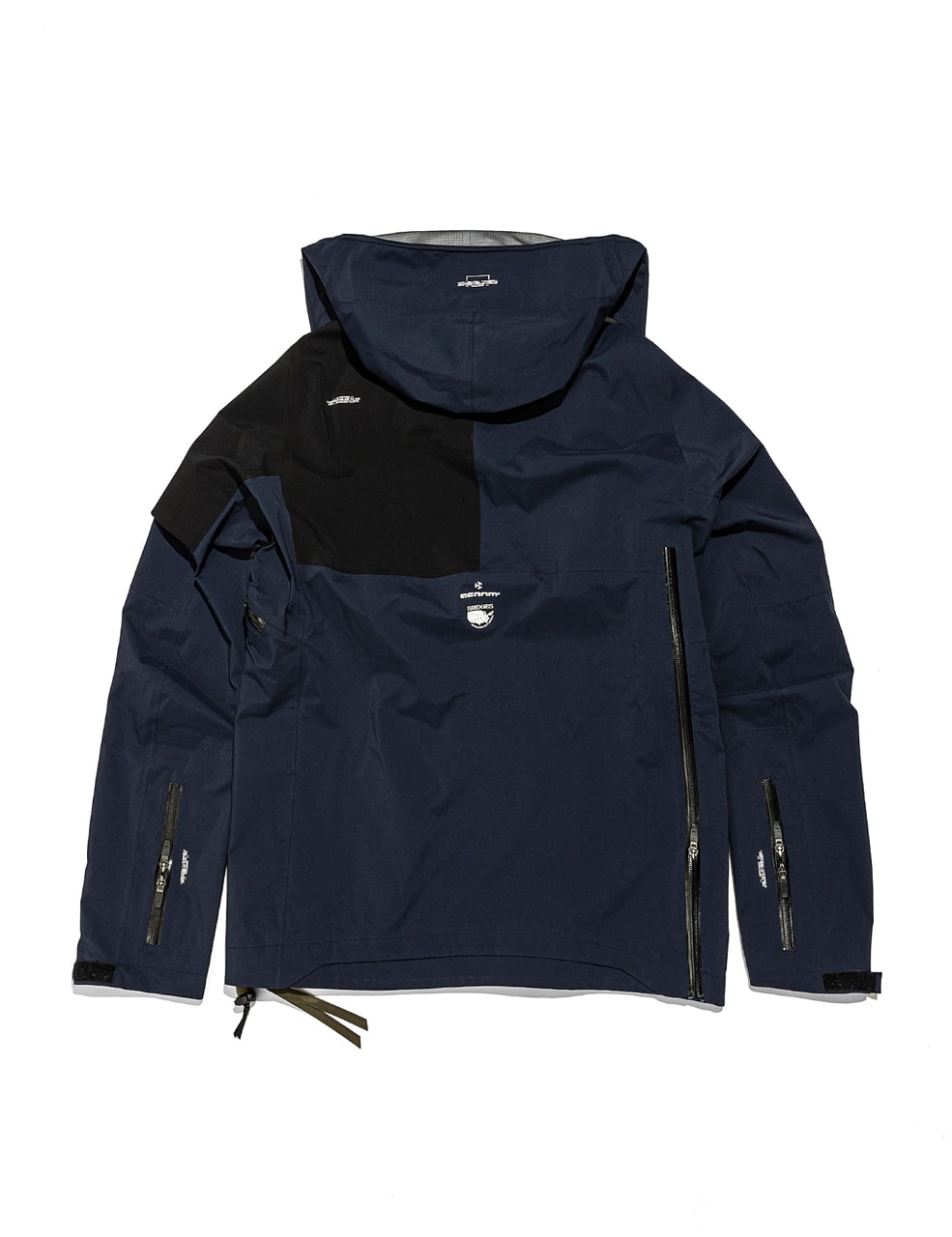 "[Meeting Hideo Kojima was] all very organic and surprising. It started off with an email from Yoji Shinkawa at Kojima Productions asking about ACRONYM's web store. Yoji Shinkawa is Hideo Kojima's art director and has been for years, I think he even worked on Policenauts. Turns out he's been an Acronym fan and had been buying jackets.
"He reached out to see if we were interested in doing something together or meeting and we were like, 'Uh, absolutely!' The next time I went to Tokyo, we met up and that was amazing. They were about a year into Death Stranding at that time.
"At the end of the meeting, they were like, 'Do you have another 30 minutes? The scanning rooms are free.' And I'm like, 'Sure, I've got 30 minutes.' So they took me to the back, painted some dots in my head, and scanned maybe seven different facial expressions. They were like, 'Yeah, we don't know we're gonna use it for but it could be useful.' Turns out, they ended up putting me in [as Alex Weatherstone] at the Wind Station.
"Two years later, they called for help designing certain clothes for the characters. Most of the game was already done — they had already generated all the assets — but in particular, they specifically asked about Sam [Porter Bridges]'s base layer because they just weren't happy with it. We ended up doing this engineered knit piece like we were designing a real garment. That seemed to work best for them. It was super organic. They also asked later if we had an [SS-CP1] that they could scan.
"I visited probably three or four times over the years; every time I went back to Japan, if they were around, they'd show me [new developments]. One day they had the idea to do a version of the J1A, which Yoji art-directed. He came up with the color scheme, text and all of the graphic placements, even mounting the baby [in the style shots] on the backpack strap.
"This is one of the fastest selling J1As in history. And this particular jacket comes with the signed spec sheet, which Yoji was kind enough to design for us."
J1E-GT
"The 'E' stands for experimental. We're constantly doing R&D on apparel and over the course of about a year and a half we'll test new ideas for details and construction to see if they really work and hold up. Not just do they look good, but how do they function and they behave over time. The only way you can actually do that is by wearing them and putting them in the field.
"So we had this idea, 'You know what, let's just take all the ideas we're working on now and stick them on one jacket.' The J1E was [one of the] the first times we've done that. But then because of that, we were also like, 'Well, we're gonna put this on the website and every other design department and every big brand is gonna buy this and we're gonna see this stuff everywhere and not even have a chance to benefit from it ourselves.'
"That's why we didn't release it, we just put it on Subnet only, less than 50 pieces ever made. Actually, probably 40 across like six sizes; there are very, very few of them. We ended up selling to people we knew personally who we could trust to actually wear it and not just flip it.
"You can see on this one, there's actually two different [gravity pockets]; the left sleeve and the right sleeve have different constructions. We learned a lot just by making it and feeling it out in that short time.
"Another new thing is that the ventilation pockets and flat pocket have a folded-in zipper called a tension zip, which solves a problem that I've been trying to solve for… I don't know how many years. We were always trying to make it so you could unzip the zipper to enlarge its opening and one of our lead designers and main pattern makers just figured it out by themselves one day, and they came up with like five or six different ways to do it.
"I just couldn't believe it. I was just like, "Do you have any idea how long I've been thinking about this?" It'd been like 15 years. It works incredibly well, you see it rolled out in various versions later, over the next couple of years.
"Funnily enough, the thing that led to [the attached hat] was [audibility issues]. One of our main problems with hood design is that you can't hear anything, especially if it's three-layer GORE-TEX, because it's inherently loud. So your sense of where you are in the environment is massively decreased, even if you have peripheral vision. You won't be able to sonically orient yourself in the environment — a hat does that a lot better.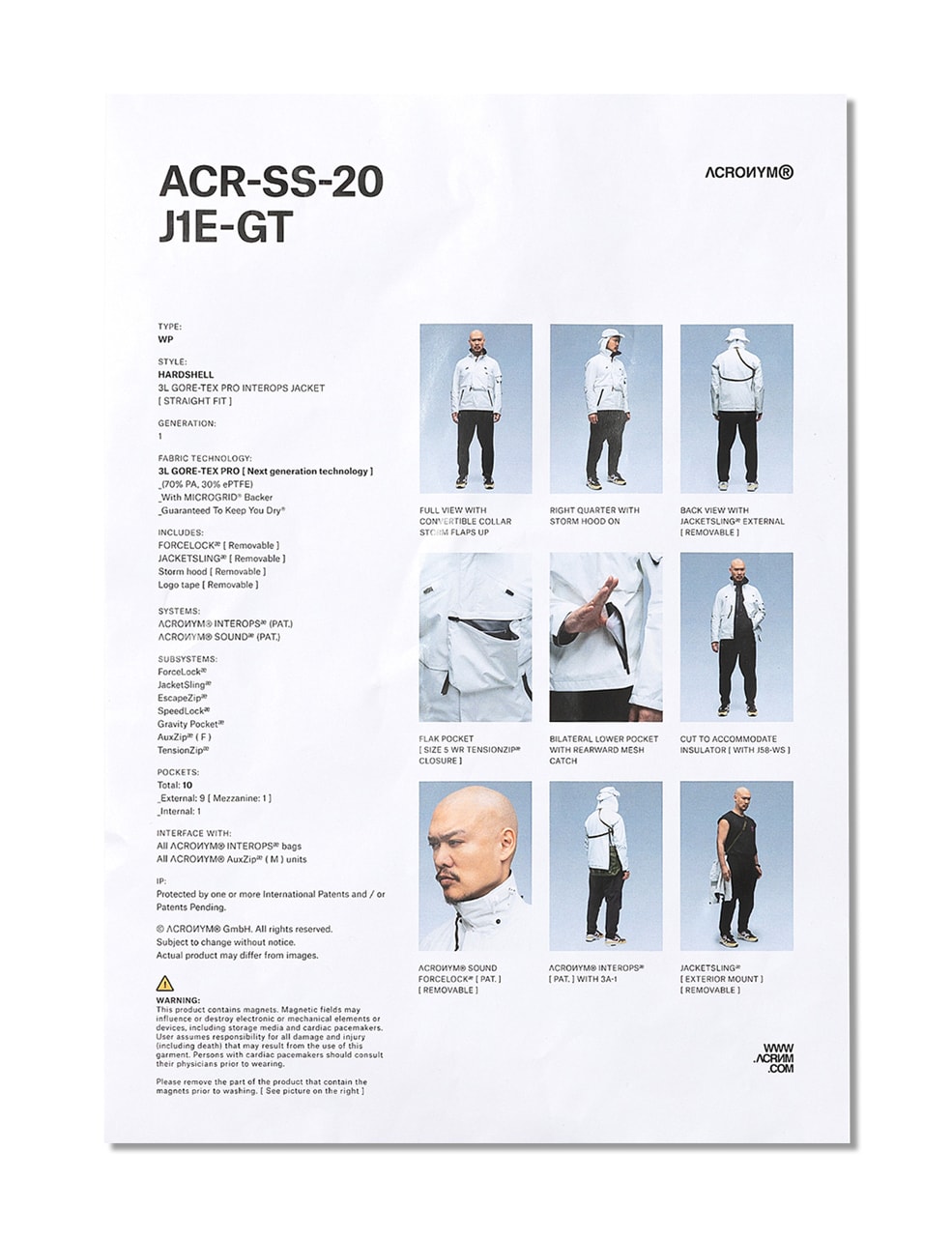 "We eventually went for a hat with a skirt that covers the rear part of the neck and connects to the jacket. You have the benefits of the hood but it doesn't close completely around your ears so you can still hear better.
"Now that I think about it, there's not a single detail or pocket that hasn't been modified. Every single thing on that jacket's been tweaked."
Z1-J1A
"This is a zine. 'Zine' normally implies super lo-fi production, right? Well, I worked with the graphic designer David Rudnick on this and this is lo-fi for David. Doesn't mean what lo fi means for everyone else. It has a double-gatefold magnetic cover and a fold-out panel on the side with full-color pages. David abstracted the images a bit, too, because otherwise it'd just be a lookbook.
"It chronicles the history of our outerwear and technical forms; we had no idea that these would sell out so quickly so we didn't make that many. Anybody who is interested in what we've been doing and wants to see more of the history of the jackets would definitely appreciate this, it's a fun otaku collector's thing. It really is all about the details.
"We're gonna do more of this kind of stuff in the future but this was the first publication we actually put out."
ACRONYM x Nike Air VaporMax F&F "Chrome"
"There are less than 100 of these unreleased chrome Friends & Family VaporMaxes out there, these have never gone on sale.
"The general release color has white soles; originally we wanted to do this chrome but the warranty department in Nike was not happy about it. The thing is, the air units flex but the chrome doesn't, it cracks and flakes off over time. We thought it looked really cool but obviously Nike's warranty department wouldn't let us get away with that many pairs of flaking shoes.
1 of 3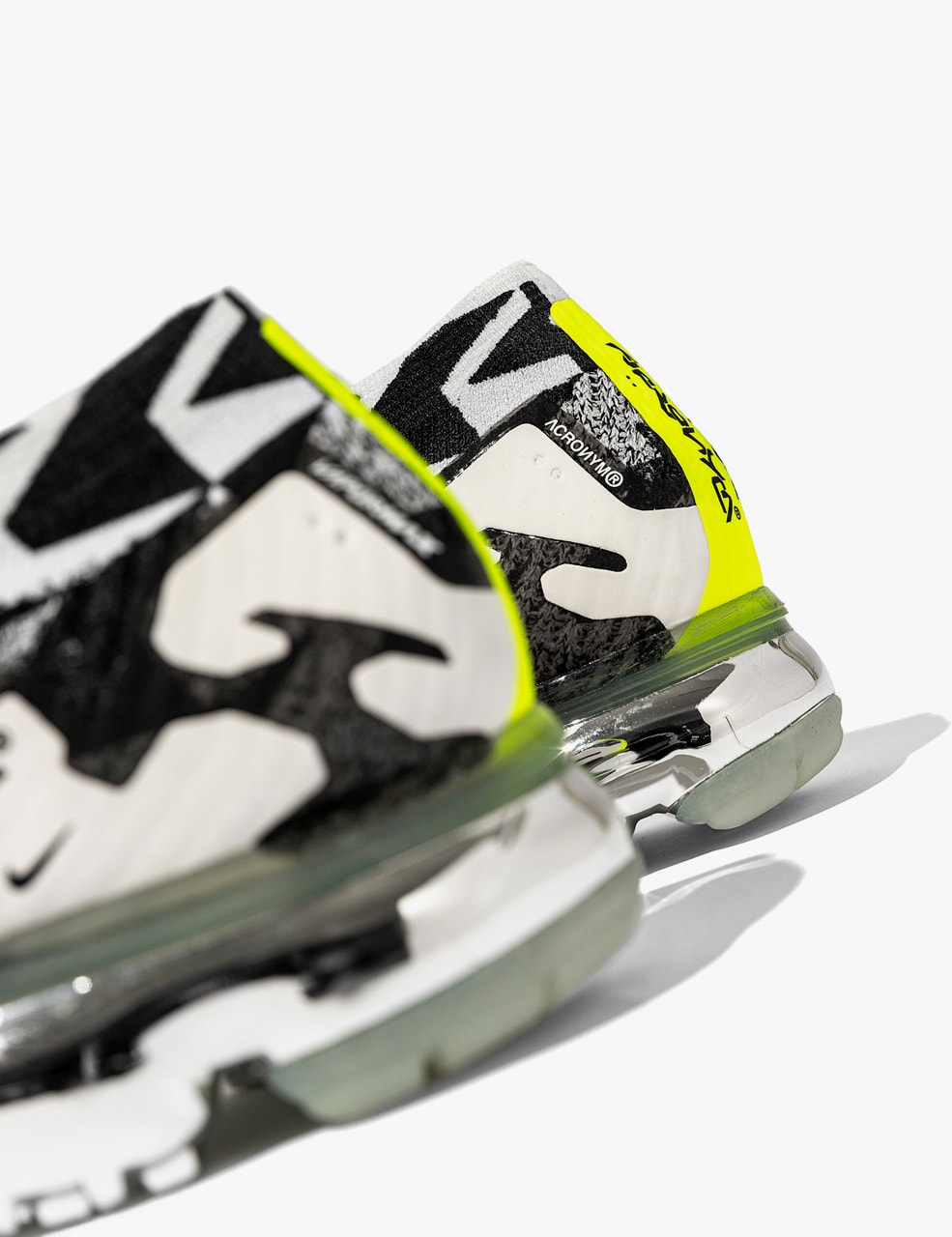 2 of 3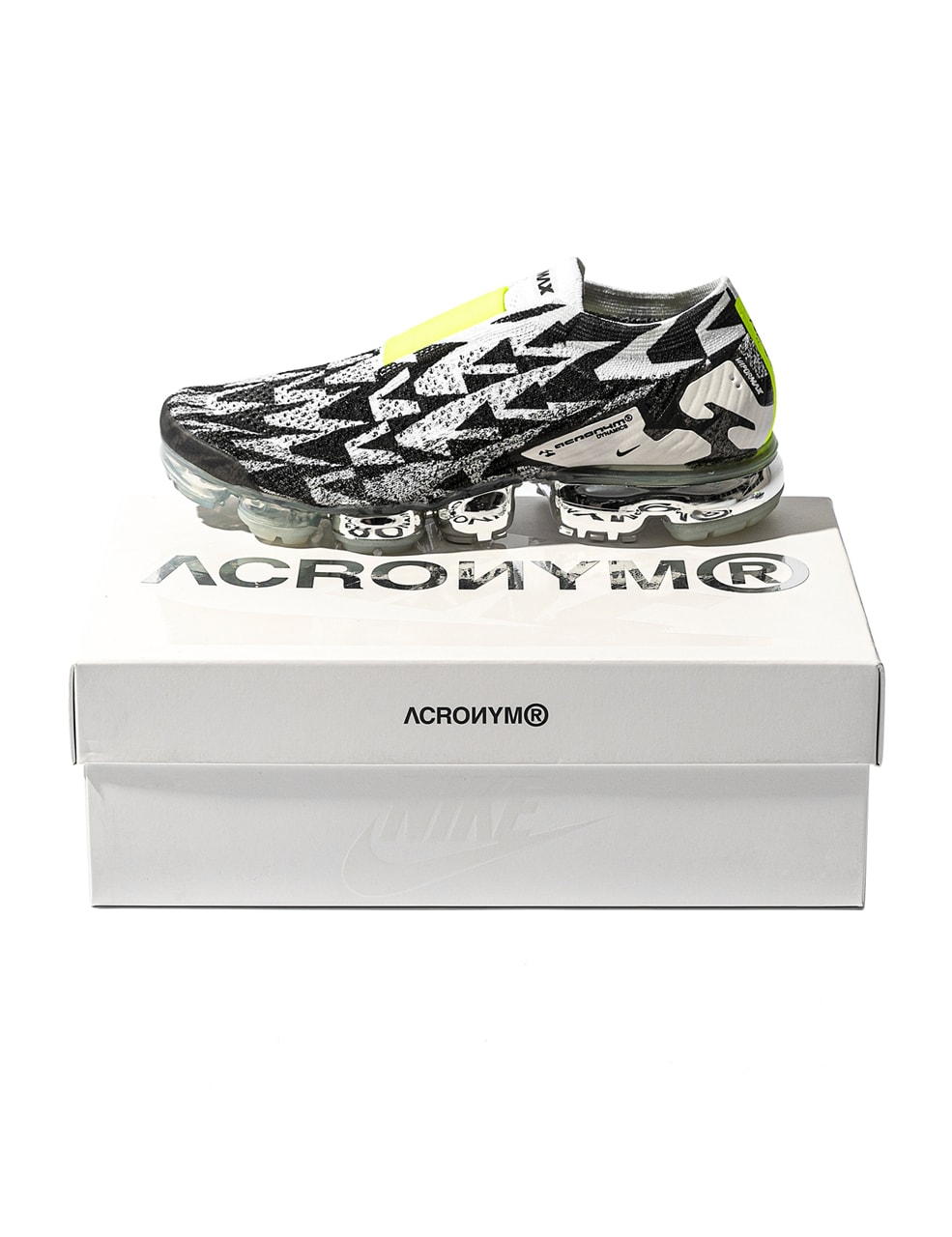 3 of 3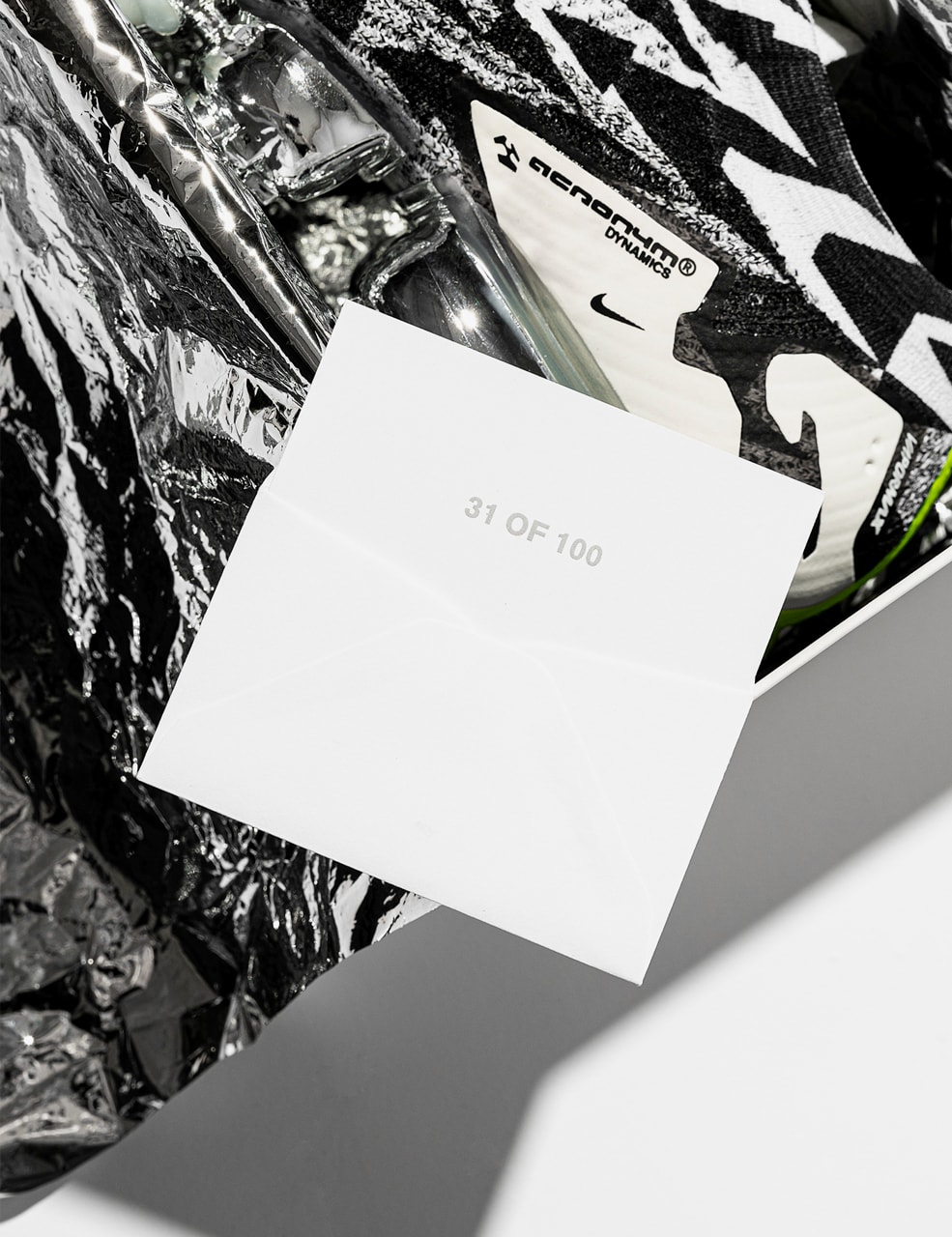 "The product team was nice enough to make a few for our friends and family, though. LeBron James has one, Max Holloway has one, I think Justin Bieber has a pair. A few have been given out here and there but we still had a few sizes available. Everybody always asked about them, so we figured this was our chance to give them out."
"In the sneaker community, Tom Sachs' Mars Yard was really important. I actually have the original Mars Yard from the first release [that I was originally going to give away] but they're quite beat up so we figured nobody else is gonna want to wear this. But this is also an amazing shoe and [I haven't really worn them].
"It's definitely cooler to get them into the hands of somebody who's gonna appreciate them. The whole idea of this project is, 'What can we do with this stuff?' Rather than just selling it for whatever or keeping it in on ice, of course."