Best New Tracks: Kid Cudi, Playboi Carti, Westside Gunn, DaBaby & More
10 projects that you need in your rotation this weekend.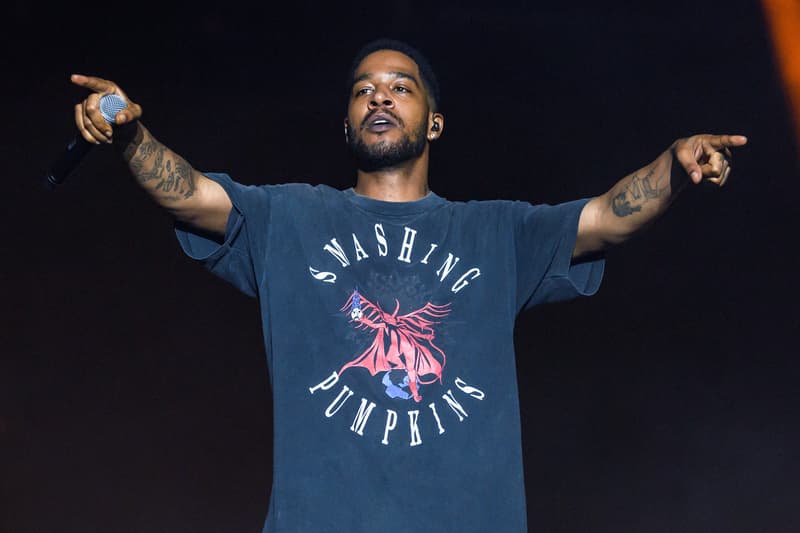 While concerts and festivals are sidelined until next year due to the ongoing coronavirus pandemic, musicians across all genres gave music fans something to look forward to this week. Kid Cudi and Playboi Carti both returned after lengthy hiatuses with new singles. Westside Gunn delivered one of his best projects to date with his new album Pray for Paris, and he brought some new collaborators along for the ride. DaBaby and dvsn also dropped brand new albums. Check out the latest installment of Best New Tracks below and be sure to catch up on HYPEBEAST's picks for the 20 best albums to listen to while staying home.
---
Kid Cudi – "Leader of the Delinquents"
Kid Cudi dropped his first solo offering for the first time in four years complete with his signature, melodic humming with "Leader of the Delinquents". Origins of this track go all the way back to 2012, years before 2016's Passion, Pain & Demon Slayin' and his collaborative Kids See Ghosts project with Kanye West in 2018. "Delinquents" sees Cudi return to his inspirational and uplifting storytelling, rapping about his trials and tribulations, slaying his demons and overcoming all odds. Of course, he wants you to know you can do the same. Now we wait for a full-length album (which he's promised this year) and that Netflix series.
Listen: Spotify | Apple Music
---
Playboi Carti – "@ MEH"
We may not have gotten Whole Lotta Red this week, but the music world got the next best thing: a new single and music video from Playboi Carti. "@ MEH" Produced by jetsonmade with additional contributions from Neeko Baby and Deskhop is an upbeat, vibrant production that sounds like you're jumping platforms in a late-90s video game. Carti's signature baby voice is in full effect here, and it might take three to four listens to fully digest what he's saying outside of the few emphatic curses thrown throughout. Nick Walker (the man behind Freddie Gibbs' Bandana visual world) created a moody, starkly lit music video with an absence of red, but plenty of mystery throughout. The track is already YouTube's No. 1 on trending and has over six million views in less than 24 hours. It's safe to say people are excited about the wait being over.
Listen: Spotify | Apple Music
---
Westside Gunn – Pray for Paris
Westside Gunn has delivered one of the best rap records of 2020. There isn't an ounce of fat on Pray for Paris, as each and every one of the 13 songs is focused, concise and as hard-hitting as ever. The Griselda leader enlists some of his old friends and brings along a few new collaborators, with Tyler, The Creator, Joey Bada$$ and Wale all joining the ensemble cast. Gunn was so inspired by his first trip out of the country for Paris Fashion Week, that he immediately hit the studio to record and got the attention of Virgil Abloh who created the cover art. All of this comes just after Westside announced he is a coronavirus survivor, as he secretly struggled to get well while the album rollout continued. Let the FLYGOD reign continue as healthy as ever.
Listen: Spotify | Apple Music
---
DaBaby – Blame it on Baby
Last year, DaBaby skipped any 'Best New Artist' classifications and jumped right into being a hip-hop heavyweight on his own terms and own timeline in the span of just a few months. First he dropped the critically acclaimed Baby on Baby and then by the time he released his surprise follow-up KIRK at year's end, he was already a force to be reckoned with. Blame It in Baby is a short but sweet offering created through the restlessness of self-isolation. In 33 minutes, Baby tapped Future, Roddy Ricch, NBA YoungBoy, Megan Thee Stallion and more. He created some funny infomercial-inspired rollout videos while his "Jump" single found him in a rush to disinfect his mansion. It's a summer-ready anthem ready to fill car speakers everywhere once we're finally encouraged to go outside.
Listen: Spotify | Apple Music
---
Tom Misch and Yussef Dayes – "Nightrider" feat. Freddie Gibbs
Tom Misch and Yussef Dayes' chemistry has been at an all-time best with their first two singles "Kyiv" and "Lift Off", both free-flowing instrumental jam sessions. For "Nightrider", the duo taps Freddie Gibbs as he he lets the beat breathe for a smooth and hazy freestyle. The animated music video, created by Jack Brown and James Neilson is something to get lost in for multiple viewings. If you haven't yet, watch Misch's ongoing "Quarantine Sessions" cover series from his bedroom, too.
Listen: Spotify | Apple Music
---
Userdeleted_95 – Album Deleted
Mysterious producer-rapper userdeleted_95 has an endless archive of music hidden throughout the internet through numerous pseudonyms, motives and aesthetics. His latest project Album Deleted is a quick yet memorable 15 minute listen full of promise. It will leave you wanting more. User seamlessly flows through murky, minimalist productions like "Unable to Save Project" to bouncy, upbeat sample-driven tracks like "Cutest Fantasy Game 18+". "Dark Mode" creates an insular world that slows things down, adding a vocal loop fitting of a Mobb Deep-era Alchemist beat. His vocals never try to outshine the production. Instead, he balances it all with adept focus and a laid back ability to let the beat breathe. Stay tuned for more.
Listen: Spotify | Apple Music | Soundcloud
---
dvsn – A Muse In Her Feelings
Add dvsn to the list of artists who have returned after multi-year gaps between projects, and the OVO duo made it worth the wait. Comprised of signer Daniel Daley and producer Ninteen85, their third album A Muse In Her Feelings features a star-studded cast like PARTYNEXTDOOR, Future, Popcaan, Snoh Alegra, Summer Walker and more. "We are going to go against the grain — be divided from the bunch and separated from the past. The moment you think we're going to go left, we're going to do a hard right," Daley told Billboard. Muse isn't too much of a departure for the group, but rather a refinement. And it's worthy of multiple listens.
Listen: Spotify | Apple Music
---
Rina Sawayama – SAWAYAMA
London-via-Niigata singer-songwriter Rina Sawayama made her studio debut with SAWAYAMA after championing the lead singles "Comme Des Garçons (Like The Boys)", the anti-consumerist "XS" and last week's "Bad Friend". Her self-titled project is fueled by pop sensibilities with experimental guitar riffs, plenty of pitch changes courtesy of tinkering with a vocoder and more. "It's about understanding yourself in the context of two opposing cultures (for me British and Japanese), what 'belonging' means when home is an evolving concept," she said upon the album's release. It's a singular effort that doesn't sound like anything else right now.
Listen: Spotify | Apple Music
---
Kenny Mason – Angelic Hoodrat
West Atlanta rapper Kenny Mason has arrived. After his breakthrough "HIT" at the end of last year, Kenny showcased the self-awareness and introspection of an artist well beyond their first studio project. On Angelic Hoodrat, the rapper showcases his lyrical ability and need for experimentation. What results is a bold proclamation full of originality and some definite promise in-store for the future. In the music video for his album's title track, Kenny maneuvers through the dimly lit streets of Atlanta as his heart bleeds through his pocket tee. By the time he's levitating, it's clear that his charisma holds some serious staying power.
Listen: Spotify | Apple Music
---
The Streets – "Call My Phone Thinking I'm Doing Nothing Better" feat. Tame Impala
Mike Skinner's UK rap project The Streets has returned in a major way, enlisting Kevin Parker of Tame Impala fame for the first single from the collective's upcoming mixtape. The track is titled "Call My Phone Thinking I'm Doing Nothing Better" from the full-length None of Us Are Getting Out of This Life Alive, set to release July 10 via Island. The video's main theme revolves around isolation and social distancing with Skinner traveling to different remote locations while trying to stay in contact with his friends.
Listen: Spotify | Apple Music