The 20 Best Albums to Listen to While Staying Home
HYPEBEAST's editors champion their favorite albums to listen to in solitude.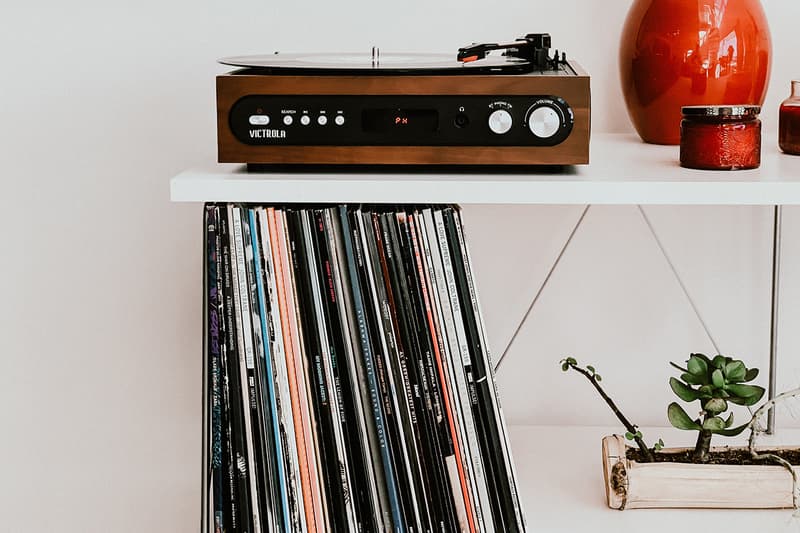 Working from home can be an uninspiring slog. Unlike contemporary office culture, with its speakers and designated Spotify DJ, your couch and its surroundings can provide little in the way of entertainment. One way to boost your work-from-home morale would be to pick up some items to keep you productive, or perhaps perfect a skill, such as making the perfect coffee.
Where else can you find inspiration while staring at the same four walls day-in-day-out? Music, of course. At HYPEBEAST, our editors champion a WFH playlist — one that's diverse enough to suit a variety of atmospheres. Whether you're trying to focus, relax or take some time out and enjoy the comfort of your new makeshift office, music can serve as the perfect backdrop for inspiration.
HYPEBEAST has compiled a comprehensive WHF playlist formed of 20 must-listen albums. Read on to find out how the likes of Pink Floyd, J Dilla, Marvin Gaye and more are here to help.
---
Pink Floyd, The Dark Side of the Moon (1973)
For those looking to zone out from the realities around us, there's Pink Floyd's iconic 1973 album The Dark Side of the Moon. Pink Floyd treats the ears to 42 minutes of esoteric, ethereal sounds, complimented by David Gilmour's modified Fender Stratocaster that backs each of the 10 songs. Elsewhere, there's spacey electronic notes, warped keyboard and dreamy vocals, coming together to create a timeless album that should become your new WFH soundtrack.
Little Dragon, New Me, Same Us (2020)
Gothenburg-based Little Dragon has returned with its sixth studio album, New Me, Same Us. As the band told HYPEBEAST in a recent interview, the album presents a new phase for Little Dragon. It explores the chilled out, experimental attitude we've come to love from the quartet, but adds unseen layers of soul and acoustic elements. New Me, Same Us is for those looking for that Monday morning coffee soundtrack — calm, collected and not too commanding.
Orville Peck, Pony (2019)
Orville Peck's Pony is a throwback to the era of Johnny Cash, packed with velvety vocals and lyrics that tell a story. There's "Dead of Night," an homage to the Wild West that wouldn't sound out of place in Twin Peaks or a Tarantino film, as well as "Roses Are Falling," a somber, Elvis-esque piece complete with all the vintage bells and whistles. Pony is melodic, never too intense, mysterious and, in places, exciting (Peck is a leather-clad, mask-wearing cowboy, after all). Blast through a record player for that authentic feel.
Emotional Oranges, The Juice. Vol I (2019)
Los Angeles duo Emotional Oranges are here to inject some chilled Californian vibes into your new daily routine. The Juice. Vol I is a perfect blend of alternative R&B, pop-synths, swooning vocals and sex, as many songs tell a romantic relationship explored through the shared vocals of the mysterious duo known as "Emo" and "V." "Personal" is groovy, "Hold You Back" brings a touch of The XX, and "Built That Way" provides the pop. Altogether, it's a wholesome album and an upbeat, easy listen.
Sampha, Process (2017)
Sampha catapulted into the music industry in 2017 with the release of Process, which came after years spent working alongside Frank Ocean, Beyoncé, Kanye West and other notable figures. It was an invitation into his life, an incredibly personal and open portrayal of life, death, struggles and hope. Process feels appropriate right now, with songs such as "Take Me Inside" and "(No One Knows Me) Like The Piano" serving as atmospheric background tunes to get stuck into while working from home.
– Eric Brain
---
crwn, Orchid (2018)
The latest solo project of Filipino beatmaker crwn proves to be the ideal soundtrack for a productive work-from-home day, offering a calming yet stimulating atmosphere that will keep you focused for hours. Utilizing almost everything from stunning jazz and soul samples to vibrant synths and catchy drum patterns, Orchid is sure to make your journey to fruitfulness seamless and satisfying.
King Krule, 6 Feet Beneath the Moon (2013)
King Krule's 2013 album 6 Feet Beneath the Moon is one of the strongest debuts in recent memory. Archy Marshall's self-assertive vocals can match whatever tone he decides to craft with his Fender Mustang 90, whether it's the aggressiveness of opener "Easy Easy," the calming sample on "Will I Come" or the romantic atmosphere of "Baby Blue." The lengthy 14-track project narrates the highs and lows of a day in self-isolation that eventually ends in a tranquil and collected state.
Saba, CARE FOR ME (2018)
CARE FOR ME shows off Saba's lyrical ability as a full-blown storyteller. The 40-minute album is essentially a narration of experiences and situations, both good and bad, of the Pivot Gang co-founder. "PROM / KING," one of the strongest tracks in the album, acts as a eulogy to his cousin and fellow Pivot Gang member Walter E. "John Walt" Long. There's also the self-explanatory cut "LIFE," along with more cheerful offerings like "SMILE" and "HEAVEN ALL AROUND ME." Regardless of your mood today, you'll definitely find yourself invested in the life and times of Saba.
The Last Shadow Puppets, Everything You've Come to Expect (2016)
The sophomore album of The Last Shadow Puppets, helmed by Miles Kane and Arctic Monkeys frontman Alex Turner, was long overdue. But the eight-year wait between The Age of the Understatement and Everything You've Come to Expect was evidently worth it. The duo's physical transformation from T-shirt-wearing 20-somethings to unbuttoned polo-dressed 30-somethings reflects the sound of the album, as they jumped from linear sonic constructions to more experimental and eccentric tracks. Turner and Kane's songwriting also demonstrates a maturity over the years, indicating that the two are aging like fine wine.
Devonté Hynes, Palo Alto (Original Motion Picture Soundtrack) (2014)
Devonté Hynes stepped out of his work as Blood Orange to score Gia Coppola's feature film debut, Palo Alto, based on James Franco's short story collection of the same name. Hynes manages to capture the vulnerable, messy yet relatable storylines of the characters, and transforms those intricacies into a compilation of tracks that perfectly accompanies hazy days spent indoors. There's love, loneliness and compassion spread across the soundtrack — three emotions everyone is all too familiar with.
– Sophie Caraan
---
Frank Ocean, Endless (2016)
Frank Ocean's Endless is mixed to sound like you're in an empty hall alone, the walls almost too high to see the ceiling. It's that idea of a large, open space that might help with the current claustrophobia of working from home. Endless opens up with a minimalist, echoing rendition of an Isley Brothers turned Aaliyah cover and gets exponentially weirder, more dreamlike and existential throughout. Frank is more open and revealing in the first bars of "Alabama" than arguably any other time in his career. It's enough to have anyone take a break from their desk and meditate on building their own 12-foot spiral staircase to nowhere in particular.
Listen: Apple Music | YouTube
NxWorries, Yes Lawd! Remixes (2017)
Those who are familiar with Knxwledge know just how prolific the man is. In 2016, he and Anderson .Paak dropped their critically acclaimed Yes Lawd! as the duo NxWorries, followed just a few months later by the full-length Yes Lawd! Remixes. The 2017 remix tape is a little less vibrant and sunny than the original offering with Knxwledge's production taking center stage through some vintage vinyl grain, additional low-end bass and some serious grooves. This makes it perfect for some background motivation while focusing on your work from home. It's an alternate, modern form of the soul that Anderson brought to the first installment. The trio of "Best One", "Kutless" and "H.A.N." shows everyone the personable responsibility to slow things down. And that's a perfect message now more than ever.
Marvin Gaye, What's Going On (1971)
In times like these, someone has to ask the question, "What's going on?" Marvin Gaye's 1971 magnum opus did just that. The concept album depicted a Vietnam War veteran coming back to America where there's open hatred, ongoing and seemingly endless suffering and rampant injustice. If it sounds intense, it's because it is. But Gaye's soulful vocals and upbeat production never fail to transport you back to a different era. Despite the heartbreaking subject matter, there's a certain warmth in this music. It's a record that encourages you to think, draws plenty of modern day parallels, and also allows you to just sit back and vibe out. There's so many different ways and contexts to listen to this album, and it never gets old.
Sade, Love Deluxe (1992)
In 1992, Sade delivered Love Deluxe, a record that's pop-focussed but still rooted in jazz, which makes this album such an easy listen in all settings. The programmed drums are signature '90s and marks the first time Sade played around with singing without the assistance of live drums. It's smooth and glossy, soft yet poignant."No Ordinary Love" got most of the recognition, but "Mermaid" and "Cherish the Day" are still relevant songs to this day. "You can buy any kind of love but you can't get love deluxe," she said on the album's release. Fortunately, you can buy and stream Love Deluxe, and you absolutely should.
Madlib, Shades of Blue: Madlib Invades Blue Note (2003)
When legendary American jazz label Blue Note Records gave never-not-working producer Madlib carte blanche to bring his original form of experimental sampling to their vast archives, they had to know that they were unleashing a monster. This was back in 2003 when Madlib was just as prolific but more focused on the helium and mushroom infused sounds of his brick-carrying alter ego Quasimoto and pairings with MF DOOM and J Dilla. Invades Blue Note let Madlib shine on his own, allowing the Beat Konducta to produce some of the most recognizable instrumentals of his career. "Slims Return" and "Distant Land" come to mind. These days, Madlib continues to propel artists to unexplored territories, but there's something about this tape. It will certainly give your day some momentum.
– Patrick Johnson
---
Nine Inch Nails, Pretty Hate Machine (2010 Remaster)
Not necessarily the most laidback of albums, Nine Inch Nails' 1989 Pretty Hate Machine is a desolate trip through Trent Reznor's riotous industrial vision. Meshing the heavily-warped electro of the late '80s techno with metal-tinged rock, the band's debut album is a harrowing look at Reznor's artificial world. At the same time, the album is remarkably catchy.
Burial, Untrue (2007)
Dripping with wet psychedelic noise and heavily-distorted breakbeats, Burial's sophomore album is one of electronic music's most-respected projects ever. This is an album that radiates intimacy, reflecting heavily-distorted visions of a dank dystopia through haunting vocals and chthonic takes on UK's bass music culture. There's no concise way to describe Untrue, but Burial somehow illuminates the beauty in being alone, where even at our most detached, substance between one another continues to exist.
Radiohead, Kid A (2000)
If it's any consolation, Thom Yorke and Radiohead have been crafting albums for self-isolation and anxiety for decades. If there has ever been a more perfect album for those quarantining indoors and fending off cabin fever, the band's fourth album Kid A is the one. Swirling with expertly-layered compositions, Radiohead's follow-up to 1997's OK Computer seamlessly blends the worlds of electronic and rock, leaning towards the likes of ambient, jazz, and trip hop as foundational forces. The result is a dystopian, retrofuturistic record that hits in all of the right places. From the melancholic ambience of opening track "Everything In Its Right Place" to the ripping guitar riffs on "Optimistic," there's a little bit of something for everyone.
J Dilla, Donuts (2006)
It's hard not to put J Dilla's magnum opus Donuts in this list. Chock full of ephemeral loops and some of the best sampling to ever grace hip-hop, Dilla's sophomore album is a wild trip through his unmatchable artistic vision. From funky breakbeats to jazzy horns and ultra-flipped vocals, Donuts is a warm-hearted tour de force from the late superproducer, making for an upbeat collection of grooves that's perfect for your sluggish days at home.
MF DOOM, Vaudeville VIllain (2003)
Everybody's favorite cult rapper has never been one for the normal. Bringing together comic book culture and hip-hop, the British-American rapper's third album is fun, tongue-in-cheek and inventive. Every beat sounds as if it's hopping off of a comic book page, flipping '90s boom bap on its head with a fierce injection of the experimental. DOOM is otherworldly with his poetics, and his narratives are at their most visual on Vaudeville Villain, with him twisting his tongue, and your ear, at every turn.
– Torsten Ingvaldsen