Little Dragon Is Challenging the Definition of Success
The Swedish band is turning its back on expectations and entering a new chapter.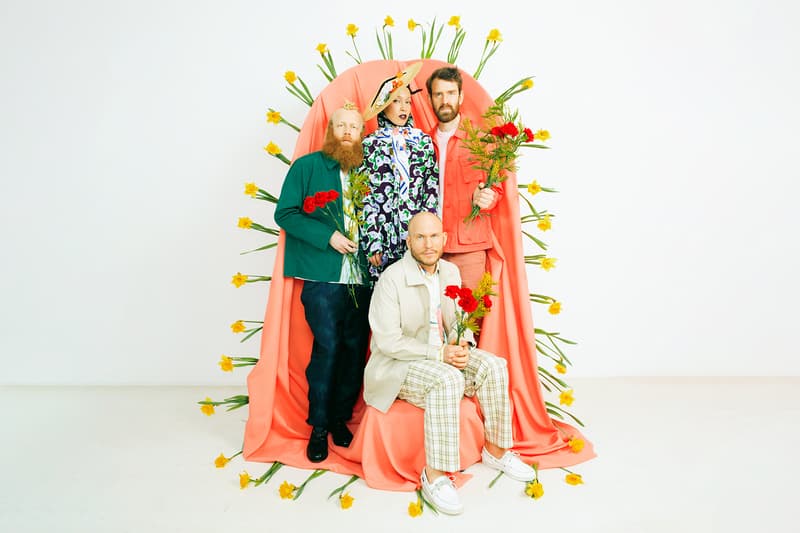 Gothenburg-based Little Dragon has always been seen as an outsider in the music industry. Over the 13 years since the band released its debut album — 2007's Little Dragon — the four-piece (made up of frontwoman Yukimi Nagamo, drummer Erik Bodin, and Fredrik Wallin and Håkan Wirenstrand on keyboards) has consistently turned away from the obvious commercial success that was within reach. Instead, Little Dragon's members pursued music that they were interested in, leading to a description that they only "almost" made it, a label that the band has leant into and self-depricatingly embraced in recent years.
The most obvious crossover for the band was 2011's Ritual Union, as both the album and its title track led to a higher profile around the world. 2014's follow up — Nabuma Rubberband — went on to be Little Dragon's highest charting record in both the US and the UK, reaching 24 and 14 respectively. For the band's members, though, turning their back on that obvious route doesn't mean they haven't made it.
"We're still here making albums and doing shows, we're grateful for that," explains Nagamo. "It's questioning what success means. If we take success very seriously, of course it's going to be painful to feel like we almost made it."
"Is success winning a Grammy, or is success putting out music, or is success a feeling, or is it having one person at a show be moved for the rest of their lives?" continues Nagamo. "That's something that anyone who's doing something creative has to ask themselves."
"It's questioning what success means."
By a lot of measures, it's hard to argue that Little Dragon hasn't made it by this point. As well as receiving critical praise, the band has sold out shows across the world and is now preparing to release its sixth album. The project's title, New Me, Same Us, hints at an evolution for Little Dragon, which is also reflected in the new way the band worked for this album.
"We talked more to each other, we expressed how we feel, where we're at in life, what we think is important," says Bodin of the writing process. This way of putting together the album was a contrast to previous releases, which usually relied on early demos setting the template for the album. "There's no point in making an album, or being in music, or having a band unless you are enjoying it to the fullest," continues Bodin. "You have only one life so it better be a good one. We embraced that feeling in the process of making this album."
Ahead of the release of New Me, Same Us, we caught up with Nagamo and Bodin to look back at 13 years of Little Dragon, and what the band is planning for the future.
What were your plans for the album?
Yukimi Nagamo: This is our sixth album, usually the way we work is we have had demos of the track and we'd add stuff on to that and produce the songs. This time we used the demo to make a remix of it, making our own version of it together and playing our own stuff from scratch and really working together more than we usually do. The album has glued us together as a band. We feel like we're in a new phase.
What was it like to change how you worked together?
Nagamo: It was difficult at times, because we are all pretty opinionated with what we like and don't like. But we've been a band for a while and we want to try stuff and make stuff, put our egos aside and try what everyone wants to try and see what we can think afterwards. It's really grown with us, bringing us closer together.
Bodin: It's been great, it's been fun and it felt like many times in the past we have made demos that we were sentimental about and we would keep the general vibe from the very start. It felt like in the process of making this album we talked more to each other rather. We weren't stubborn, for example. I can be very stubborn if I have a plan, but it's time to let go of the ego and see where it goes. Who cares? It can be a horrible feeling if you want to try to repeat yourself because you think it might give you some success or whatever. I feel like we talked about success as a very vague thing, it's better just having fun. That was the main thing, we had fun.
What do you hope people take away from the new album?
Nagamo: We really took time arranging the tracklisting of the album. We know these days it's more about songs and playlists, but we love to listen to the full album so we had that in consideration when we made the track list and we wanted to make it feel like a trip. You start somewhere and you end up somewhere else. You can listen to the whole album and feel that journey.
"There's no point in making an album, or being in music, or having a band unless you are enjoying it to the fullest."
It's been three years since the last album. How is this one different? How has that break been for you all?
Nagamo: It's been a good break. You can reflect a little bit. Life changes as we all know, everyone's life situation changes with every album. Each album represents a new chapter of where we are. Even if you don't try to find a new concept, life is a new concept at that point. We were all in a different place, we had new stories to tell, and we didn't want to make a copy of the last album, which we felt was more electronic-based and this felt more acoustic.
You mentioned deciding not to just follow success. Why was that so important?
Bodin: I think it's because we have a tendency to get tired of ourselves and also get tired of the feeling of being stuck. We are allergic to a playback machine. When we met, amongst all the various different music genres, we were all sort of unified under jazz and free jazz, we really enjoyed that sort of thing: just grab the moment. If you look at music and you really appreciate those sorts of things then it doesn't make any sense to repeat yourself. Music is more about exploring yourself with sounds.
It's been 13 years since you released your first album. What have you learned over that time?
Bodin: It feels like we've learnt everything and nothing. You can be much more in control of what you want to do. When you're starting a band and you get so excited that you have a record deal that you're willing and able to go with anything just for the sake that you're releasing an album.
Nagamo: I think we learnt to say no. You're trying to grab every opportunity and you're so grateful for every opportunity you get that you fear if you say no to something it won't come back. Of course, things have changed by the sixth album. I felt like we were up and coming for like forever, but I think that with time you realize of course you might want opportunities but you can't just make choices out of fear out of them not coming back. You've got to keep making music and doing what you do and sometimes if you've been on tour constantly for six years, you need a break.
How do you define success?
Nagamo: I think success, for me, is to still be friends with the guys in the band after all these years, after difficult times, after arguments and disagreements and differences on all levels, still being here and having fun together, supporting each other. That's success.
"We were all in a different place, we had new stories to tell, and we didn't want to make a copy of the last album."
You've worked with a lot of collaborators throughout your career. What do you look for in someone to work with?
Nagamo: Good vibes in the music, it's always looking for something different. It's not like, "Oh it has to be this," we will collaborate with anyone that we think is interesting and inspiring. We're music lovers and nerds, we don't like one style. Whatever moves us at the moment.
What's that process of collaboration like?
Bodin: It can be very different. It can be just sending files over the internet, never meeting with the parties or talking, but you're writing on each other's music. Or it can be more like two or three days in the studio where we just played with each other. When you make music over the internet, in a way you don't have to be polite but you miss out on that feeling of working person to person with another, which is a very strong bond.
Why has the visual element always been important to Little Dragon?
Nagamo: It's part of the experience. You take in music with your eyes and your ears, it's like an extension of the artistic expression. You just express yourself more, beyond just the sounds.
After this album what are your plans for the future of Little Dragon?
Bodin: To keep making music. We had so much fun making this album that we're not exhausted of making music together in any way. I think we'll just go back and make more music.