10 Products to Keep You Focused While Working From Home
From candles to help you relax to headphones to block out the noise.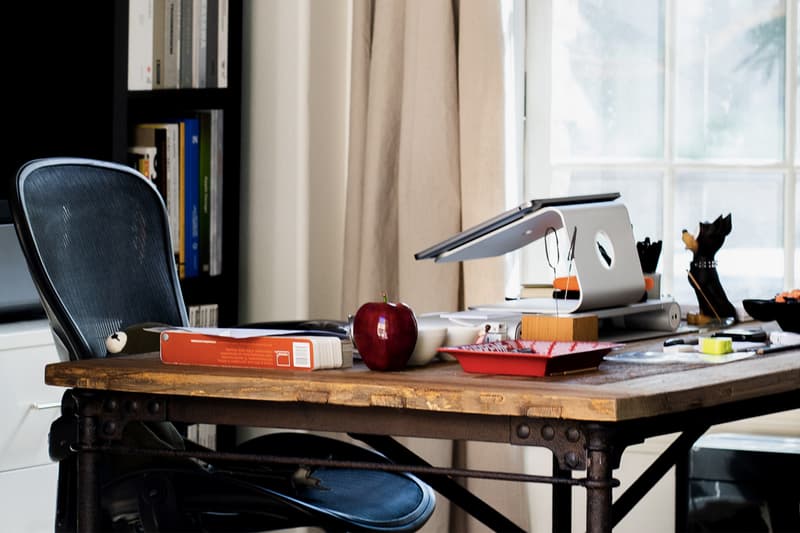 Many of us have been compelled to go into self-isolation in recent weeks. There are plenty of things we can do to stay fit and healthy while indoors, from yoga and home workouts to exercising our brain with a good read. But how do we stay productive during this strange new world of mass quarantine, particularly as many of us are now having to work from home for what may be an indefinite period?
There are many small ways to make working from home just that little bit easier, from lighting candles designed to help you concentrate, to picking up journaling to put your thoughts and feelings into words. If you're stuck for inspiration, lacking motivation or struggling to be productive, keep on reading for how these 10 products can help you stay focused while social distancing.
Studio SSEY Concentration Aid Candle
Studio SSEY has blended seven pure essential oils in order to make its Concentration Aid candle. Each of the oils help relieve stress and anxiety — something many of us are experiencing at the moment — with some scents even boosting brain function and memory. Furthermore, its softly frosted glass holder has been designed to emit low light, allowing the brain to enter a state of relaxation.
Bang & Olufsen Beoplay H9 3rd Gen
Block out the noise with Bang & Olufsen's Beoplay H9 third generation headphones. They're arguably one of the best pairs of headphones on the market thanks to their superior sound quality, 25-hour battery life and advanced noise cancellation system, which comes in handy when you're trying to focus while working from home. B&O's offering will also last you a lifetime to come once everything returns back to normal order.
Lupicia Assam Calcutta Auction Tea
Wake up with a cup of Lupicia's Assam Calcutta Auction tea. This tea was previously highlighted as one of HYPEBEAST's editors' favorites thanks to its relaxing properties. Its demanding brewing process allows you to take time to indulge yourself each morning, and when you come round to drinking it, you'll appreciate the sweet aromas and full-bodied experience.
Moleskine Pro Notebook
If you're feeling lonely or disconnected, why not take some time to jot down your thoughts? Moleskine's notebooks are one of life's simplest pleasures, with their high-quality paper and premium leather-bound casing serving as the perfect platform for you to be creative. Maintain your sanity and take time to reflect by filling in the notebook's designated to-do list and personal goal sections.
Ystudio Resin Rollerball Pen
A good notebook deserves an equally good pen — Ystudio's Resin Rollerball is here to help. The pen's perfected balance of brass and acrylic provides a comfortable weight in the hand, with its smooth matte finish encouraging you to pick it up and write. While pricey, this is the kind of pen that makes writing an enjoyable ritual.
Nike Recovery Foam Roller
Many of us might be leaving offices that were designed to keep us comfortable, with ergonomic chairs and standing desks to provide us with the optimum working environment. So why should working from home be any different? If the couch has become your new work from home desk (which we can totally relate to), then pick up Nike's Recovery Foam Roller. This 13-inch gadget features plenty of dense, ridged surfaces that massage and stretch muscle groups, perfect for loosening up after a long day.
SLUXKE Gallon Water Bottle
Staying hydrated is very important, especially when we've got our home comforts of tea, coffee and fizzy drinks around us. Instead of reaching for those, fill this SLUXKE bottle up with a gallon of water in the morning, and following its hourly increments for a regulated, healthy drinking consumption, keeping you refreshed and awake throughout the day.
retaW BARNEY* Desktop Diffuser
Tokyo-based fragrance label retaW produces top-quality desktop diffusers that can last for months. The BARNEY* diffuser fills your room with notes of the great outdoors thanks to its mixture of green scents, violet leaves, Lily of the Valley, amber, musk and cedarwood. Perfect for when you want a taste of the outdoors when working from home.
Ferm Living Rest Lamp
Ferm Living's Rest lamp offers exactly what its name says. The visually-pleasing matte opal glass sphere rests on a natural, solid black marble base, coming together as a sculptural piece of interior design. Its looks aren't the only thing worth appreciating, as it emits a warm light (keeping in tune with Studio SSEY's candle), which is assured to maintain a cozy, calming space to work in.
Stack Independent Magazine Subscription
Working from home can be uninspiring, so sign up for a subscription of independent magazines from Stack. The service prides itself on delivering a "beautiful, intelligent magazine handpicked to surprise and inspire" to your door each month. Notable titles include MacGuffin (also one of our editor's favorites), which intellectually undresses seemingly mundane subjects such as a desk, as well as Where the Leaves Fall — a timely publication which explores the relationship between people and nature.