These Are the Must-See Movies and TV Shows Premiering in May
It's gonna be tough only going to the theaters once this month.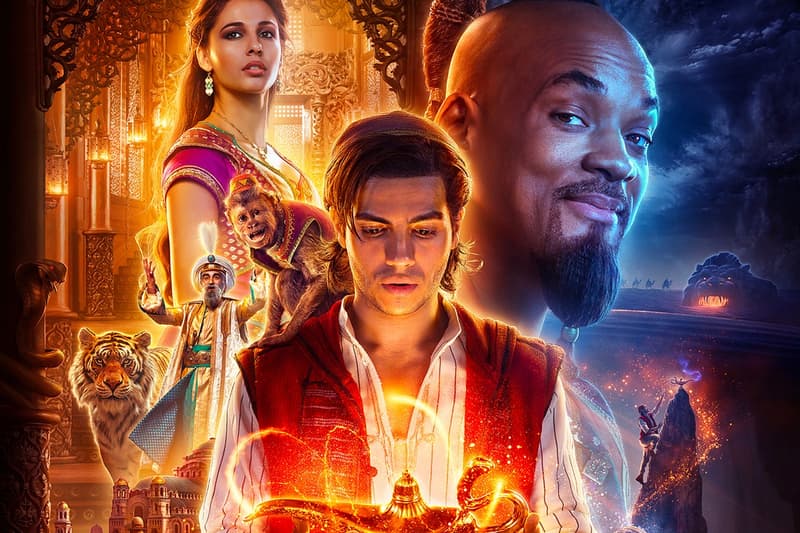 Welcome back to our list of the most hyped movies and television shows premiering this month, and following the premiere of Avengers: Endgame and episode 3 of Game of Thrones, there's still a lot of quality content coming down the pipe to devour. For one, that Zac Efron-Ted Bundy movie causing all the ruckus on Twitter is finally dropping, and that's sure to bring a lot more controversy during the week. Then we've got Detective Pikachu arriving the week after, which is poised to do great Stateside and gangbusters internationally. Later on, the conclusion of the John Wick trilogy will finally make its way to the silver screen, determining if Keanu Reeves' best carer role is as Neo or Baba Yaga.
And for the television side of things, you'll see Spike Lee's She's Gotta Have It making its graceful return after a brief hiatus between seasons. Of course, the final episode of GoT is expected to air this month, and, to soak up all our tears—or ease us out of a bittersweet conclusion–a behind-the-scenes special is slated to premiere immediately after. Lastly, Swamp Thing will make his DC Universe debut; hopefully it's better than his '80s adaptation (shout out to Wes Craven, though).
Check out the list below, ranging from some of the must-see releases to the more under-the-radar films and TV shows coming in May.
Movies
Extremely Wicked, Shockingly Evil and Vile (May 3)
Starting off in 1969, the narrative is told through the eyes of Liz Kloepfer (Lily Collins), a single mother who unwittingly falls in love with Ted Bundy (Zac Efron). She later discovers his gruesome history, which involves murdering over 30 women, and is forced to face the truth about her longtime boyfriend. The film is directed by documentarian Joe Berlinger, who also helmed Netflix's recent docuseries Conversations with A Killer: The Ted Bundy Tapes.
Why it's worth your time: Despite all the social media outrage of Ted Bundy being glorified lately on Netflix, this film will focus on him and the charm he allured his female victims with. Naturally, a lot of people have a problem with showcasing these inherit facts, and as such, the publicity has written itself. The buzz circulating the film will become a huge topic of conversation once it drops, especially if it ends up being anywhere near as great as the docuseries that proceeded it.
Long Shot (May 3)
Fred Flarsky (Seth Rogen) is a gifted and free-spirited journalist/troublemaker; Charlotte Field (Charlize Theron) is one of the most influential politicians in the world. When Fred unexpectedly runs into Charlotte, he soon realizes that she was his former babysitter and childhood crush. When Charlotte decides to make a run for the presidency, she impulsively hires Fred as her speechwriter—much to the dismay of her trusted advisers.
Why it's worth your time: We love all the strong behind-the-scene moves Seth Rogan is doing. He's got a weed company, he's doing "Got Milk?" ads for Kith, he's EP and director of several projects, and we as the culture appreciate him. But we will always look forward to seeing him star in a new comedic role. Although the film looks like it hits all the beats of a typical Rogen comedy, something about the film comes off as a mature progression of his comedic tone. Like Eddie Murphy's shift in Boomerang. Hopefully, this isn't as underrated.
Detective Pikachu (May 10)
When ace detective Harry Goodman goes mysteriously missing, his 21-year-old son, Tim, investigates alongside Harry's former Pokémon partner, Detective Pikachu, a hilariously wise-cracking mouse. Finding that they are uniquely equipped to communicate with one another, Tim and Pikachu join forces on a thrilling adventure to unravel the tangled mystery.
Why it's worth your time: In 1999, Pokémon: The First Movie came out; now, 20 years later, a completely new generation will be introduced to the cinematic world of Pokémon in an entirely new way. Later this year, the first main generation Pokémon game will be hitting home consoles for the first time, similar to how Pokémon: Red & Blue released prior to The First Movie. Detective Pikachu is going to be huge. Not only with kids, but with older fans and folks internationally because its live-action aspect will break new ground for the franchise, and because Ryan Reynolds is a treasure.
Tolkien (May 10)
Tolkien explores the formative years of the orphaned author as he finds friendship, love and artistic inspiration among a group of fellow outcasts at school, setting the foundation for him to create The Lord of the Rings. This takes him into the outbreak of World War I, which threatens to tear the 'fellowship' apart.
Why it's worth your time: If Tolkien didn't exist, none of us would be clamoring for every episode of the last season of Game of Thrones. Not only has it inspired the books that inspired that show, but an entire genre of book and films in pop culture. It's way past due for J. R. R. Tolkien to get a biopic and gain the prominence in society's consciousness, as it should be.
John Wick: Chapter 3 – Parabellum (May 17)
The movie is set to start directly after the events of John Wick: Chapter 2, with Keanu Reeves' character going rogue as an "excommunicado" after assassinating one of the key members of the High Table in The Continental. The hitman still holds a $14 million USD bounty on his head, forcing him to kill his way out of New York City with a newly befriended hitwoman and fellow dog enthusiast Sofia, played by Halle Berry.
Why it's worth your time: John Wick is one of the best original intellectual properties around right now. Although it can get a bit comic-booky with the action, it's a series of film that harkens back to action-oriented movies like The Raid but with the cinematography sophistication of a Christopher Nolan movie. It's also one of Keanu Reeves' best roles, and it very well possibly may be his best trilogy, outpacing the quality of The Matrix films.
Aladdin (May 24)
The plot appears to follow the same story of the animated original: "street rat" Aladdin (Mena Massoud) enters the Cave of Wonders to retrieve a magic lamp at Jafar's request and using it to become a prince that wins the heart of Princess Jasmine. Meanwhile, the princess is set to be wed to a number of royalty suitors at a parade, all looking to marry her for political reasons.
Why it's worth your time: Although the live-action Aladdin film will follow the same beats as the classic animated feature, director Guy Ritchie and writer John August stated the movie will still be an "ambitious and non-traditional" take on the story. And despite the meme-worthy trailers that initially released, the continual release of footage has eased folks back into taking the film a bit more seriously due to just how gorgeous the recreation of some of the animated feature's most iconic moments.
Brightburn (May 24)
The movie follows a boy named Brandon Breyer with a similar story to the Man of Steel. A good-intentioned midwestern couple adopts a child from another planet whose spacecraft lands on their property. However, instead of being the symbol of all that's good and wholesome in the world, the child ends up a murdering psychopath possessed by a malevolent force.
Why it's worth your time: Before he directs the soft-reboot sequel of Suicide Squad, the reinstated Guardians of the Galaxy 3 director James Gunn will prove to DC Comics what could be done with a Superman story in Brightburn. We think it's good to begin subverting a lot of these superhero plots to keep the genre from becoming too stale. Even DC Comics is releasing an art-house film for Joker. Marvel movies are cool, but they barely offer commentary on the genre they're a part of. Brightburn is a step in the right direction of breathing new life into the genre.
Booksmart (May 24)
Booksmart is an unfiltered comedy about high school best friends and the bonds we create that last a lifetime. Capturing the spirit of our times, the film is a coming of age story for a new generation.
Why it's worth your time: It looks like Superbad for women and we're all for it. We're hoping that it's an instant classic like Superbad, and serves to be the ying to its yang, like Bridesmaids is to The Hangover.
Godzilla: King of The Monsters (May 31)
This new story follows the heroic efforts of the cryptozoological agency Monarch as its members face-off against several god-sized monsters, including the mighty Godzilla, who collides with Mothra, Rodan and his ultimate nemesis, the three-headed King Ghidorah, leaving humanity's very existence hanging in the balance.
Why it's worth your time: This is the film that'll lead into Godzilla vs King Kong, as well as the film that'll rid us of the sour taste that 2014's Godzilla left in our mouths. We will also see other noteworthy Godzilla villains go head-to-head against each other in a giant battle royale, hopefully to the likes Pacific Rim: Uprising couldn't deliver.
Ma (May 31)
The story follows a new teen in town looking to buy booze for her and her friends, leading them to meet Ma (Octavia Spencer)—a loner Ohioan obsessed with the group of teenagers looking to party. After she buys alcohol for the teens, Ma invites them all back to her basement to drink and party whenever they like, provided they follow a few rules, one of which is never going upstairs. Soon her hospitality turns to obsession, and the shocking revelation that she's known a few of the teen's parents since high school.
Why it's worth your time: It's the movie that says not every sassy black mother-figure is a nice person. What's better, instead of making it into some pithy drama, they stick to the scariness of that sort of diversion and went straight horror. Plus, it looks like there are a few laughs to be had in the movie outside of the hilarious premise. It appears self-aware but knows when to turn serious as well.
Rocketman (May 31)
This Elton John biopic showcases the electric rise of the star before he became the five-time Grammy-winning icon we idolize today. We also see how the shy piano prodigy Reginald Dwight adopted the moniker and style of the lavish Elton John.
Why it's worth your time: Although it's been said the biopic won't be told as traditional as others have and more similar to the recently released Bohemian Rhapsody, it sure encapsulates a lot of those same vibes. Mostly, an electric showcase of the personality and the actor portraying him. Hopefully, the film doesn't shy away from some of the more personal facts about the man as to place a Hollywood veil on what made him human, as was the complaint for Bohemian Rhapsody.
Deadwood: The Movie (May 31)
Deadwood ended its successful three-season run 13 years ago, but the movie takes place in 1889, 12 years after the final season's storyline, during South Dakota's inclusion as the Union's 40th state. The film mainly focuses on time, particularly the state's addition to the Union and how it affects people in different ways, mainly Saloon owner Al Swearengen and Sheriff Seth Bullock.
Why it's worth your time: We're living in the age of revivals, ladies and gentleman. If there were ever a show that suddenly left fans in the wind, it was HBO's Deadwood series. Now it's back, with a bulk of its fanbase returning in an age where Red Dead Redemption 2 and Old Town Road are the hottest things in pop culture. If you're still saddled up, catch up on the series and then circle back on the film.
TV
Tuca & Bertie Season 1 (May 3, Netflix)
The series focuses on another world that's filled with birds and plant humanoids, particularly two 30-year-old bird-women who are roommates. Tiffany Haddish voices the carefree Tuca while Ali Wong voices the anxious Berie.
Why it's worth your time: This comes from the creators of the depressing cult classic animated series BoJack Horseman, which ensures the talent involved are in capable hands. We're expecting a nuanced story on life as a 30-something-year-old, as well as commentary on how society views that age group through the lens of an animal-humanoid planet. It also looks pretty trippy.
Chernobyl (May 6, HBO)
HBO's latest series will dramatize real-life events of the 1986 Chernobyl Nuclear Power Plant incident that marked the borders of present-day Belarus, Ukraine and Russia during the Soviet Union era. It will focus on the brave men and women who attempted to mitigate the damage from the disaster.
Why it's worth your time: This miniseries drama looks to have amazing cinematography scattered throughout the harsh visuals of the Chernobyl catastrophe. Some shots look like they come downright from a horror movie, which is even scarier when you remember these are depictions of how the blast affected real-life people. We're hoping the film's subject matter is a reflection on humanity itself, encapsulating every emotion and subsequent someone could feel when faced with this failure, good and bad.
Lucifer Season 4 (May 6, Netflix)
Chloe has seen Lucifer's devil face, and now, Eve, the original sinner herself has returned. Does Eve want revenge for when he tempted her out of Eden in the tales of olde or does she want something else?
Why it's worth your time: After season 3 ended and Fox canceled the show, all hope was seemingly lost. Then Netflix stepped then, upped the budget, and gave us a revival of the series with improved action sequences and better cinematography, as the trailer conveys. The best part? Fans no longer have to wait week by week for each episode, as every episode is expected to drop on the streaming service day one.
Wu-Tang Clan: Of Mics and Men (May 10, Showtime)
The Sacha Jenkins-directed docuseries is set to showcase a new perspective on Wu-Tang Clan's storied rise to the top of the game in the '90s and the long-lasting reign that followed it.
Why it's worth your time: If you're a younger fan of hip-hop and have encompassed all your Wu knowledge from Wikipedia, you should probably watch this and learn your history. For the veterans, never-before-seen interviews with the likes of Ghostface Killah, Raekwon, Method Man, and other members will be featured, as well as archived footage of old performances.
L.A.'s Finest Season 1 (May 13, Spectrum)
A former DEA agent with a complex past (Gabrielle Union) takes a new job with the LAPD, where she's partnered with a working mother (Jessica Alba); although the two have completely different lifestyles, both are at the top of their field.
Why it's worth your time: This is the Bad Boys spin-off series we didn't know we wanted. Marcus' sister from Bad Boys 2 will now be the center of attention, while the film's sequel is slated to arrive sometime next year. Will there be any sort of crossover between the show and movie? That's what we're willing to bank on and why this show has piqued our interest.
What's My Name: Muhammad Ali (May 14, HBO)
What's My Name focuses on the inspiring life story of Muhammad Ali in a two-part series.
Why it's worth your time: This will serve as the first-ever feature-length documentary of its kind about the former heavyweight champion. It will also be narrated by Ali himself alongside archival footage and personal photos from his family and friends. HBO has been on a roll lately with its two-part docs, and its because of how they embrace the public figure persona of their subjects as well as the human side. And since Cassius Clay and Muhammad Ali represent two equally important sides of the same coin, it will be interesting to see how HBO covers him.
She's Gotta Have It Season 2 (May 24, Netflix)
The show features street artist Nola Darling (DeWanda Wise) struggling with her newfound success and whether or not she's able to keep her morals as a creative on her way to mainstream stardom. This season will showcase the dynamics of Nola's relationships and how her former flames' lives have changed as a result of her self-discovering journey.
Why it's worth your time: We've seen the season in its entirety already and it is leaps and bounds superior to its initial season. The way relevant subject matters are handled here is insightful, impactful, and is more in-tone of Spike's earlier works. Even though the season hasn't dropped yet, we already can't wait for the third season.
Game of Thrones: The Last Watch (May 26, HBO)
This HBO special is slated to arrive after the final episode of the series, and it will showcase the challenges producers have faced crafting this world with up-close and personal reports from the cast and crew.
Why it's worth your time: This looks to serve as the coddling machine fans will need once the show finally bids farewell after almost a decade on air. Everyone watching on TV will let this rock after the episode, just off the strength of the show, even if they've never tuned in to one of these BTS videos previously.
Swamp Thing Season 1 (May 31, DC Universe)
Swamp Thing will focus on Holland (Andy Bean) before becoming Swamp Thing, as well as his love interest Abby Arcane (Crystal Reed). While Arcane investigates an alleged swamp virus in rural Louisiana, she discovers the swamp itself holds other terrifying secrets.
Why it's worth your time: Outside of leaning on its horror roots, the series is said to loosely adapt Alan Moore's amazing run of the character. If the show is even half as good as that run of comics, this show will knock the character out the park. Producer James Wan also stated that the show will borrow some human vs monster elements from Beauty and The Beast, a necessity for Swampy's development. What's more is the show will take place in the same universe as Titans and Doom Patrol.
When They See Us (May 31, Netflix)
When They See Us is a four-part series focusing on the so-called Central Park Five, a group of five Harlem teenagers who were arrested and imprisoned for a rape they didn't commit in 1989. Each of the young men spent between 6-to-13 years behind bars before someone else confessed to the crime.
Why it's worth your time: This may be a tough one to watch, and we suppose that's the very same reason it's being made. We expect that the limited series will draw many parallels on how this sort of racially-charged profiling continues to this day, and how unjust the criminal system can truly be.