Best New Tracks: Travis Scott, Bones, Lil Uzi Vert, Nav, Yung Lean and More
Hottest tunes from the week.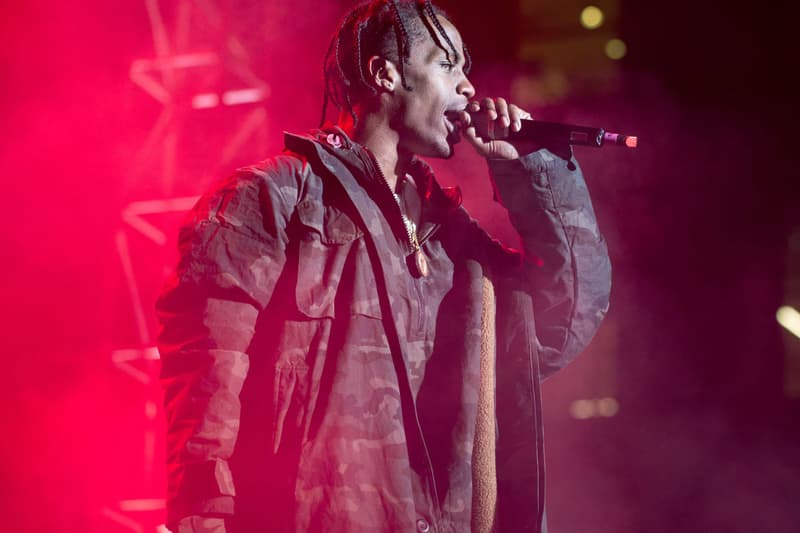 For this week's music roundup, we saw plenty of one-off singles and not so many full-length projects, EP's and mixtapes as we have in the last two weeks—aside from Earl Sweatshirt's fully-produced EP, which he plans to sell for $111.11 USD. Outside the music, however, Meek Mill captured headlines this week after he was unexpectedly sentenced to a mandatory two to four-year prison sentence for violating his probation. Days later, the Roc Nation rapper's legal team alleged the judge in his case had a personal vendetta against Meek Mill after he allegedly refused to shout her out in a song last year.
On the note of Roc Nation, ticket sales for JAY-Z's '4:44' concert were reportedly selling for as low as $6 USD; reps from Live Nation were quick to clarify that the pricing reflects a new strategy to squeeze out resellers and generate more profits for artists, hence this tour will be JAY-Z's highest grossing tour ever. Speaking of tours, Drake debuted a new song in New Zealand while on his 'Boy Meets World Tour,' while also unveiling to the world during a new interview with the Hollywood Reporter that he collects Hermès Birkin bags.
Check out our picks for this week down below and let us know what you think in the comment section.
88GLAM featuring NAV – "Bali"
88GLAM is a new rap duo comprised of Toronto natives Derek Wise and 88 Camino. This week they dropped off what maybe one of the smoothest mixtapes you'll hear in 2017. In addition, their NAV-assisted cut "Bali" has been on heavy rotation. Listen in below.
Quiet Luke – "I Wanna Go"
NYC-based up-and-comer Quiet Luke is on a quest to help people find their happy place—and stay there. This week, he debuted his new video for "I Wanna Go" on HYPEBEAST and if you're into light-hearted, clever and charismatic tunes, this is for you.
Bones – "XLR"
After an exploration of another side of his sound with last month's Resurrection release, the TeamSESH artist is back to being "Nosferatu in the dungeon" on "XLR," taken off his newest mixtape, NetworkUnknown. Atmospheric, hard-hitting, melancholic and gloomy, the tune is everything you could want from a concise Bones single.
Pi'erre Bourne – "Honeyberry"
Having gained notoriety for producing some of today's favorite music cuts such as "Magnolia," "wokeuplikethis*," "Gummo" and many others, Pi'erre Bourne also spends some of his time rapping over his own productions. This week, the esteemed producer dropped off a hard-hitting new video-single called, "Honeyberry" that finds the newfound rapper spewing some catchy bars and hooks. Listen in below.
Skepta & Goldie – "Upstart (Road Trip)"
When talking grime, it just doesn't get better than this. Earlier this week, the worlds of iconic grime legends Skepta and Goldie joined forces on a new single called, "Upstart (Road Trip)." Premiered on Charlie Sloth's BBC 1 Xtra show, the single will be part of an exclusive 12" vinyl release through Metalheadz on December 22. Until then, check out the single rip below courtesy of Metalheadz.
Yung Lean – "Metallic Intuition"
After sharing his new short film this week, Sadboys rapper Yung Lean premiered with Zane Lowe his newest single, "Metallic Intuition." The haunting new track might be his best effort this year and will be included in his long-awaited third studio album, Stranger due out later this month.
Cam'ron – The Program (Mixtape)
Cam'ron made his return this week with his first solo full-length project since 2013's Ghetto Heaven Vol. 1 tape. Teased earlier this month, The Program arrives after a series of one-off records throughout the year. Production credits include Just Blaze, araabMUZIK, REK, JB Music and Skitzo amongst others. At 41 years of age, Cam'ron is as sharp as ever. Stream and download now on LiveMixtapes.
Lil Uzi Vert & Nav – "Wanted You"
There's no denying, Lil Uzi Vert and Nav have been on a roll this year; the former just linked up with XO-affiliated 88GLAM for the new "Bali" video and single, while the latter is planning to drop a special cassette project. Continuing their sleepless grind, the two rising stars paired up for a new joint single known as "Wanted You" and plays to both artists' melodic and pop sensibilities. Check out their collaboration below.
Travis Scott & Kris Wu – "Deserve"
Taking his talents to the Far East, Travis Scott unveiled a new single with one of the biggest stars in China this week, with actor Kris Wu. The duo linked up with producer Louis Bell, the same man responsible for nearly all of Post Malone's biggest hits. Listen below.
Be sure to check out our previous music roundups for the best drops of weeks past.