Roger Federer Wants to Make His Own Air Max 95s
Talking to the legend about looking up to Michael Jordan and his most regrettable style moment.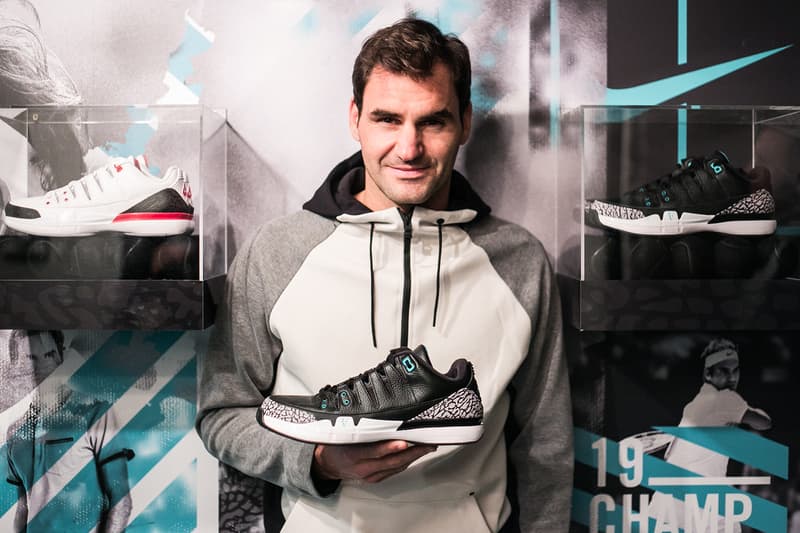 How do people usually meet sporting legends? If you're meeting Roger Federer – who's managed to eke out a successful career for 20 years — it's in a surprisingly subdued spot in South London, where he introduces himself as Roger, as if you're somehow unaware of one of the most legendary athletes in recent history.
The iconic player is in town for the ATP Finals and, at the time of publishing, has made his way into the semifinals of the event for the 14th time — after being pushed to the edge by 20-year-old Alexander Zverev. When we meet, Federer has just returned from a trip to Scotland to play Andy Murray in an exhibition match, particularly notable because Federer decided to take part while wearing a kilt — something he did to mark his first time ever in Scotland. And, while he won't be taking on the outfit full time, it's part of late stage Federer, who's slightly more free to enjoy the game now he's playing it for long enough.
There's been a lot said about how athletes across the sports spectrum have been able to use the advances in technology to prolong their careers, so naturally were curious how Federer has adapted with the times. "In the beginning you've just gotta put in the hours, making sure you're spending hours on the tennis court and in the gym," he says. "I don't need to do so much any more, I've done the hard yards — when I'm gonna train, I'm gonna train hard but not so long anymore." And the knock-on effect of this change is something that's actively positive for him both on and off the court. "I have more time off, more time for the family and play fewer events and I really enjoy it because before it was so much tennis, so much training, so much everything and now I can really take a step back and I know exactly what the body needs, the mind needs, and what tennis needs."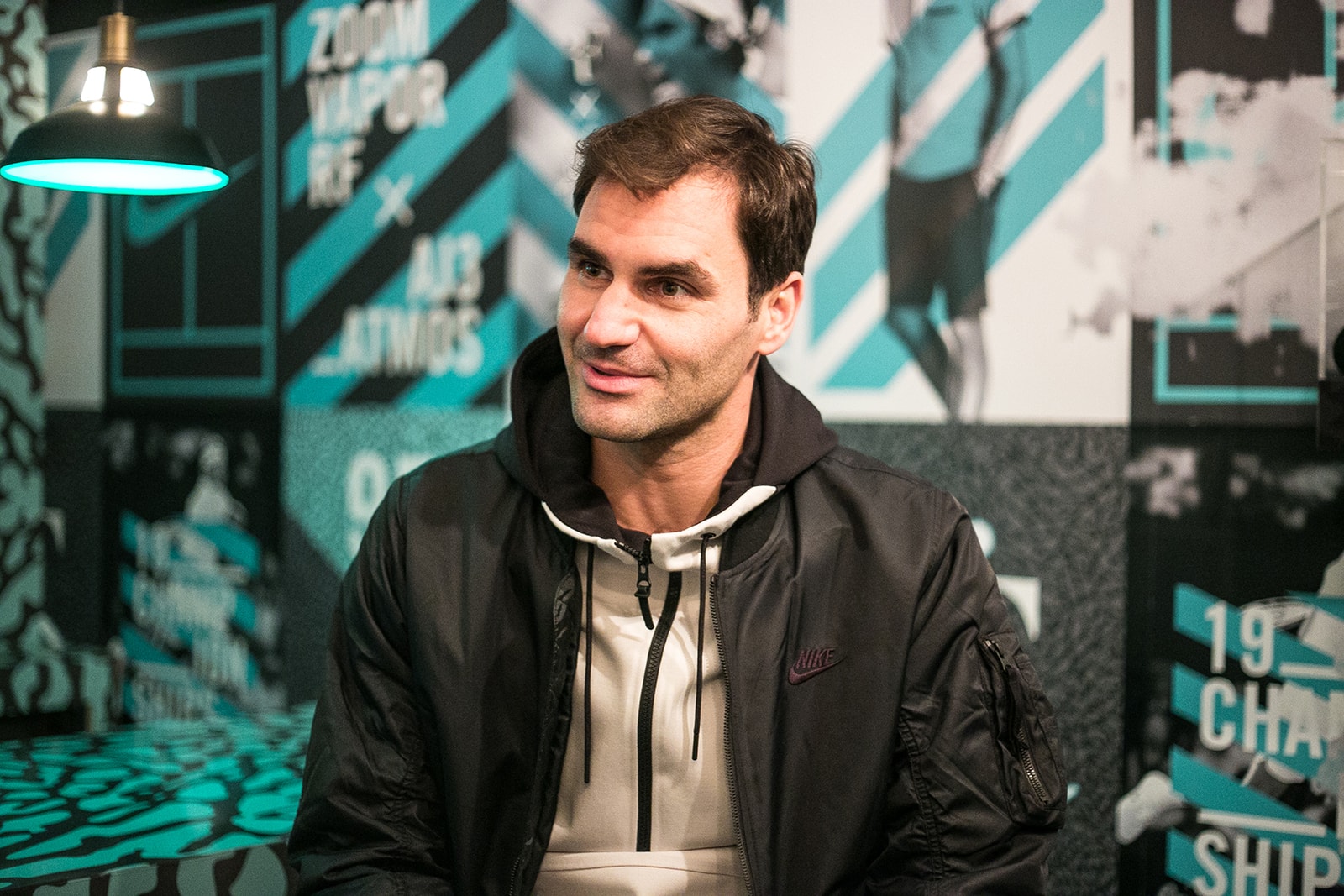 He also attributes his lengthy career to a healthy dose of luck. "I think I got lucky in the early stages of my career not to get hurt," he says with characteristic humility. "Because maybe if something goes bad at that point — let's say you break your foot skiing or something — maybe your ankle will never be the same for the rest of your career. But that didn't happen and then, when I did become world's number one in 2004 for the first time after winning Wimbledon '03 for the first time, my goal was to stay on tour for a long time." Part of this reason for this goal change is so he could do what the likes of Andre Agassi did for him. "I had the pleasure of playing Agassi when he was about 36 and I really appreciated the fact that he stuck around and gave us the opportunity to play against a legend."
And this lengthy career has allowed Federer to see changes on the court in terms of style itself. Dressing well was something he always believed in, saying "I do believe the better you feel, the better you look, the better you play." He changes his playing outfit 10-12 times a year, something he attributes to simply keeping up with tennis's stylish heritage.
When it comes to stylish Tennis players, Federer says "I think John McEnroe had a big impact. Then there was Andre Agassi with the denim but I don't know if they're the most stylish. Back in the day Bjorn Borg was naturally amazing to me. The times of the '70s and '80s were very inspirational for me, even today." It was this inspiration that has kept him away from committing major style errors.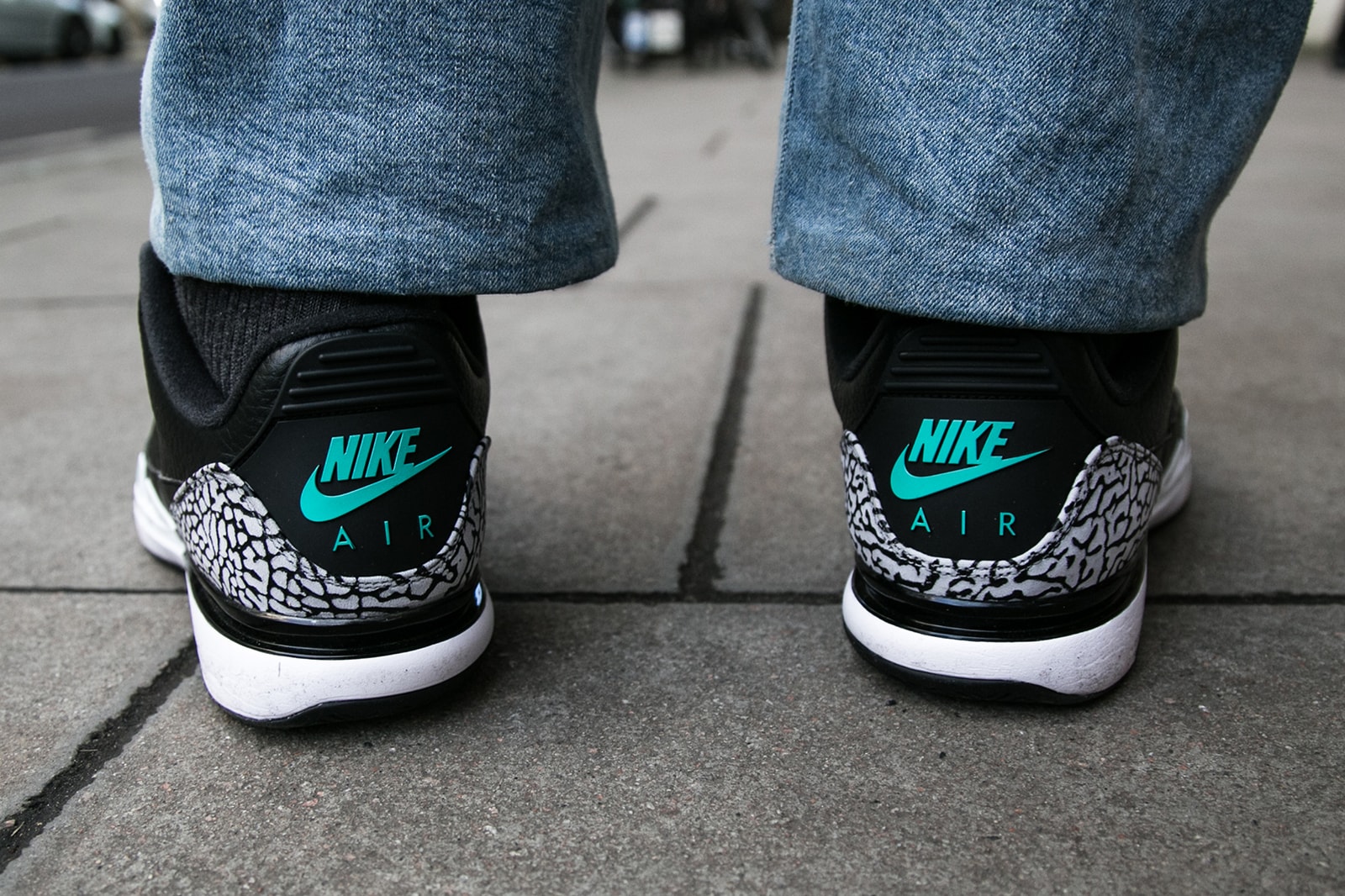 "I'm happy I didn't do the capri pants," he explains, having worn them for a single practice session in a then-newly made paper-esque fabric. "Everybody was like 'what is that?' and I was like 'oh I'm just trying something out but I'm not gonna play in this,' and then I realized this is not something I should do." And, while he was a fan of how they looked on longtime rival Rafael Nadal, he never adopted the capri look.
Elsewhere for Federer, the main change has simply been the slimming of clothes as a whole. "Back in the '90s, everything was more baggy, whereas in the '70s and '80s everything was tight." He freely admits the influence of basketball on him, as well as the likes of Pete Sampras and his penchant for loose-fit shorts. "Now I'm playing in a size M, but I remember playing in an XL for a while. In a way I have regrets, but at the same time that was the evolution of things."
The influence of the likes of Sampras on a young Federer were seen even in his footwear: at the start of his career, long before he gained his own signature shoe, he "would sometime wear Sampras's shoe [the
As an appreciator of this innovation and someone brought up in the '90s, it's no shock that those models hold the most weight to Federer. "I was brought up in the time of the air, the air was big deal for me," he notes. So, when we ask about which would be his ideal silhouette to recreate next, he says "I think the Air Max 95 could be very cool, but we have to think about how we'd do that."
But, most of all, what Federer has learned throughout his career is simply to relax. When we asked him about the pressures of his early career he says "[being overwhelmed is] not a bad sign, it's actually good because you're being moved left, right and center. 'Here's an award show, here's a red carpet, here you have to meet somebody, here is a press interview, here is a live TV show' and you're like 'oh my god I don't wanna do this, I just wanna play tennis.'"
But it was at this point that he adapted to the sport on a professional level. "You realize there's so much more to it. In the beginning you're not quite used to it, it's nerve wracking to be quite honest but now I'm cool about it, comfortable in these positions and these situations and I'm happy I learned all of these experiences when I was younger."
And, with a successful and lengthy career, the perfect home/work balance and his own signature shoe, you can see why Federer would be as relaxed and happy as he is today. In other sports news, check out exactly makes Colin Kaepernic GQ's Citizen of the Year 2017.