Get to Know the UK's Best Place for Hard-To-Find Japanese Brands
Introducing London's Alpha Shadows.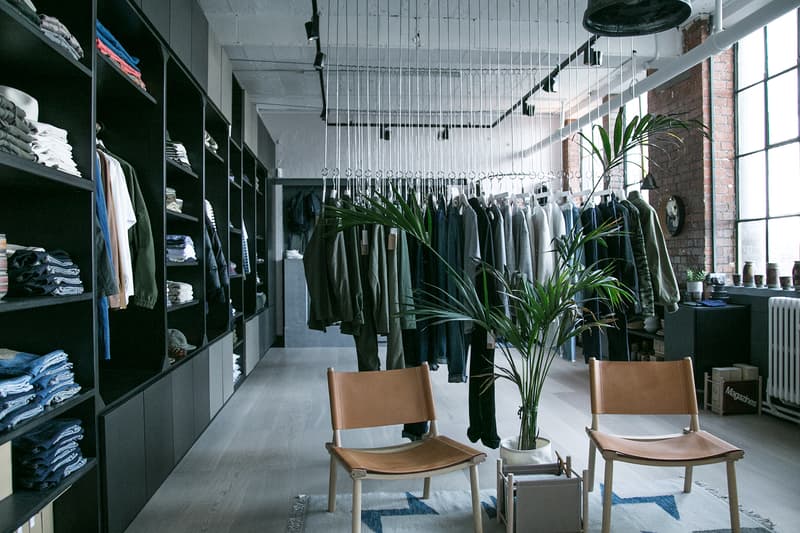 Despite the global appeal of Japanese fashion — from brands as diverse as Needles, have a good time and MASTERMIND — it can be hard to get your hands on pieces if you live in Europe. The first problem is sourcing the brands, which may not have web stores or Instagram presences, and the second is the often prohibitively high shipping costs and wait times. One place working to make the process easier, however, is Alpha Shadows – a small store in South London that stocks some of Japan's finest brands.
Hidden away in a corner of Peckham's Bussey Building, the space was set up by a Japanese fashion obsessive who often found it hard to pick up some of his favorite pieces from the other side of the world. "The first couple of times I visited Japan I didn't go there with the explicit ambition of opening a shop," explains Tom Piercy, Alpha Shadow's founder, "the purpose of those visits was to discover a new culture as well as the dozens of brands I wanted to hunt down and handle in person, see if they lived up to the expectations of what I'd seen online and in magazines."
Asked what he likes about Japanese fashion in particular, Tom points to three key factors: "quality, design and also the ability to look to the past and the future at the same time in a way that is unparalleled." This last point is an important one for Tom, and one of the key things that he admires about Japanese brands and designers. "They are the masters of reinvention," he adds, "taking silhouettes, fabrics, even brands from the past and giving them a contemporary twist."
Eventually, having visited Japan and got a feel for his favorite brands, Tom decided it was time for the next step. "I felt there was so much more out there that I'd like to see in a store over here," he expands. With the idea firmly planted, Tom began to flesh out his plan, including looking for a space, beginning to put together a stock list and reaching out to brands back in Japan.
For the stock list, Tom tended to look for brands that weren't hugely common outside of Japan. Alpha Shadows features some of the bigger names such as Needles and orSlow, but places them alongside brands with a much smaller presence. No matter which brand it is, Tom makes sure to keep each piece limited. "When I think of the clothes I own and the ones that are most special, more often than not it's those ones that I'm unlikely to see someone else working," he explains of the limited stock idea. "If we only have a handful of any particular item — and with our customers split pretty evenly between domestic and international — I feel like there's a certain romance about having the only one of that item in the country."
This sourcing process wasn't always easy, and began at home. "First and foremost is a lot of research and just searching for new things," before things get a bit more exciting and Tom has to travel to Japan. "Not only is the retail environment truly on another level to anywhere else I've been and incredibly inspiring," Tom explains, "but just getting out on foot and seeing items in person means I've discovered brands either I hadn't heard of before or given renewed thought to ones that hadn't necessarily caught my eye. At some point it just feels right that it's a brand you want to pursue."
"I feel like there's a certain romance about having the only one of that item in the country."
Talking about the brands that have less of a following outside Japan, there are a few that Tom is keen to support. First up is Meanswhile, particularly due to "the way in which Naohiro, the designer, utilises technical fabrics I've not seen used before. Other brands Tom bigs up are and wander ("incredible fabrics and detail with a slightly playful nature") and Ordinary Fits ("the clothing has a lovely relaxed but wearable shape to it. Tonally the fabrics also appeal to my eye in a big way.")
The enviable list of brands stocked — which sits alongside a selection of premium Japanese homeware — are all indicative of the idea that lies at the heart of the store. Explaining why he set up Alpha Shadows, and where he sees it going from here, Tom's intention is simple: "I'm still committed to the idea of offering something different and continuing to uncover incredible work and excellent product, be it clothing, footwear or ceramics."
Check out all of the piece on offer at Alpha Shadows via its web store. For more Japanese fashion, take a look at the new collaboration between Tokyo's have a good time and American outdoors label Gramicci.