The Met Gala Honored Karl Lagerfeld and YEEZY Held a Secret SEASON 10 Showcase in This Week's Top Fashion News
Stay up to date on the latest industry headlines.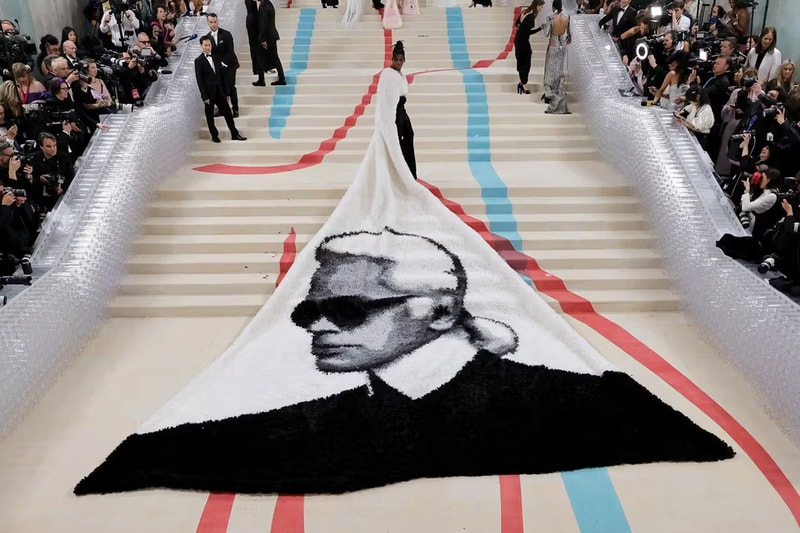 This week in fashion kicked off with the industry's Superbowl a.k.a. The Met Gala where this year's theme honored the life and legacy of Karl Lagerfeld. Although a highly anticipated yearly event, that was just one of many this week. Also came the announcement of Dua Lipa co-design Versace's next collection with Donatella Versace.
As far as presentations go, YEEZY held a secret Season 10 showcase and Louis Vuitton traveled to Seoul for its Pre-Fall 2023 show. Elsewhere The British Fashion Council reveal its BFC NEWGEN 2023/24 recipients, Balenciaga revealed its Fall 2023 collection and Marni teamed up with Erykah Badu for a limited-edition capsule.
Below, Hypebeast has rounded up the top fashion stories of the week so you can stay up to date on trends in the industry.
Always taking place the first Monday in May, this year's Met Gala honored the life and legacy of Karl Lagerfeld with its "Karl Lagerfeld: A Line of Beauty" theme. From black and white palettes to Chanel-esque tweeds and glittering jewels, the red carpet looks were donned by figures like Michaela Coel, Dua Lipa, Janelle Monaé, Cardi B, Lil Nas X, Penelope Crúz, Jenna Ortega, Brian Tyree Henry, Doja Cat, Jeremy Pope, Kim Kardashian, Nicole Kidman, Shai Gilgeous-Alexander and many more.
Alongside Anna Wintour, this year's event was hosted by Penélope Cruz, Michaela Coel, Roger Federer and Dua Lipa.
Dua Lupa is extending her reach in fashion post Met Gala with the announcement of her co-designing a see-now, buy now collection with Donatella Versace titled "La Vacanza."
The collaborative collection for Versace is set to be revealed at the house's fashion show in Cannes on May 23. Happening concurrently with Cannes Film Festival, the show's location is yet to be revealed.
The "La Vacanza" collection will be available in stores and on the brand's website immediately following the show.
Following a social media call for "beings with shaved heads" from YEEZY, images surfaced of its quiet YEEZY SEASON 10 show entitled "YZY FREE."
Taking place on Melrose Ave. in Los Angeles, the quiet showcase revealed an array of models in brandless bodycon white tees and black pants. The images also reveal the models placing candles on a center table – filling the room with an ominous glow.
At this time, no formal explanations of the show's theme or meaning has been revealed by Ye or YEEZY.
Shutting down the Jamsugyo Bridge with overlooks the Han River, Louis Vuitton headed to Seoul to hold its Pre-Fall 2023 womenswear fashion show. The show marked Louis Vuitton's first women's Pre-Fall show in the South Korean capital. Additionally, Squid Game's director Hwang Dong-hyuk acted as the creative advisor for the show.
Alongside its exhibition of the season looks, the show marked Louis Vuitton's relationship with South Korea as it partner with the Korea tourism Organization to boost the country tourism. The overall show was inspired by travel and movement, which came across the runway through modern and tradition house motifs.
The British Fashion Council continues to celebrate the vigor of UK fashion design talent with the announcement of its BFC NEWGEN 2023/24 recipients.
This time around, BGC NEWGEN spotlights Aaron Esh, Ancuta Sarca, Chet Lo, Connor Ives, Derrick, Di Petsa, EFTYCHIA, FEBEN, HARRI, Helen Kirkum, Kazna Asker, Labrum, Leo Carlton, Masha Popova, Paolo Carzana, Robyn Lynch, S.S.DALEY, Saul Nash, Sinéad O'Dwyer, The Winter House, Tolu Coker, and YUHAN WANG.
Following its campaign controversy of last year, Balenciaga is still on a tour to repair the damage done and get its name back in good graces. After sitting down with Vogue and later returning to the runway for Winter 2023, Balenciaga is back with its new Fall 2023 collection.
Returning to Demna's former signatures, the collection focused on the "the art of making clothes" as opposed to noisy happenings and exaggerated designs the house became known for. Pieces like varsity jackets and puffers played with volume while reconstructed suit jackets grew with double-over designs.
Careful to not make too much noise, the house's latest is moving forward with its no-frills approach to just putting out solidly crafted pieces.
Just this past Monday, Erykah Badu attended the MET Gala in a Marni all-white frayed beaded dress – nodding to Chanel's design prominence under Karl Lagerfeld. But it's clear that Erykah and her daughter Puma's ensembles were just introductions to something greater. Marni has united with the renowned singer-songwriter for a collaborative capsule for Vol. 1 of its Fall/Winter 2023 season collection.
As Badu is dually known for her eclectic style, the match between the creative and the Italian label just makes sense. Co-designed by Marni's creative director Francesco Risso and Erykah Badu, the collection builds on Marni Jam – a program that calls upon the brand's multidisciplinary community. A well-adjusted fusion of Marni's house codes and Badu's unique style, the offering features women's ready-to-wear garments, accessories and footwear, which harbor functional yet couture sentiments.
The limited-edition capsule has already landed at select Marni boutiques in the U.S. and is set to head to European locations soon.