How Fashion (Mostly) Remained on Theme at This Year's Met Gala
Between Chanel brides, couture Camélias, pearls in the thousands, and ultra-realistic Choupette impersonations, the fame-flooded event had Karl Lagerfeld written all over it.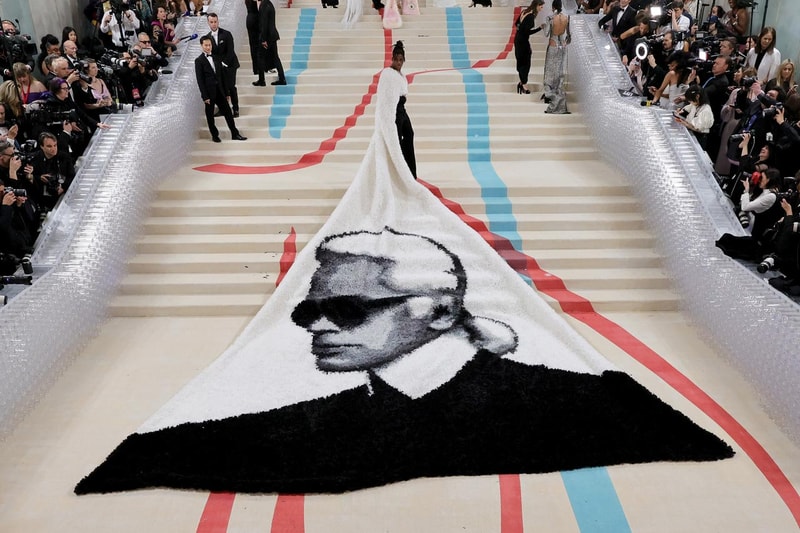 On Monday, May 1, fashion's highest circles gathered at The Metropolitan Museum of Art for the annual Costume Institute Benefit (famously known as The Met Gala). Indisputably fashion's biggest night, the Hollywood-hailing ball celebrated the opening of the Costume Institute's spring exhibition, Karl Lagerfeld: A Line of Beauty. Guests, selected by Anna Wintour from pop culture's highest echelons, were asked to dress "in honor of Karl," the prolific, late visionary, who designed for houses including Patou, Balmain, Chloé, Fendi and Chanel, along with his eponymous label. His unequivocal legacy in fashion — one marked by a renaissance-like prowess that pushed the industry's age-old codes into a new era — is one of the industry's most impactful. On The Met steps, it was felt everywhere.
At the top of the evening, Dua Lipa, a co-chair for the Costume Institute Benefit alongside Penélope Cruz, Michaela Coel, Roger Federer and Wintour, served the first course of Karl, gracing The Met's tribute carpet in a Chanel Fall 1992 haute couture gown. Decorated with Tiffany & Co. diamonds (reportedly worth more than $10 million USD), the white tweed bridal dress, which featured a basque waist, woven black trim and a fringe hem, was famously worn by Lagerfeld's muse, Claudia Schiffer. For fashion fans, it was just as much an archival dream as it was a well-executed nod to the late designer's best work.
Federer followed closely behind, wearing a sharp black-and-white tuxedo from Dior Homme — a typical selection from men at the event. While the tennis star did not wear a design from a House formerly operated by Lagerfeld, he did pay homage to the visionary's distinct uniform: a suit, tailored just as sharply as a Michelin-star chef's knife. Cruz, meanwhile, continued the wedding tour, with a Chanel Spring 1988 haute couture gown that was first modeled by Inés de la Fressange. As co-chairs, Cruz and Lipa, together, championed one of Lagerfeld's strongest design tropes: the Chanel bride, a symbol of the contemporary woman, of timeless elegance and sophistication.
The carpet really took off, however, when Nicole Kidman emerged. The Oscar-winning starlet modeled the exact Chanel couture dress that Lagerfeld designed for her Chanel No. 5 film, directed by Baz Luhrmann, in 2004, proving not only the gown's immortality but also her own, as a Hollywood legend. Like Jennifer Lopez captivated the globe's attention with the revival of her Google-beginning Versace dress during Milan Fashion Week for Spring 2020, Kidman ignited the internet with her glamorous self-reference, flaunting the creation's 250 pink ostrich feathers and over 3,000 crystals and sequins.
The event was then drenched with references. Olivia Wilde took the Chloé route — one less traveled across the board — wearing a reinterpretation of Lagerfeld's classic Spring 1983 robe violon dress for the House. Coel, another co-chair, arrived in Schiaparelli, wearing a crystal-embroidered gown (that took over 3,800 hours to complete) inspired by a strong Chanel signature: costume jewelry. Two supermodels — Gisele Bündchen and Naomi Campbell — arrived in archival Chanel couture. The former donned a bridal grown from Spring 2007, which she had previously worn in an editorial shoot, while the latter selected a silver brocade dress from Lagerfeld's Chanel Spring 2010 couture collection.
Kim Jones, artistic director at Fendi and men's design director for Dior, walked with familial Fendi muses on his arms. Kate and Lila Moss, one of the industry's most legendary mother-daughter pairs, wore similarly-pink Fendi couture dresses from the Lagerfeld era, almost as if to signify a pass of the torch in the Moss fashion dynasty. (In the era of the nepo baby, this is how you do it.)
Margot Robbie and Kristen Stewart, both of whom famously earned style-defining Chanel contracts, had a duty to pay their respect to the House's designer. Though Robbie's partnership has allegedly ended (see her recent step-out in Bottega Veneta), the big-screen favorite still pulled a corseted black dress, worn by Cindy Crawford in the brand's Fall 1993 couture show, from the House's archives. Stewart, who is still under the French Maison's finger, reminded onlookers of the label's cool factor, with a play on Lagerfeld's personal style that featured a white tuxedo jacket, black lapels, a three-part tie and signature Chanel loafers.
Ahead of this year's Met Gala, forecasters prayed for a real-life interpretation of the late designer's blue-cream tortie Birman cat, Choupette — and they were not disappointed. Though the pampered feline was not present herself, Doja Cat was the first to use Choupette as inspiration, with special-effects makeup that transformed her face into that of the cat's and a custom Oscar de la Renta gown that played into her animalistic source. Jared Leto took it a step further, wearing a literal cat costume, that, from afar, appeared like an animated character on the steps. Lil Nas X opted for a glittery approach to Lagerfeld's best friend, covered in extravagant, silver body paint, shimmering rhinestones and a regal face mask.
Blackpink's Jennie Kim, another Chanel ambassador, naturally dipped into the Lagerfeld-led brand's history at her first Met Gala, appearing in a Fall 1990 ready-to-wear dress, while Usher nodded to Lagerfeld, wearing all-black with leather gloves, designed by London-based up-and-comer Bianca Saunders. Carla Bruni, a friend of the designer's for 30 years, sported a black-and-white dress while carrying a fan — another component of Largerfeld's uniform. Alton Mason, the first Black male model to ever appear in a Chanel show, showed up in custom Karl Lagerfeld couture, offering a forward-minded take on Lagerfeld's bride with white lace, intricate beading and a chiffon, cathedral-length veil, for the male form.
Pearls and crystals, both staples in Lagerfeld's wheelhouse, appeared in the thousands. Love her or not, Kim Kardashian collaborated with Schiaparelli's Daniel Roseberry on a custom ensemble made from 50,000 freshwater pearls and 16,000 crystals. Wednesday's Jenna Ortega, meanwhile, attended in a deconstructed ensemble, finished with 1,000 hand-applied crystals and a bevy of pearl chains, from Thom Browne. Also with the American designer, Janelle Monae quick-changed on the steps, removing her tweed tuxedo jacket to reveal a pannier dress and a pearl-clad bikini. (She carried a white leather Choupette bag, too.)
And what would The Met Gala be without a dramatic train? Each year, it's expected of a high-caliber attendee to cover the museum's steps with a captivating tail. Done by the likes of Lady Gaga, Billie Eilish and Rihanna in years past, the "train of the night" is a non-award usually bestowed upon an attendee in fashion — and pop culture's — highest echelons. Surprisingly, Jeremy Pope claimed the win this year, with an over-30-feet-long Olivier Rousteing-designed cape bearing Lagerfeld's signature likeness. An impressive tribute, the actor's grand entrance, which required five attendants to maneuver, moved Pope into the pantheon of red-carpet dressers.
The Camélia, a timeless Chanel motif, ran rampant, as well. Sean "Diddy" Combs designed his own look, marking the first ensemble to come out of his Sean John label in 10 years, with a massive, duvet-like cape covered in black iterations of the signature flower. Paris Hilton, who made her debut at this year's Met, nodded to her fun times with Karl in Paris by wearing a sparkly Camélia choker; Bad Bunny donned custom Jacquemus, with a taffeta train emblazoned with the iconic signifier, and Anne Hathaway wore Versace's 1994 safety-pin dress, with two flowers on either side of her chest.
As expected from the Met legends, A$AP Rocky and Rihanna arrived late and last. Nonetheless, Rihanna, too, picked the Camélia as a focal point, wearing a custom, wedding-cake-like Valentino couture dress, made from silk faille cape and fronting 30 fabric flowers with 500 petals each. Rocky took cues from Lagerfeld's wardrobe with a black blazer, a white button-down, a leather tie, stacked belts and a kilt — all from Gucci.
Evidently, the vast majority of guests stuck closely to the theme — albeit, sometimes almost too literally. (Jared Leto, we're looking at you.) However, there were a few attendees who arguably missed the Lagerfeld touch. Kylie Jenner, for example, wore a gown designed by Haider Ackermann for Jean Paul Gaultier. In bright red, the asymmetrical dress was layered under a periwinkle cape (that doubled as a train) in silk fabric. While expertly crafted, the design appeared to veer away from The Met's dress code, particularly because of its brightly-colored facade. Analysts suggest the design paid homage to the robes that Lagerfeld created for André Leon Talley, however, neither Jenner nor the designer confirmed the look's inspiration. Still, though, the oversized train-turned-coat nicely complemented the Met steps' red-blue hues.
Usually, it's quite easy to point out a slew of "boring" looks from The Met's men. But this year, that list is more or less empty, largely thanks to Lagerfeld's sharply-suited uniform, classic leather gloves and myriad signature accessories — be them cameras, fans or pearls — that made it easy for masculine styles to adhere. David Byrne, leader of the Talking Heads, however, rolled up to the venue with his Budnitz titanium commuter bike, a rather casual entrance, of which fashion fans argue Lagerfeld might not have been a fan. But, you can't deny that his ride up the Met steps offered a moment of levity for the strictly-coded evening.
While the event was meant to be a celebration of Lagerfeld's legacy in fashion, it's no secret that the designer was a highly controversial figure, known for making offensive comments about the weight and appearance of different models and celebrities. In 2018, for instance, he made harmful comments about the #MeToo movement, and he was largely criticized for dismissing the experiences of women who had been harmed by sexual harassment and assault. To be frank, it was surprising to see little to no protest on the carpet.
Overall, though, Lagerfeld's fashion legacy ran through every inch of of this year's Met Gala. Where guests might have missed the mark in larger legions during past iterations of the Ball, fashion's biggest night, in 2023, saw the industry's top players hold the event's true purpose — celebrating the opening of the Costume Institute's spring exhibition, Karl Lagerfeld: A Line of Beauty — at the core of their attendance. Cue the applause.