Prada's Sales Soar High While Gap and adidas Swing Low in This Week's Top Fashion News
Stay up to date on the latest industry headlines.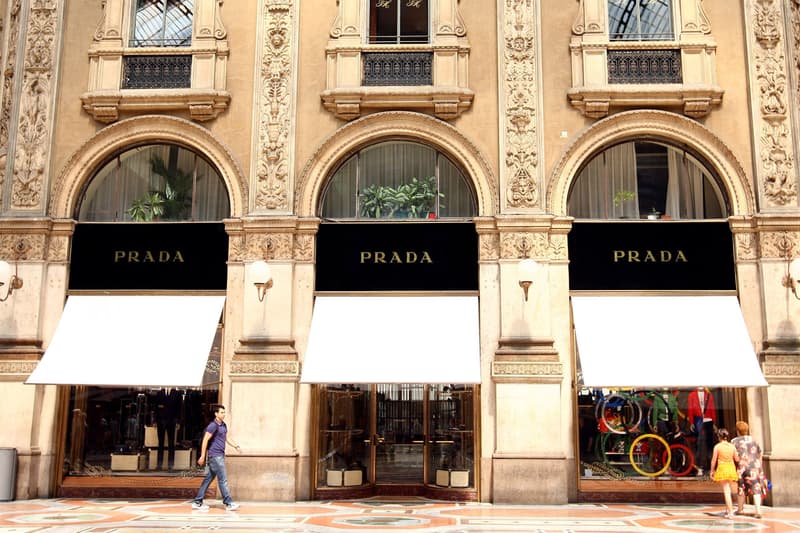 This week, the fashion industry printed its receipts.
On the rise, Prada reported a record-high annual revenue for 2022, reaching €4.2 billion EUR ($4.4 billion USD) with a 21% increase when compared year-over-year. On the fall, adidas and Gap's numbers were not so impressive. The former company reported a net loss of $540 million USD in the fourth quarter of 2022, while the latter reported a $273 million USD decline in the same period. Along with several additional factors, both losses are largely due to the shutdown of their respective YEEZY partnerships.
Elsewhere, Paris Fashion Week came to a close; Louis Vuitton revealed that it's headed to a small Baroque island in Italy for its Cruise 2024 show in May, and Heaven by Marc Jacobs opened its first store in London.
Below, Hypebeast has rounded up the top fashion stories of the week so you can stay up to date on trends in the industry.
In 2022, the Prada Group's annual revenue skyrocketed to its highest figure to date: €4.2 billion EUR ($4.4 billion USD). The record-setting number, which marks a 21% increase from last year's reported figure, surpassed the conglomerate's 2013 revenue peak, according to the Milanese luxury group's financial report.
The company's retail sales jumped by 24% to €3.7 billion EUR ($3.9 billion USD), while its operating profit increased by 59% to €776 million EUR ($821 million USD) — both of which are a result of "high desirability" among consumers for both the Prada and Miu Miu brands. Across categories, the company experienced growth: leather goods climbed 18%; ready-to-wear increased by 27%, and footwear grew by 29% when compared to last year.
Notably, in Q4 2022, the Prada Group was the only luxury conglomerate to see its two leading brands chart in the top five on the Lyst Index, with Prada ranking first place and Miu Miu taking fourth. To top it off, Lyst also named Miu Miu the "Brand of the Year."
See Prada Group's full financial report here.
adidas reported a net loss of $540 million USD in the fourth quarter of 2022, following the termination of its partnership with the artist formerly known as Kanye West.
The company's fourth-quarter losses, which can also be blamed on rising supply-chain costs and China's lowered revenue, mark a sizable difference from figures in 2021 Q4, which saw a profit of approximately $224 million USD. The company is anticipating further losses, with forecasts predicting an estimated $527 million USD decline in earnings, if the German sportswear label decides to forego repurposing its still-stocked YEEZY products this year.
Meanwhile, Q4 net sales measured roughly $5.5 billion USD, marking just a 1.3% increase from the same quarter in 2021. The figure was held back by lost revenue, tallying approximately $632 million USD, that resulted from the stoppage of adidas' Ye partnership.
"2023 will be a transition year to build the base for 2024 and 2025," said Bjørn Gulden, CEO of Adidas, in a statement. "We need to reduce inventories and lower discounts. We can then start to build a profitable business again in 2024. Adidas has all the ingredients to be successful. But we need to put our focus back on our core: product, consumers, retail partners, and athletes."
In 2022, Gap Inc. similarly suffered from a declining market share. By the end of Q4, the company had lost $273 million USD in revenue, compared to $16 million USD one year prior. Meanwhile, net sales declined by 6% to $4.24 billion USD, while comparable sales were down 5%.
Additionally, retail sales decreased by 3%, and online sales, which compose 41% of all sales at Gap, tanked by 10%. The company also endured several executive shifts, including the departure of chief growth officer Asheesh Saksena, chief people officer Sheila Peters and Athleta's president and CEO Mary Beth.
In a statement, Gap Inc.'s executive chairman and interim CEO Bob Martin said, "To enter fiscal 2023 in a more competitive position, we took quick and effective action to clear excess inventory, improve assortment balance, particularly at Old Navy, and to meaningfully optimize our cost structure, resulting in $550 million in annualized savings identified to date."
He added, "The board is getting close to choosing the next CEO for Gap Inc. As a result of the work we have underway to build a stronger foundation and restore the company's creative muscle, we are optimistic that this will provide our new leader with a quicker ramp in driving consistent, profitable growth over the long term."
Paris Fashion Week finished off this week, marking the conclusion of the Fall/Winter 2023 fashion month.
This week, there were several standout shows from renowned and emerging designers alike. Among them, Alexander McQueen's collection, titled "Anatomy" was romantically dark and dramatic; Pierpaolo Piccioli's Valentino line deconstructed "black tie" conventions, and Ottolinger provoked a glamorous rebellion.
Elsewhere, ERL's Fall 2023 collection explored the evolution of 1970s trust fund babies, and GmbH FW23 embraced fashion in its truest form. Sacai dissected the modern wardrobe; Louis Vuitton lauded French fashion forms, and Y/Project was eccentric, experimental and explicit.
See all of Hypebeast's Paris Fashion Week coverage, here.
For Cruise 2024, Louis Vuitton is headed to a small island in Italy — specifically, Isola Bella of the Isole Borromee, located on Lake Maggiore. There, the French fashion house will touch down on May 24, following its Pre-Fall show in Seoul at the end of April.
Isola Bella has been in the hands of the Borromeo family, led by Prince Vitaliano XI Borromeo and his wife Marina, for the last 400 years. Notably, Louis Vuitton will become the first brand to stage a fashion show at the luscious location, which the House describes as "a treasure chest of Baroque art suspended over the water."
Louis Vuitton's Cruise 2024 collection will become available in all Louis Vuitton stores worldwide in November 2023. Take a look at the upcoming show's location above.
At the Green Carpet Fashion Awards on Thursday evening, Tom Ford revealed the winners of his Plastic Innovation Prize, a global competition powered by nonprofit Lonely Whale to "source and scale marine-safe and biologically degradable alternatives to traditional thin-film plastic made from fossil fuels."
The accolade includes a $1.2 million USD Prize Purse to help winners scale their alternatives to thin-film plastics, which compose 46% of all plastic waste in the ocean each year. The sizable sum is a combination cash prize and direct investment from Title Sponsor Tom Ford Beauty, The Estée Lauder Companies and Trousdale Ventures.
Following a nine-month testing phase, a panel of Prize Judges selected three winners: Sway, an American company that created replacements for regenerative thin-film plastic with seaweed and home-compostable materials; Zerocircle, which also crafted ocean-safe packaging materials from seaweed cultivated in India, and Notpla, a London-based company that is pioneering natural-membrane packaging.
From the Prize Purse, Sway received $600,000 USD, Zerocircle won $250,000 USD and Notpla earned $150,000 USD. The remaining $200,000 USD was distributed evenly among finalists last year.
Heaven by Marc Jacobs has opened its first-ever physical outpost in London.
Situated in London's trendy Soho neighborhood, the store is filled with Heaven essentials, along with the latest co-ed collection and special-edition collaborations. Inside, the shop is fitted with cartoonish accents, concrete flooring and pink-carpeted decor — all of which appear very on-brand.
Additionally, the space sells a curated line of home goods and accessories, including CLIMAX books, Sandy Liang designs, JERKS™ menswear, BB.SMITH accessories and Unified Goods posters.
The Heaven by Marc Jacobs London store is now in business at 10 Brewer Street in Soho.
For Spring/Summer 2023, Diesel wants you to book a stay on Pleasure Island, the Italian denim brand's fanciful amusement park of "highly styled adult entertainment" — and the set for this season's campaign. At the phantasmic playscape, the brand's rules are clear: "All desires, kinks and indulgences are welcome, whilst all judgmental attitudes are not."