Party Punks, Flirtatious Formalwear and Genderless Garments Are LFW's Biggest Trends
As London Fashion Week comes to a close, Hypebeast undresses the biggest influences in menswear.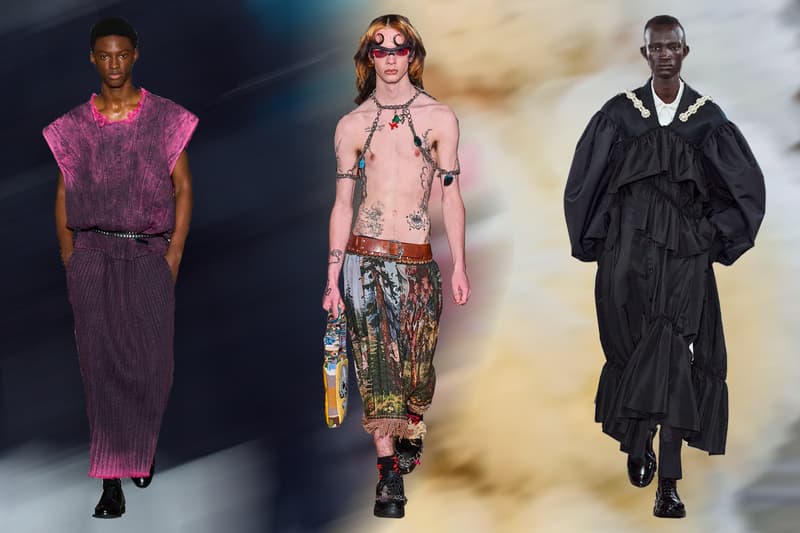 London Fashion Week has, for all intents and purposes, come to an end, and the Spring/Summer 2023 season has distributed an unequivocal display of design excellence. From JW Anderson's blockbuster in a Soho arcade and Dilara Fındıkoğlu's exploration of sex and innocence on a tension-building runway, to Daniel W. Fletcher's ballroom extravaganza and Simone Rocha's foray into menswear, this past week of glitterati antics has delivered a collection for one and all.
Despite this season being womenswear-centric, one overarching theme frequented almost every show: the diverse nature of clothing and its ability to subvert gender norms. With that comes a slew of moments that eschew the antiquated separation of men's and womenswear to bring it together as one, in turn creating trends that will not only live on the runway, but are sure to filter into mainstream stores in the seasons to come; soon-to-be living in your wardrobe.
As the fashion crowd packs up its finest clobber, Hypebeast reflects on the week that has been to dissect the shows and detail the most notable trends from some of the best showcases that are sure to impact the future of menswear.
Fashion Got Punk'd!
During the 1970s, West London – especially Kings Road, which now stands as one of the most luxurious shopping streets in the city – was a bustling hub of punkish angst. From Malcolm McLaren and Vivienne Westwood's store Let It Rock (which later became Too Fast to Live, Too Young to Die), and of course the iconic imprint of theirs, SEX, as well as figures like Mary Quant and the cultural melting pot that was Chelsea Drugstore, this side of town was a hotspot for '70s punks, rockers and New Romantics.
Today, West London is a far cry from its past rebellious nature, but its spirit lives on thanks to the likes of Daniel W. Fletcher and Chopova Lowena. The former presented pleated skirts paired with faux fur cummerbunds and white tank tops complete with distressed detailing, as well as Prince of Wales checks on tailoring that combined Savile Row ideology with punk iconography. For something more literal, Chopova Lowena's show was soundtracked by heavy punk-rock music, fitting alongside clothing that evoked stroppy teenagers disobeying societal expectations. Oversized clips were used to attach infantile charms to jeans, skirts were finished in the label's signature pleated and checkered manner, and chaos appeared via the means of haphazard prints and plenty of buckles, adornments, and high socks.
Skirts to the Max-i
Finishing just above the ankle and often designed to enhance height or volume, the triumphant maxi skirt has evolved for SS23 to become a new statement among menswear.
Stefan Cooke's 360-degree hemmed denim maxi skirts were a take on the noughties' love for teeny tiny denim mini skirts, here elongated to confuse the eye as it could be mistaken as a pair of jorts or jeans. This was echoed by Simone Rocha's men's debut, who wove her signature folds of fabric in neutral tones into androgynous codes, creating a softer side to menswear. It was equally apparent during Molly Goddard's show – her usual array of tulle and taffeta was served en masse, but a slew of low-rise (à la the 2000s) maxi skirts on men, finished in navy blue pinstripes that conjure connotations of traditional tailoring, proved how maxi skirts aren't just for Y2K babies living out their noughties dream.
Hard, With Soft Edges
Simone Rocha's foray into menswear was a welcomed shift in the male wardrobe. Staple items for men, like a black bomber jacket, were accentuated with puffy shoulders extending into the sleeves. Khaki aviation looks were ruched and styled with floral-decorated sandals, while track pants were cut from soft cream satin and were embellished with more floral motifs in the fabric itself, complementing billowing bibs equipped with pearl-studded D-ring webbing straps.
It wasn't just Rocha who explored a softer side to menswear, as Dilara Fındıkoğlu used sheer materials to exude innocence by exposing the male form, and Paria Farzaneh's use of lace across bomber jackets and shirts took the masculine edge off of traditional garments.
Tailoring Tease
FEBEN excelled in this department, cinching the waist of a blazer while also giving the lapels a big blowout, subsequently deepening the V-neck opening of a suit jacket. Her asymmetrical twill Harrington jacket exposes one's collar bones and hips, while her tank tops – complete with soft peaks and formations for structure – continued to the middle of the thigh, inflicting thoughts of men wearing short dresses.
Likewise, Daniel W. Fletcher crafted suits from leather, while even his mid-length skirts could be paired with shirts for a gender-non-conforming approach to sartorial attire. 16Arlington's innocent palette of blush pinks and icy blues taking over satin constructions recontextualized power suits (helped by the garment's exaggerated collars and lapels), while pants from S.S. Daley – finished in soft fabrics like satin or cotton – were served up in equally quaint tones of cream and blue to complement their falling, billowing forms.
Rewriting the Gender Norms
This probably comes as no surprise – not only was there a considerable amount of menswear on the runways of London Fashion Week's SS23 womenswear season, but it also seemed that many of the looks didn't adhere to strict gender guidelines. We're not talking about Halpern's sequin Barbie-collaboration pantsuits and matching "slay girl boss" dresses or Nensi Dojaka's sultry lingerie. Instead, it's references we discussed with Simone Rocha and Stefan Cooke, as well as Fashion East's roster of talent – specifically Jawara Alleyne – that explored chest-bearing wrap tops for men. Edward Crutchley created a pectoral-enhancing bandeau fitted with ruffling shapes, Chopova Lowena used tinsel on sweater vests to provide a subverted take on a menswear staple (while also serving male-presenting models wearing its dresses and skirts, per its consumer's love for their signature garment), and JW Anderson took T-shirts to new lengths, added denim-effect halternecks to tank tops and sparkled up the suits for a collection that didn't adhere to any gender conformity.