Rapper-Producer NAV Goes Above and Beyond Hip-Hop Beat Making
Hypebeast speaks to the industry veteran about the making of his latest LP, 'Demons Protected by Angels.'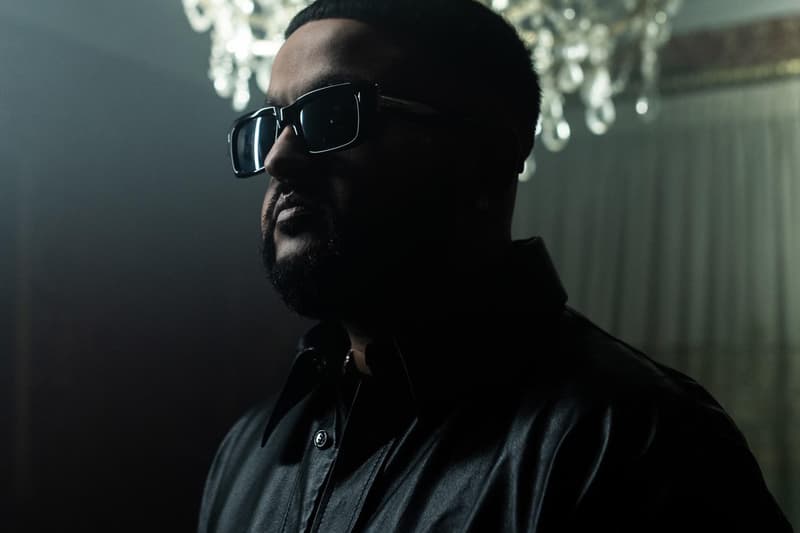 NAV, the rapper, has officially come to the forefront. The Ontario-born artist has spent nearly a decade making beats for hip-hop's heavy hitters, landing his first major production credit on Drake's "Back to Back" in 2015.
The ensuing years saw NAV sign to XO Records and produce for Gunna, Travis Scott, Future and Young Thug, among other legends, while simultaneously building out his personal discography with a few albums of his own. It can be gleaned, however, that NAV's star-studded roster of collaborators has positioned his identity as a rapper secondary to his reputation as one of rap's leading producers.
On Demons Protected by Angels, his fourth studio album, NAV has reaffirmed that he can deliver bars just as well as he can manufacture beats. Following 2020's Good Intentions, Demons is remarkably cohesive record, converging thoughtful lyricism and a heavy dose of introspection in clean flow that carries throughout the project's 19-tracks. Of course, being a classic NAV album, Demons also packs in cameos from Scott and Future, as well as Lil Baby, Lil Uzi Vert and Don Toliver.
A little over a week out from the project's release, NAV linked with HYPEBEAST to dish on his approach to recording Demons, curating guest artists and the 300-plus songs currently on his harddrive.
You've been dropping albums consistently for the past five years. At what point do you tell yourself it's time to sit down and make a new LP?
The quarantine played a funny part in it. I released good intentions during quarantine and we went number one and everything was great, but I didn't get to perform it because of quarantine.
With this project, I was like, 'outside is back open. What kind of music do I really wanna make?' I really wanted to make songs where if someone in an interview asked me, 'what is this song about,' I could easily tell them. Strong topics, better bars, better lyrics. You could compare it to my old stuff and then listen to one of these new songs and you hear better lyrics, better quality, better everything.
One of the first singles you released while rolling out Demons was "Never Sleep" with Travis Scott and Lil Baby. How did that track come together?
Me and Travis have done sh**. Like back in the past I had produced the song "Beats in the Trap." I made the beat, I did the hook and everything and I simply sent it right to him. For this, I shared it with [Scott] and he recorded his verse and sent it back.
How do you determine what guest artists to include on a track? Do you feel that your production background influences the process of making those kinds of decisions?
A lot of people forget to use their ears. They're using their eyes and they they're looking at numbers or dumb sh**. When I hear a slot on the song, if I'm looking for a feature, I'm using my ears.
With Uzi on "Interstellar," my boy was skipping through samples and listening to loops and was probably about to probably pass by one. I was like, 'no, no, what's that?' We made the beat together, and then I told Uzi, 'yo, I want 2016 Uzi on this sh**' and he went and did 2016 Uzi on it.
Sometimes the song is made. The one with Lil Durk, "My Dawg," I'm talking about my dawg, I'm talking about street sh**. I thought the perfect person for this kind of pain music would be Lil Durk.
What was the timeline of making the album from start to finish?
The first song was produced in March 2021. Then [XO Records co-founder] Cash said we should go to Miami and set up a house there to record. Out of all the songs that I did there, like the 40 or 50 songs, we picked the best ones.
We went to Toronto and made even more songs and again, we picked the best ones. And then we did another trip to Toronto.
All those trips combined, we took the best 19 songs from f**king 304 songs and put together the album.
There are some days I show up and I don't do anything but play Dominos because I'm just bored of recording, you know? It's like if you play basketball every day, sooner or later you're gonna be bored of playing basketball. Some days I do four a night, some days I do nothing. You gotta walk away from it sometimes.
Where do you envision Demons being played?
I feel like I cover all areas. Like there's a party song. There's a sad song. There's a happy song. There's everything.
Stream NAV's new album Demons Protected by Angels everywhere now.