Supreme's Growth Hasn't Uprooted Its History
The brand's viral logo-wrapped subway cars serve as an apt metaphor for its evolution — and its loyalty to the city that it still calls home.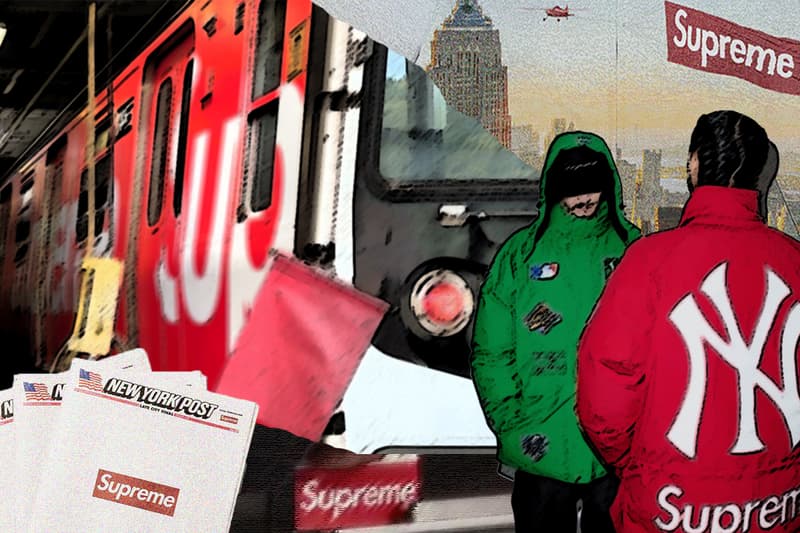 Supreme has always marched to the beat of its own drum. Since 1994, when James Jebbia opened the doors to the first store on Layfette Street in New York City — aiming to provide quality goods and a safe haven for the city's skaters — the ever-plucky brand has refused to be boxed in.
While Supreme never intended to do so, it quickly became a darling of the fashion industry. Vogue compared Supreme to Chanel in a clairvoyant March 1995 article. The brand produced irreverent "F*ck Nike" shirts in 2001, lampooning the company's then-feeble efforts to break into the skateboarding market — and the Swoosh "ghosting" James Jebbia after asking him to collaborate — then gave it a leg up by working with Nike SB to create one of the most important SB Dunk Lows ever in 2002. It was served with a cease and desist by Louis Vuitton for its "bootleg" monogrammed skate decks around the turn of the century, then turned around and did a paradigm-shifting collection with the French fashion house in 2017. Supreme even won the CFDA "Menswear Designer of the Year" award in 2018.
But no matter how grizzled your Canadian-made CYC Supreme fleece is, no matter how many scuffs and scrapes you have on your original Supreme x Vans Old Skools from 1996, you can't deny that Supreme isn't the brand it used to be from a "purist" standpoint. It hasn't been since it took investment from the Carlyle Group in 2017, and it's changed even more since VF Corporation — the parent company of Vans, The North Face and other titans of industry — acquired it in December 2020, paying $2.1 billion dollars for the brand and expecting it to produce revenues upwards of $500 million a year.
Yet that doesn't necessarily mean it's lost sight of its roots — though this has been a popular narrative in the HYPEBEAST comment section and across the greater street culture sphere for years now, especially since the Louis Vuitton collaboration. Nostalgia can be a tricky thing to process, as it's often much easier to say things "used to be better" instead of accepting and appreciating changes, sticking with a brand as it flows and grows. Yes, the proverbial "good old days" of Supreme being an independent powerhouse may have passed. However, that doesn't mean the brand has forgotten the rough-and-tumble downtown Manhattan energy that brought it to prominence in the first place.
"[Supreme] played the 'game' so well that it had nowhere to go but bigger."
"Supreme has always consciously been a downtown Manhattan vibe, even now" says Byron Hawes, author of Supreme anthology books Object Oriented and Art on Deck. "Realistically, it played the 'game' so well that it had nowhere to go but bigger. I've been incredibly impressed with how artful its expansion has been."
"'Insider only' brands are invariably confronted with a decision at some point," he continues. "Either they fade away or they get bigger. Supreme has retained its essential ethos. That sh*t isn't easy."
With corporate money comes corporate expectations, and with corporate expectations come larger collections, more collaborations, bigger production runs and an expanded retail footprint. However, Supreme's ever-present "give no f*cks" attitude and endless downtown Manhattan energy haven't wavered, as indicated by NYC-centric campaigns like placing a box logo on the front page of the New York Post to launch its FW18 collection, releasing a "how-to" chopped cheese video and its most recent viral marketing stunt: partnering with the MTA to wrap New York City subway trains in a full red-and-white branded livery as a precursor to its FW21 collection.
Wrapping the New York City subway, especially a line like the L train, is a move that's quintessentially Supreme; something that only a team who's inherently familiar with New York life would dream of doing and a stunning follow-up to 2017's red and white MetroCard, also created in collaboration with the MTA. Frankly, wrapping a New York City subway car in brand motifs it's the type of stunt any Big Apple brand would dream of doing … if only they had the cash to pull it off, which Supreme does thanks to its multi-billion-dollar valuation.
Yes, Supreme has gone from scrappy Lower Manhattan skate shop rocked by those "in the know" to global powerhouse, worn by everyone from wide-eyed, camp hat-topped tourists who are willing to wait in line for hours just to pick through the scraps of last week's releases to mass-market-movers from Rihanna to Kylie Jenner. Though purists who yearn for the "glory days" of '90s New York may decry these changes, the fact is that in today's hyper-connected world of social media everything is global — even, to an extent, local culture.
"I'm more interested in the question as to whether it's possible to be in touch with your roots if your roots don't really exist anymore."
"Information propagates and accelerates at lightning speed in the current day," says Hawes when asked if Supreme is still "true to its roots." "I'm more interested in the question as to whether it's possible to be in touch with your roots if your roots don't really exist anymore." Hawes points out the changes in Supreme's original stomping grounds: "When Lafayette opened, it was a sketchy block in a fractured neighborhood. Now there's a f*cking La Colombe next door to where Supreme used to be. It's unfair to ask a brand to stay true to something, in this case, a neighborhood and period of time, that doesn't exist in the way it did in the '90s anymore."
The days of quaffing 40s and smoking blunts outside the door on Lafayette Street are over — both literally and figuratively, as the brand's NYC flagship has moved a few blocks over to Bowery and, it's safe to say, attracts a new clientele. However, with all the new clothes, new fans and new dollars, it's still a brand that's inherently New York City at its core. This is proven by how it chooses to spend its marketing budget, on campaigns that everyone can enjoy but only a New Yorker who sees the city day in and day out can fully understand.
Supreme even decided to wrap the L train line, one of New York's most democratic. The L starts in deep Brooklyn at Canarsie, winds through artsy, lively Bushwick and pompous Williamsburg (where Supreme's Brooklyn flagship store is located), crosses the river into Manhattan and stops by SoHo and Union Square before ending at Chelsea. Unintentionally or otherwise, a Supreme-wrapped train making the journey from rough-and-tumble Carnise to ritzy Chelsea is a metaphor for the brand's growth: it's a speeding vehicle, growing in power and status alike while remaining rooted in New York the whole time.
What's the next stop for the Supreme train? The expansive FW21 collection, which releases tomorrow, August 19. After that? It's anybody's guess. However, as the brand continues to accelerate, Hawes sees a simple — yet potent — recipe for its success. "Supreme just needs to retain its punk rock spirit."