The Converse Collabs That Never Were
From unreleased runway pairs to highly-limited customs.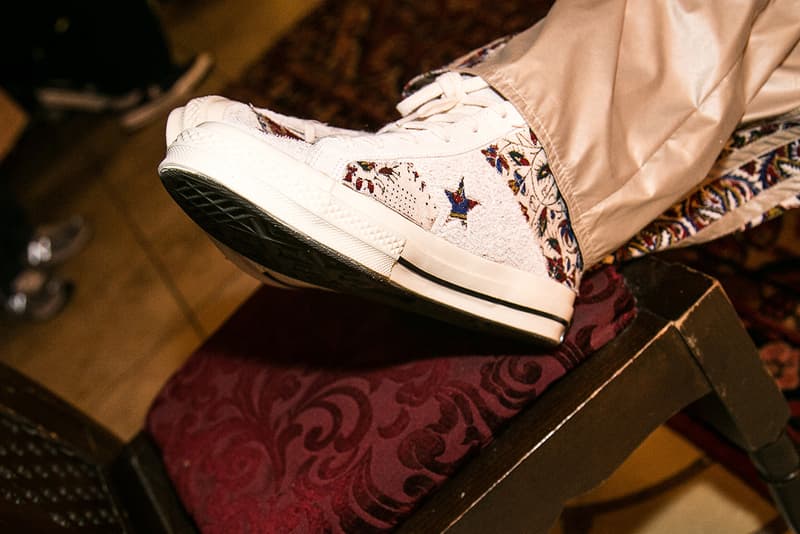 Converse has a recipe that's perfectly simple: even in their most basic form (a classic white Chuck Taylor, for example) the shoe is instantly recognizable, comfortable, versatile, and once you're done with it, easily replaced — although we think they're best worn out a little anyway.
But alongside the classics are a number of collaborations that, for at least the last two decades, have been quietly making Converse a big threat in the partnership game. From GAP to Missoni, Margiela to Tyler, the Creator — and even Blondie — their collabs have encompassed the spectrum of culture. 
In short, Converse knows how to do collaborations. Unfortunately, for all the fan favorites that have come, many never made it through the gate and into the mainstream. For more on the Converse collabs that never were, keep on reading.
Awake NY
Back in 2018, Converse's One Star was having a moment (perhaps thanks to its ever-popular Tyler, the Creator collaborations). One brand that was also on everyone's radar was Awake NY, which was destined to have a collaboration with Converse that year. However, news soon came that Angelo Baque's take on the One Star would no longer be released — with no explanation. The proposed collaboration saw four suede One Stars in green, black, gray, and red, each adorned with Awake NY's signature crossed with the One Star's… star. 
Paria Farzaneh
For her FW18 show, the British designer Paria Farzaneh produced a stunning pair of custom Converse One Star Mids Speaking exclusively to HYPEBEAST at the time, the then-rising designer said, "They're all one of ones, I hand-stitched every single pair," adding "no comment" when asked if they'd ever release. And, unlike her recent Converse Pro Leather X2 drop, they never did come into the mainstream. Sure, some filtered onto the resell market, but that was about as close as us regular sneaker lovers got to owning a pair of these custom Iranian print-finished Cons' — the few samples were given to Farzaneh's friends and family.
Eastwood Danso
London-based designer Eastwood Danso's relationship with Converse is much like Paria Farzaneh's, in that the sneakers you see above were only produced for the runway. The first pair was a Chuck Taylor 70 taken to new heights — literally — as it was slapped on top of a chunky and rugged sole unit. The second pair was also a LFW-exclusive, seeing a Pro Leather receive a full rework for FW20. Danso's pair featured a hand-painted leather upper that was covered in a technical draw-string bag-like shroud and was rounded off by a Vibram outsole, and to this day remains a pair we'd love to see officially released. 
Feng Chen Wang

Feng Chen Wang has worked with Converse on the Chuck 70, Jack Purcell, Pro Leather, and more, but it's the designer's SS19 Shanghai Fashion Week-exclusive Chucks that we remember most vividly. Designed exclusively for the show, the Chucks combined two pairs of Converse in one look, featuring the double sole and cut-out look that frequents the collaborations you can buy. However, these ones appeared in a more dashing array of colors, the imperfections made them that bit more special, while the functional strappy Mary Jane-esque low tops are even more desirable, especially given the fashion industry's newfound appreciation for the Mary Jane shoe as of late. 
Stüssy x Our Legacy (Unofficial) Converse Chuck 70
While many of the above are approved Converse collaborations, ones that were designed in honor of the brand, or were canceled, the Stüssy x Our Legacy pair you see above is, in fact, an unofficial pair. By that we mean Our Legacy has taken a deadstock Chuck 70 and revived it using old fabrics — this time around courtesy of Stüssy — to breathe a new life into these sneakers. Previously, Our Legacy has offered many dyed pairs made in its Stockholm-based WORK SHOP, and just like those, the Stüssy collab was an instant sell-out.