With Her New Converse Collab, Paria Farzaneh Wants You To Ask the Questions
In an exclusive interview, Farzaneh tells HYPEBEAST about the deeper meaning behind the Converse Pro Leather X2.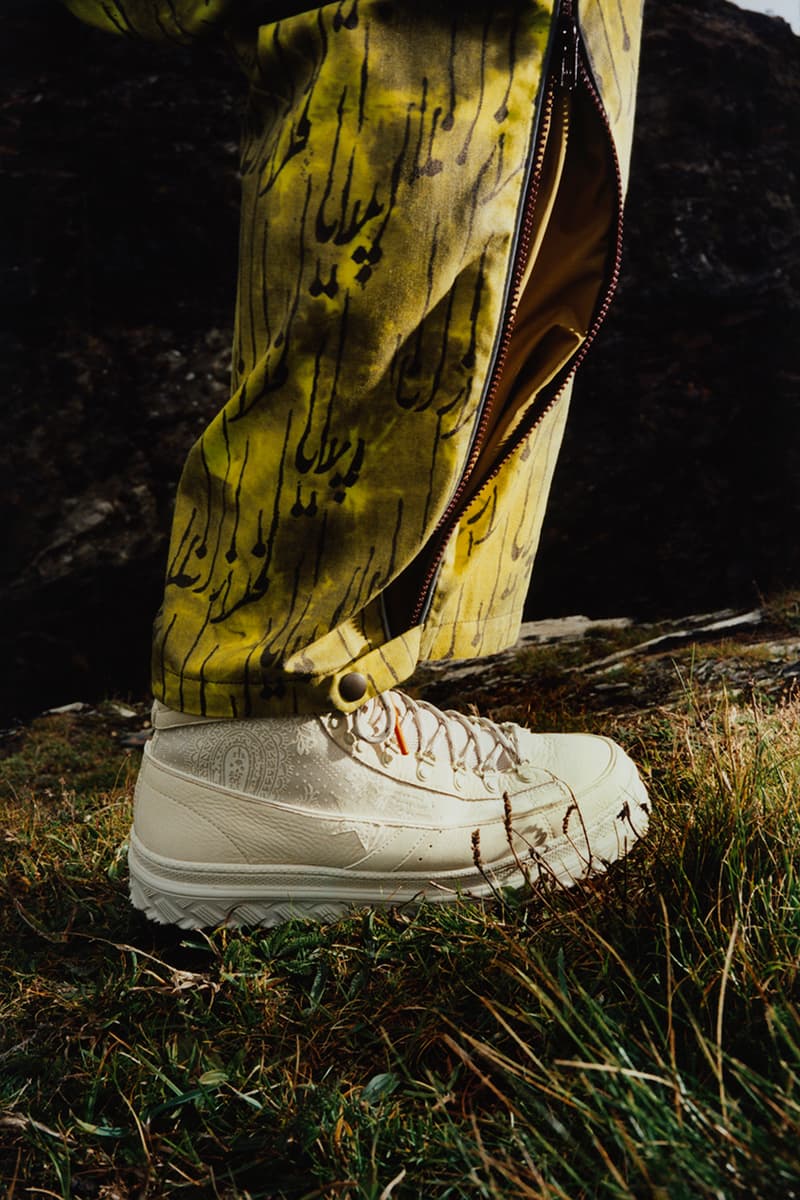 With Her New Converse Collab, Paria Farzaneh Wants You To Ask the Questions
In an exclusive interview, Farzaneh tells HYPEBEAST about the deeper meaning behind the Converse Pro Leather X2.
Paria Farzaneh is a vanguard, going against the status quo of commerciality and breaking boundaries of what is expected from her. Much like her explosive Fall/Winter 2020 "Number 6" collection showcase, the Paria Farzaneh x Converse Pro Leather X2 comments on real life — this isn't conventional, it's current and honest.
While the Pro Leather X2 may be a basketball shoe at its core, this isn't what the Paria Farzaneh pair is. It finds a new life in being built for a utilitarian world, one that's ready to tackle anything you throw at it thanks to a composition of hardwearing materials and tactile components, all while recognizing its roots.
Neutral tones are used throughout the Nubuck upper, which gives this pair an unassuming aesthetic. Complete with its rather dainty traditional wood-blocked Iranian paisley print, the shoe seems laid-back. However, the print is equipped with 3M to shine bright when called upon, the use of Nubuck is more than just for show as it performs well in rainy conditions, and the shoe's new elements — such as the elevated and exaggerated rugged sole unit — offers plenty in the way of terrain-tackling traction. This go-anywhere approach is accentuated with the use of speckled rope laces that loop through D-ring eyelets, too.
In an exclusive interview with HYPEBEAST, Paria Farzaneh discusses everything that has gone into her collaborative pair of Converse Pro Leather X2 shoes. From the unavoidable inspirations that surround her (and us) thanks to the current climate we are in, to her use of her Iranian heritage and for wanting to create something everybody can interpret in their own ways, this collaboration is unlike any collaboration before it.
HYPEBEAST: Converse's Pro Leather X2 has always had a practical focus, but you've reinterpreted this. What made you want to make something that's utilitarian?

Paria Farzaneh: People are always going to expect you to bring, do, or say the same things. By doing this, it throws people off by giving them a completely different tangent, it is an interpretation of what was going on at the time — I could have been into scuba diving at the point and we could have made a waterproof shoe for the ocean. The kind of nature/outdoor vibe was something that I'm personally living and going through myself, so I wanted it to be a depiction of the realities that we're living right now, and for that to be relatable to people so they can translate that into their own universes.

Is that why it's important to you to create such an adaptable shoe — so that people can adapt with it?

Yeah of course. Once you create something with months of planning and designing, realistically, the moment that it's out it doesn't really belong to you anymore. It belongs to the people that have invested their time, their finances, their emotions in that. I can't go and tell people how to wear something or what to think about it, it's more about planting the seed and giving the opportunity to have something there so that they can experience different feelings and emotions. Start asking the questions.

How do you want the shoe to engage us in "asking questions?" 

We don't need any more clothes and we don't need any more shoes, so if you're going to design things they need to be something that is a reflection of the times, things that do relate with people. The shoe is just a vessel for passing on information — yes, you can wear them and join the team — or "commune," as I like to use loosely — by putting on the shoes It's really up to the individual, and what I really want people to understand is that it's not really about the clothes or the shoes, these are merely just the platform that enables us to speak louder and communicate the message — whatever that may be.
Your FW20 show was similar in its message. What part do the shoes play in your collection?

[The models] were walking up the hill in a 1,000-acre farmland. I don't think this is something you'd be able to do in normal Chuck 70s. Having the practicality there and being aesthetically pleasing — obviously, that's my perspective people might not have that feeling, but obviously, my opinion is biased because I did design the shoes. I think what's important to remember is that there is a layer of such uncertainty in what we are in now. I feel like being in nature is the most honest, reliable source. Nature is never going to lie to you. If you can have a product that can be there for you, be practical, be ready, then you're just simply going to progress.

The shoes are a means of expressing something much deeper. How could the footwear industry do more of what you are doing?

I think what people don't think about with shoes is that they are probably only focused on performance and practicality elements, and commercially viable status. Some shoes or the way that things are marketed need to do well in order to keep going forward, however, there's not really that many — I've never seen any shoes that have focused on the full 360. You're not going to get a running shoe that talks about people's feelings and emotions. They don't really go that far. This is my perspective of how I would have designed that particular shoe.

We used the Nubuck leather which is really amazing in any rainy conditions, the tread on the sole makes sure you don't slide or go down a slippery slope — which again can be a synonym for some real-life scenarios — with the print and the 3M, I'm really fascinated by 3M because it's used to show up in places of danger where you really need to be seen so that your life or safety isn't compromised. Having that flash of the signature Iranian print, that is so subtle but will show up when it needs to, I think that's really nice because it's not something that shouts out loud or speaks too much to people in that way, it's more subtle, less contrived.

Your brand entices a reaction and conversation. Do you think this collection will do the same for the fashion industry?

I don't think it will because — and I'm not saying that we didn't touch a big audience or people, that's not the case. It's what that industry is and what it has been up until now… It's not the same planet that I'm on. Our motivations are not anything comparable to anything people in the fashion industry are doing, it's never been about the status or the financial gain or the celebrity status.

For me, this is a really selfless act, and that's not fashion for me. Unfortunately, it is now the majority of what that industry looks like. I wouldn't call myself a fashion designer at this point, I think I design and make clothes and design shoes, however, the main motivation every single time is to curate an experience that you would have never found yourself in.
"Curating an experience" is a nice segway into what you were doing on Monday. You held a live outdoor radio show as a launch for the Converse collaboration. What was that like?

Every day I start my day with a set or a radio show or something that I've curated, music is just such an important part of my creative process. Just being able to tone out of reality or what's going on, to make it a little easier.

I've had this idea of doing a radio show now for a couple of years and I've just been waiting for the moment to actually bring it to life. I loved listening to the radio when I was younger and tuning in. It was so nostalgic, you felt like you were a part of something, even though you were just the listener.

I wanted to build that kind of scenario again, and what an amazing way to do that than in nature — to build this red perspex box which, again, I've had this idea for maybe two years now where I wanted to put such a contrast environment in the middle of the forest which is what we did, now thinking about it again it was just so crazy. Everybody was wearing the collection and the shoes, we were in the forest so they were able to deliver in terms of the rain or the mud, practicality and being there for what we need… I asked some of our closest friends and relatives if they'd like to play some music, and every single DJ said to me, including myself, that they thought they were just in the box themselves and they were just playing music for themselves and the rest of the world. They were completely taken away from where they were, or were able to go into this completely different atmosphere, and now watching back, we did really achieve that.

Everything you do has an overarching symbiotic relationship. Is this radio show just as important as creating this shoe with Converse?

Absolutely. It's the platform and having this idea, having something like Converse that doesn't really ask any questions because they believe in what I was doing, that's a really big responsibility because there are not many people you could say to, "Oh, I'm going to blow up the field." What I love is that Converse thinks, "What is she going to do next?" Where am I having these ideas to take people to these places and experiences? It's so important to be able to do that. Where I was at the beginning of this journey with Converse to where I am now is just a completely different planet.

Your first friends-and-family Converse collaboration was very different to this pair. What do you think might change for you and your brand, and your brand and Converse's relationship, as this continues?

The only thing I hope will change is people's perception of whatever they have already… It's not for me, or for the benefit of my brand or for Converse, it's for the benefit of the individual and that's what people need to understand. It's not about bettering yourself or putting ourselves in a better position, it's about people feeling the chance to grow as an individual and start feeling things, or asking questions, or trying it themselves because, realistically, anyone can do whatever they want to do. The only boundary or limitation is yourself. You're the only person who can stop yourself from progressing, being able to bring something to life. What's exciting is that we will continue to keep using this platform in collaboration with Converse to keep doing that for people so that they can get into the habit of doing themselves.
Paria Farzaneh's Converse Pro Leather X2 collaboration releases on Converse's website on November 27. Take a closer look at the pair above.
For more future-forward footwear, take a look at Mr. Bailey's adidas Originals Superstar.