5 Collections You Might Have Missed at London Fashion Week: Men's FW20
From Irish-inspired designs to collections made with sustainable practices.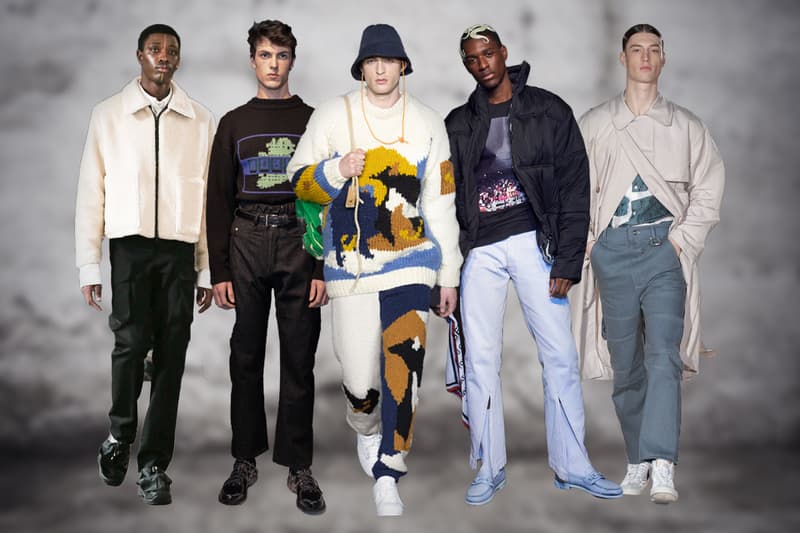 Although the Fall/Winter 2020 season at London Fashion Week: Men's was notable due to an absence of certain big names — Craig Green and Kiko Kostadinov will show in Paris, with A-COLD-WALL* in Milan — the schedule still boasted some of the most exciting names in menswear. In addition to young talents such as Paria Farzaneh and Priya Ahluwalia and long-term favorites including Martine Rose and Wales Bonner, this season also featured a wide range of rising stars, making their first steps into the fashion industry.
From Robyn Lynch's Irish-inspired designs to Bianca Saunders' examination of black masculinity, young designers used their shows to look at wider issues. This also included LVMH Prize nominee Bethany Williams, who has worked with charitable organizations for each of her collections, and a new focus on sustainability from Studio ALCH.
Below we take a look at the five standout collections from some of the lesser known names showing at this season's London Fashion Week: Men's.
Robyn Lynch
Fashion East graduate Robyn Lynch returned to the schedule for her first standalone presentation. The FW20 collection continued to take inspiration from Lynch's Irish roots, with a particular influence coming from time Lynch spent on the island of Inis Oirr, population 260. "It's like a different world," she explained of the island. "When you step back there, it's like time stops. It's these young lads and these older men, living by their own rules. It's what I love about clothes, how they can tell stories about the way we live."
References to Ireland also continue through linen woven in Donegal, prints inspired by the Irish teletext channel — a pre-internet information service on television — and Lycra long-sleeves as a nod to the Irish bobsleigh team. Elsewhere, the collection features oversized Arran knits that have been fused with fleece collars and nylon paneling, as well as waterproof jackets, track pants and windbreaker trousers.
Bianca Saunders
London-based designer Bianca Saunders took inspiration from VHS recordings of dancehall parties for her FW20 collection. Speaking about her designs, Saunders explained that "this is a collection about my background, about my heritage, about being Black Caribbean. I used distortion, things that curved, and always a play with gender, and how we see masculine clothes."
Throughout her collection, Saunders particularly focused on the shoulders. Denim shirts featured a higher shoulder point, while jackets were adorned with a shoulder pad above a tucked-in sleeve head. This season also saw Saunders work with accessories for the first time, including bags that could be reshaped, footwear by fellow RCA graduate Hernan Guardamagna and silk scarves featuring a saying usually found on kitchen scrolls.
Bethany Williams
After working with Spires for Spring/Summer 2020, 2019 British Emerging Designer of the Year Bethany Williams continued the charitable element of her work by partnering with The Magpie Project for this season. The organization works directly with mothers and children facing insecure housing to provide them with support and basic living necessities.
Describing the collection as celebrating "motherhood, childhood, sisterhood, and the family we choose," Williams introduced garment construction and craft techniques from children's clothing to the collection. Elsewhere, she used recycled bedding alongside quilting and patchworking, in reference to the blankets created for the Magpie children. For this show, Williams also continued to work with adidas Originals, debuting a customized set of Superstars in partnership with Helen Kirkum.
Eastwood Danso
Rising star Eastwood Danso focused on the relationship between how we see ourselves and how others see us for his FW20 presentation. Additionally, he has looked at the idea of "rebirth," taken from religion and his father's born-again Christianity. Developing the rebirth theme, Danso has created a fusion of tailoring and leisurewear, with a number of his pieces twisting classic items into new forms.
The collection presented by Danso was entirely black and white, focusing on accessible styles. Key pieces included reworked staples such as track pants, pullovers and sweatshirts, while stand-out outerwear such as padded jackets, leather coats and tailored pieces were notable. Finishing off the collection was Danso's latest project with Converse, with runway-exclusive takes on the Pro Leather silhouette featuring technical fabrics, hand-painted designs an a utility-style outsole.
Studio ALCH
Studio ALCH — the label led by Alexandra Hackett — championed sustainability and reconstructive techniques with its FW20 collection. This season saw the brand continue to look at more ways to reduce waste, including winterized pieces with removable and packable carrier bags, as well as denim and jersey pieces that are cut from a single piece of fabric resulting in no material waste.
Elsewhere, pieces throughout the collection are produced from recycled, organic and deadstock fabrics. While the color palette throughout the collection is muted — offset with some pops of bright orange — to signify a return to simplicity.