Masks Are Fashion's New Basic
How mask manufacturing shifted the industry. And why it's here to stay.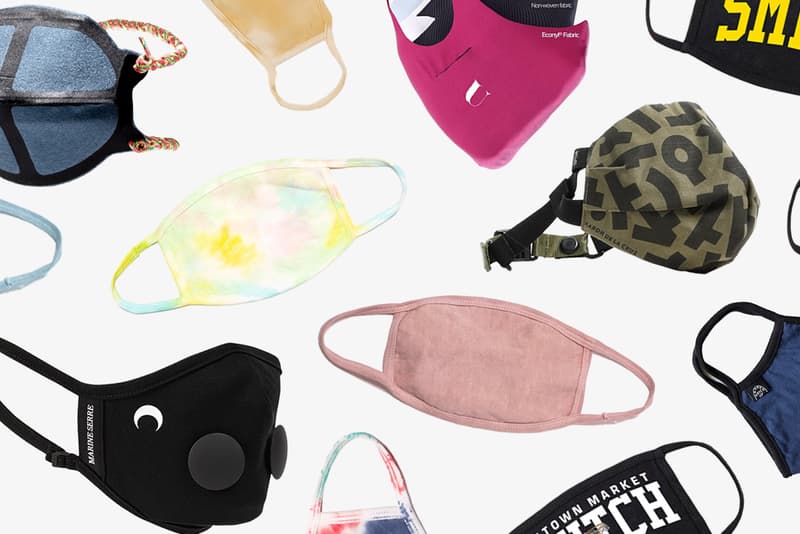 Many fashion brands, especially in streetwear, have manufactured masks for years; BAPE, Off-White™ and Supreme have included various face coverings in their drops well before the COVID-19 outbreak. But these days, mask-making is fashion's new normal as sportswear, luxury and small-batch clothing brands all pivot to creating the now essential face coverings.
Such a wide-spread and rapid transition across the industry is virtually unprecedented, but many fashion brands, and the workers who sustain them, may not have pushed through the financial uncertainty of the coronavirus without it.
"There was a rocky road there for two, three weeks where most people were furloughed, sent home," said Olderbrother's Max Kingery, recalling the uncertainty of the early weeks of the U.S. COVID-19 outbreak. "All these people that we know that we've been working with directly for a long time were gonna go out of business. The situation was bleak — was so bleak."
He spoke of receiving calls from Los Angeles garment workers, manufacturers and mom-and-pop sewing facilities uncertain of whether their business would be able to survive the lockdown. "Then it went to like, 'Hey, we're so busy right now. We gotta finish these masks.' It was like a week that that [change] happened."
After several months of uncertainty and a decline in clothing retail spending, the prognosis is looking better for fashion; May and June saw an increase in sales. But even if the virus disappeared tomorrow, many of its consequences would not. The response, or lack thereof, by the U.S. government to COVID-19 has raised long term concerns about sustainability, unemployment, medical supply deficits and the future of fashion at large, which became the impetus for many brands to step in and help. In other words, you should expect masks to be on the drop list for a while to come.
"In all reality, the people in the trenches did more for the people in the trenches, not the people at the top."
Brands were quick to devote their resources to manufacturing protective wear for frontline essentials workers in the early months of the COVID-19 outbreak. New Balance COO Dave Wheeler recalls the company beginning production on masks in late March in response to a dire shortage of protective equipment across the U.S. "A team of industrial engineers and designers worked to produce NB's first face mask prototype within 12 days and by late April, production of two general use masks was scaled to a total of approximately 100,000 units per week between two New Balance factories," he said.
In late March, the same time New Balance began production on its masks, the Center for Disease Control reversed its prior stance that mask-wearing was not essential for the general population, asking everyone to wear masks in public spaces. Fashion brands were quick to expand their offerings, and like Wheeler, each brand HYPEBEAST spoke with emphasized that public health and safety was their main motive.
But with that quick pivot came with concerns for brands diverting from their normal processes: how do companies organize production for social distancing and how do they make sure masks were getting to people who needed them most?
The beginning of mask production was rife with such questions. "How do people work in this circumstance? Do people want to work?" Kingery recalled discussing with his team. "It actually worked out really well because we have one sewer who works for us exclusively who needed to work, and so it was the perfect opportunity where it was like, 'We have work. This is really manageable and really small.' They were able to just come in, and we only had one or two people in the office who were quarantined. So we were able to keep everyone employed right out of the gate, and we had the space and the comfort level to do that."
Another crucial component for Olderbrother was sustainability. "I've heard people say when they're wearing the surgical mask, 'I like this one because it's really light, and I don't have to wash it, and I can just throw it away.' And it's like, 'Okay, well where does it go?' That transaction, or that occurrence, it's not even in people's minds right now. 'I just want convenience.' And it's that the kind of mentality that's so devastating and puts us in a terrible spot."
For Jimmy Gorecki, founder of Standard Issue Tees, it was essential to make sure their supply met the demand — and to have a process in place if they couldn't. The traffic to the website, and order quantity, far exceeded expectations, he said, but with that came a responsibility. Gorecki told HYPEBEAST that the company implemented a policy that if they wouldn't take orders they couldn't ship within two days. "We understood the anxiety and severity of it," he said. "It just didn't feel fair. This, in theory, could be a thing that you could make money off of, but that wasn't it for us. People are buying these because people are fearful and they want to protect themselves."
Masks are after all supposed to be about function first and foremost. But there's also a demand for designer, quote-unquote "hyped" masks. Chinatown Market founder Dan Altmann mentioned that it seems people are collecting masks rather than just buying as needed. "It's like an easy access point to a lot of different brands that people might not wanna spend [a lot] with, so we definitely underestimated the desire to have multiple. A lot of our orders are four, five or six as opposed to just one," he said.
Designing covetable masks isn't all about sales and hype though; it actually might help stop the spread. As well as basic white and black cotton masks (in line with the brand's simple T-shirts), Standard Issue Tees makes tie-dyed and color masks. The company wanted to encourage people to wear masks by making them feel as organic and wearable as possible, Gorecki explained, by dying them to match with the sweatsuits and other garments the company already produces. "It sucks that we gotta even have that conversation," he continued. "But there's obviously a massive portion of the population who doesn't look at this thing as a basic courtesy."
Masks have become particularly salient and politically divisive in the U.S. where many people refuse to wear them, citing false information about effectiveness and even bodily harm. Debate over the effectiveness of cloth masks compared to surgical masks and N95s has also persisted, despite information from the C.D.C., W.H.O., and other distinguished scientific bodies that cloth masks are effective enough for the general population.
Perhaps like Gorecki, other brands have designed their offerings with the skeptics as well as mask devotees in mind; you might draw a correlation between the "to wear or not to wear" controversy and the highly specialized consumer masks which have emerged over the past few months. Although a bandana or similar coverage can be enough to do the trick, some brands have raised the bar, offering what are marketed as even safer alternatives to a basic cotton mask. Wheeler told HYPEBEAST that New Balance masks were developed under the consultation of Bob Langer from MIT's Langer Lab and other New England medical institutions. Under Armour's three-layer Sportsmask is crafted with anti-microbial technology. The much hyped and Formula 1-approved U-Mask opts for a two-layered approach with a recycled ocean plastic exterior and a replaceable interior filter which lasts up to 200 hours of use.
Increased demand for specialized cloth masks has opened the floodgates for mask-only brands like U-Mask and Kize. "While many brands created product extensions to include masks, Kize is solely focused on masks," said founder Shanie Miotto. Since launching in late March, the brand has manufactured two-layered masks made with an outer layer of washable jersey and a pocket for a carbon-activated PM2.5 filter. They now produce 50 different models and promise more to come.
"[Masks] are a basic essential. Just like tees and sweats and everything else."
So what do the next few months, or years, of mask-making look like for fashion? There are currently 23 COVID-19 vaccines in clinical trials around the globe according to W.H.O. and some have yielded positive early results. But scientists have also raised concerns that the virus may become endemic, meaning it would be with us permanently — potentially even if a vaccine was developed.
The emergence of mask-only brands seems to signal belief that there will be on-going demand for these products; the market value for face masks is expected to reach 7.22 billion by 2026. For their part, many clothing brands have already started approaching mask-making as a given. "I think you'll start to see it be, at least with us, just kind of something that's integrated really naturally like a T-shirt, or shorts, or a hoodie or a jacket might be," said Chinatown Market's Dan Altmann.
There are also some lessons learned from the mask-making experience thus far. "In theory, that's what's in the rule book or the Constitution: being a fellow citizen," Gorecki said of the decision to begin mask production. "But you'd think it would start at the top and not at the ground level. In all reality, the people in the trenches did more for the people in the trenches, not the people at the top."
"We're an essentials and a basics brand," Gorecki continued. "And I think quickly things have been redefined, especially for American society. These things are a basic essential. Just like tees and sweats and everything else."
Looking back at the early weeks of the COVID-19 outbreak, Kingery recalled the decision to begin production: "I look back on it, and it was the whole thing it was like, 'Hey are we putting people at risk?' Some people are like, 'Are you capitalizing on important medical supplies?'" he said. "It was kind of a miracle if I take a few steps back. It really was a miracle. We're just happy to make any contributions we did. It was not an easy decision, but I've been really pleasantly surprised by how beneficial it was for everyone involved."