Kanye West Interviews Pharrell, Talks Michael Jackson, Coronavirus and Faith
For i-D's "The Faith In Chaos" Summer 2020 issue.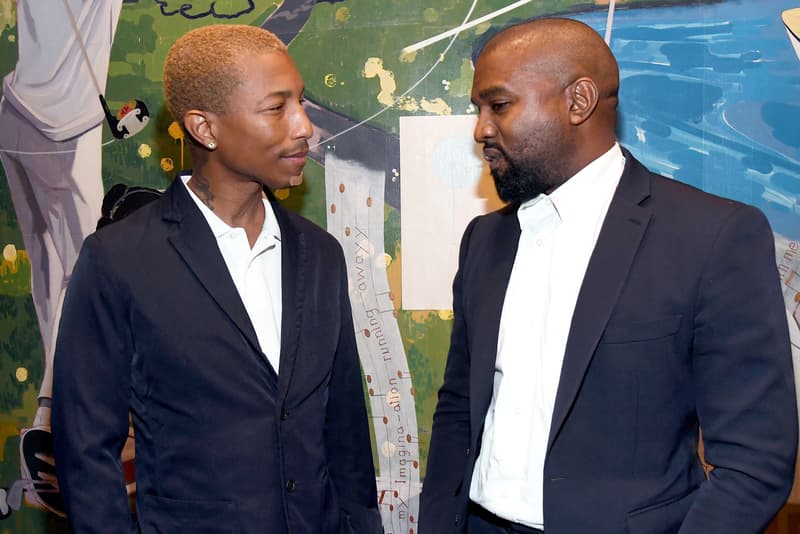 Kanye West and Pharrell Williams teamed up for a new interview in i-D's "The Faith In Chaos" Summer 2020 issue. The longtime friends and collaborators talked at length over the phone about their respective and historic careers, the importance of Virginia to modern Black music, and how essential American manufacturing is moving forward.
Kanye opened up the interview thanking Pharrell for breaking out of the mould as both a musician and as someone deeply invested in personal style. "I think one of the things that you, Pharrell, inspired in me was this fearlessness to break the mould. You're the inspiration. Before I wore a pink polo you were wearing a pink polo. That lineage is mapped out and proven, and you can go from then all the way up to the moment we have in culture now. You broke down the doors in fashion for us."
Given that Kanye was calling from one of his ranches in Wyoming, and Pharrell was somewhere in Miami, each practicing social distancing, they both detailed their experiences during the coronavirus pandemic. "This is a plague we're living through at the moment. I don't think there will be such a thing as a new normal – it doesn't do enough justice to the difference in who we were pre-pandemic and who we will be moving forward," Pharrell said. "Life's going to have a different kind of gravity than it's ever had before. It's also gonna make us really separated… But we have been through many plagues before. We have been through pandemics. We survived. We're gonna make it. In a lot of ways we got ourselves into this, we gotta get to work to get through it."
"We need to understand humanity as one species. We need to change our mentality, readjust our mindset and use that readjusted mindset to change the world," Kanye chimed in.
The interview was released just days after Kanye donated $2 million USD to various charitable causes and paid for George Floyd's daughter's college tuition. Later that day he joined protesters in his hometown, marching for reforms to both city police and the public schools in Chicago. West is also working on the follow-up to Jesus Is King tentatively titled God's Country. Back in April, he spoke with GQ about architecture, sustainability and his fervent support of current President Donald Trump.
Kanye also discussed the cultural impact of Michael Jackson and how he feels like the media has plotted to tear him, and other Black cultural figures, down in a similar way over the years. "In a way [Pharrell]'s very similar to Michael Jackson, in the ways where Michael Jackson was doing covert, super gangsta stuff, like he'd just pop the needles off. He kissed Elvis Presley's daughter on MTV. Black culture used to be… we used to be fronting all night, but Michael was doing stuff that was different to what we were programmed to understand as being what we should do. He bought The Beatles' back catalogue."
Kanye continued, "We should have something that says we can't allow any company to tear down our heroes. Not on The Shade Room, not on social media and especially not in documentaries. I'm like every time the media isn't happy with me it's like, 'Here they go. They're gonna come and Wacko Jacko me.' Which in some ways, they've tried to do."
Other highlights include Kanye's continual plan to build homeless shelters, which he's currently workshopping in Wyoming, the emergence of the Age of Aquarius and more. "Faith is not about what you see, faith is not about what you hear. Faith is about what you feel, and mankind is absolutely in a place and in a state of feeling more than it ever has been before," Pharrell said.
Read the full piece via i-D. In more music news, André 3000 released a limited run of shirts inspired by his iconic concert jumpsuits with 100% of net proceeds donated to Movement for Black Lives.