Patrisse Cullors to Open Pride at LA Museum With Prayer-Centered Performance
A "public act of mourning" from the Black Lives Matter movement co-founder.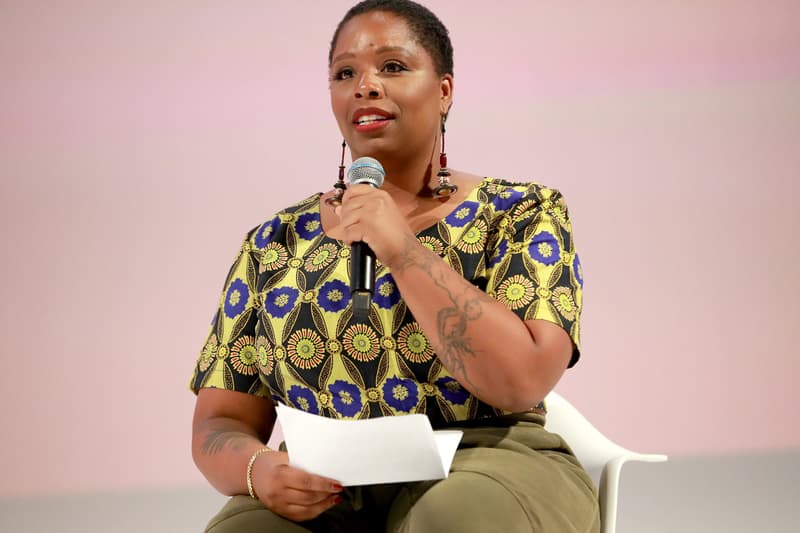 Co-founder of the Black Lives Matter movement and queer activist Patrisse Cullors will perform a "public act of mourning" as the inaugural event of Pride at the Fowler Museum. Rooted in a prayer that Cullors wrote with artist Damon Turner after the death of Ahmaud Arbery, the performance, called A Prayer for the Runner, responds to the question, "What role does collective prayer have and how can it inspire our healing?"
Originally trained as a dancer, Cullors told the Los Angeles Times that performance gives her "a sense of agency" and brings together her roles as both an artist and activist. "I get to dictate how the world sees me and what they see me doing, what they hear me saying, or feeling," she explained. "And oftentimes, we don't get to make those choices. As black people, choices are made for us, and often it leads to deadly consequences." On her latest performance, Cullors says, "This piece takes us through ritual, prayer, and ancestry. Black death, trauma, and pain are age-old crises. Our bodies have been used as sacrifice. How do we manage?"
In addition to the performance, the program will feature a talk-back with Melinda Abdullah, founder of the Los Angeles chapter of Black Lives Matter. Both women will share their thoughts on topics such as grief, healing and parent-child relationships. Other events include a dance class on AfrikFusion/VogueAfrik and a conversation "tracing queer Angeleno artists' contributions to contemporary art."
Cullor's performance will take place on June 13 from 12 p.m. to 1 p.m. PDT. For more information on the events or to RSVP to any of the digital programs, head to the Fowler Museum's website.
In other news, Deanna Lawson is exploring distinct narratives of Blackness with meticulously staged portraits.