Gucci Announces 2020 North America Changemakers Scholars
Geared at increasing diversity, the program will award $1.5 Million USD in scholarships over the next four years.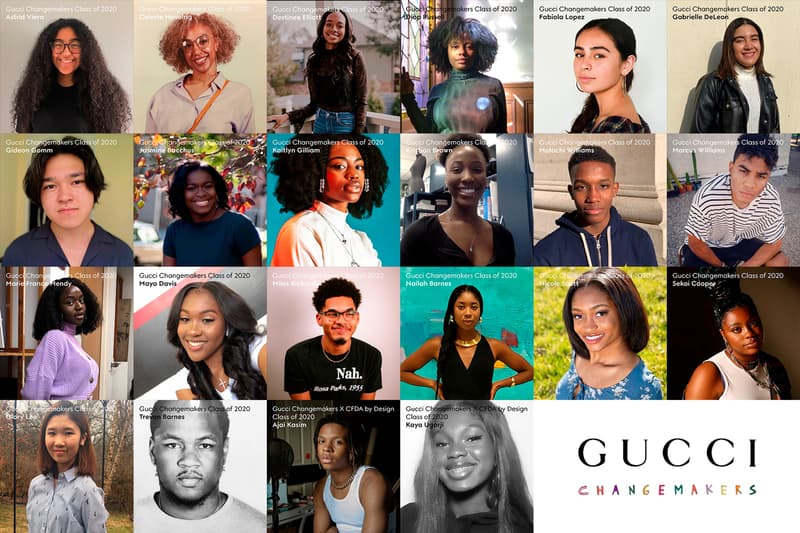 Gucci has officially named its first class of Changemakers Scholars for 2020, following up on its pledge to foster inclusivity and progressive change in the fashion industry as a part of its larger Gucci Equilibrium initiative. The company has designated 20 different high school students from "diverse backgrounds" that are headed to colleges in the pursuit of fashion careers, alongside two design-focused scholarships in partnership with the CFDA.
Each of the 20 students selected will receive $20,000 USD to assist with their academic fees, in addition to receiving mentorship and virtual internships with Gucci America directly. The scholarship is centered on individuals that live in one of Gucci's 12 "North America Changemakers cities," including Atlanta, Chicago, Detroit, Houston, Los Angeles, Miami, New Orleans, New York, Philadelphia, San Francisco, Toronto, and Washington D.C. It also is geared toward students that attend or plan to pursue their education at a Historically Black College and University (HBCU).
This year's class includes students that aspire to be future creators, designers, and more. Take for example Miles Richards, who expressed his desire to "change the world" in a video showcasing his illustration and watercolor skills without saying a word. Meanwhile, recipient Jasmine Bacchus has dreams of becoming a lawyer within the industry, stating: "I've watched time and time again, women of color and young designers of color get their work stolen by major corporations and I think that I have the opportunity to use my platform and use my knowledge of the law to help change that and help fight for them."
For Gucci and the CFDA's Scholars By Design award, Ajai Kasim (who is headed for Parsons) and Kaya Ugorji (headed for FIT) have been named the winners. Each of them will be granted $20,000 per year for four years.
Gucci's North America Changemakers Scholarship was originally established in 2019 after the company implemented a three-tiered cultural awareness initiative in response to a balaclava turtleneck that was likened to blackface. The program plans to dole out $1.5 million USD in scholarships over the next four years in order to ensure "a new generation of diverse young people."
For the full list of winners and more information, visit Gucci's Equilibrium website.