Best New Tracks: Pop Smoke, Gorillaz & Octavian, H.E.R., Lil Baby & More
Featuring songs to uplift and songs to get lost in during these trying times.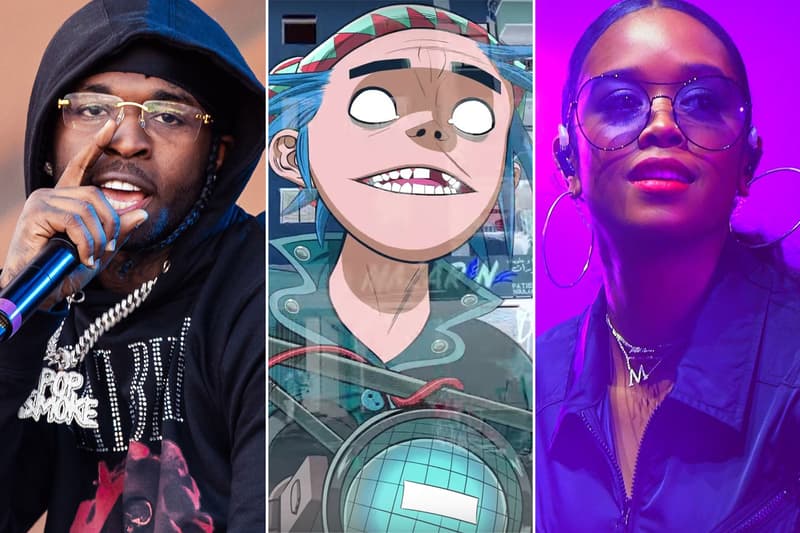 As the week in music comes to a close, HYPEBEAST has rounded up the 10 best projects for the latest installment of Best New Tracks.
This week we're sharing the influx of timely protest songs released by artists in solidarity of the Black Lives Matter movement and nationwide peaceful protests aimed at combating police brutality and systemic racism. We're also balancing those important tracks with some new projects to get lost in for the occasional dose of escapism.
Artists like H.E.R. ("I Can't Breathe"), Lil Baby ("The Bigger Picture") and Leon Bridges ("Sweeter") dealt with the current climate directly, premiering beautiful and emotional ballads. RMR's Drug Dealing Is A Lost Art EP proved through eight new tracks that he isn't a one hit wonder — instead, his mature songwriting chops and ear for melodies, curated instrumental selection and veteran level cohesion makes for one of the year's most unexpected listens. Gorillaz tapped Octavian for their latest Song Machine episode, premiering "Friday 13th" with a new animated visual. Jorja Smith's cover of St Germain's "Rose Rouge" offers some smooth jazz that melds Blue Note Records' historic sensibilities with some upbeat and modern sonics.
Tap in for the full rundown of HYPEBEAST's latest Best New Tracks below.
---
Pop Smoke – "Make It Rain" ft. Rowdy Rebel
Pop Smoke's posthumous album has been delayed until July, but the fallen rapper's team did release a new song, dropping "Make It Rain" in the early morning. Produced by Yamaica, Rico Beats and 808Melo, the track is a reminder of the incredible talent and undeniable presence lost with Smoke's untimely passing. Rowdy Rebel even phoned in his verse from prison.
Listen: Spotify | Apple Music
---
Gorillaz – "Friday 13" ft. Octavian
20 years and still going strong, Gorillaz continue to release surprise tracks as part of the band's ongoing Song Machine project. On "Friday 13th", the fifth full-length song from the new effort, rapper Octavian steals the show. He delivers a melodic verse before breaking out into a half-autotuned chorus with his voice sounding like it's filtered through a vocoder. The group also offers up an optimistic note on their "Song Machine: Machine Bitez #8" intro, letting the audience know that, "It's important to remember that everyday can be beautiful if you want it to be. It's all about your perception, don't you think?"
Listen: Spotify | Apple Music
---
RMR – Drug Dealing Is A Lost Art
RMR is here to stay. After having the viral hit of 2020 thus far with his Rascal Flatt's cover "Rascal", the mysterious ski-masked artist proved that he was more than well-connected in the music industry. Future and Lil Baby hopped on his "Dealer" Remix and Westside Gunn was tapped for the intro track "WELFARE". What resulted was a cohesive debut full of memorable moments, hit records and head-nodding instrumental selections. Drug Dealing Is A Lost Art delivers and then some. For more, revisit HYPEBEAST's "RMR on the Endless Influences That Move the Man Behind the Mask" interview feature.
Listen: Spotify | Apple Music
---
H.E.R. – "I Can't Breathe"
H.E.R. released the moving "I Can't Breathe" during her iHeart Radio Living Room Concert Series performance. The GRAMMY Award-winning artist didn't mince her words, singing about government corruption, the lack of racial equality in America and repeating the words of Eric Garner back in 2014 before he was murdered by law enforcement. The release is minimalist in nature with her acoustic guitar backed by a full band complete with subtle organs in the background. "I think music is powerful when it comes to change and when it comes to healing and that's why I wrote this song, to make a mark in history. And I hope this song does that," she said. The track did exactly that.
Listen: YouTube
---
Lil Baby – "The Bigger Picture"
Lil Baby released "The Bigger Picture" late last night, a hard-hitting statement with all proceeds from the song going to support the push against racial inequality. Baby has showcased incredible growth with his album My Turn, earning his first No. 1 record on the Billboard 200, and his political turn here, while initially unexpected, definitely suits him. He calls out the police for their militant use of rubber bullets on protests. "It's bigger than black and white/ It's a problem with the whole way of life," he raps on the chorus.
Listen: Spotify | Apple Music
---
Jorja Smith – "Rose Rouge"
It's been almost two years since Jorja Smith released her debut album Lost & Found, but she's making the most of her talent every time she appears on a new song in the interim. Earlier this week she covered St Germain's "Rose Rouge" as part of Blue Note Records' upcoming compilation Bluenote Re:imgained due out this September. Jorja is transported back to a different era and yet it's still entirely fitting. This is one of those songs to get lost in headed into the weekend.
Listen: Spotify | Apple Music
---
Leon Bridges – "Sweeter" ft. Terrace Martin
Leon Bridges enlisted Terrace Martin (who released his own reaction to the death of George Floyd with the moving "PIG FEET" early last week) for "Sweeter". It's an undeniable tribute to the hardships of past generations and the continual struggle to fight against racial prejudices. He hopes for better days, but isn't optimistic given the recurring events of systemic oppression. "Why do I fear with skin dark as night?/ Can't feel peace with those judging eyes," he sings.
Listen: Spotify | Apple Music
---
Aluna – "Warrior"
Aluna continues to branch out with more solo work outside of her contributions to British electronic music duo AlunaGeorge. For her latest, she tapped synth-pop musician SG Lewis for "Warrior". She also released a statement about being a Black woman in a predominantly white and male dominated genre. "In the past, when performing on the stages of my white male peers, I always felt like a visitor being one of the few Black women I could see, so it never fully occurred to me to claim dance music as my music." Her open letter, much like the song, is more than worth listening to. Read her full statement here.
Listen: Spotify | Apple Music
---
KEY! – I Love You Say It Back
Atlanta rapper KEY! pushed back his new album I Love You Say It Back a week to respect the peaceful protests sweeping the nation. When it finally released, it didn't disappoint. The 10-track project is full of his charisma, humor and lovelorn crooning complete with production from Kenny Beats and TrapMoneyBenny. Over the past decade, KEY! has become this influential figure in Atlanta's rap scene yet operates as somewhat untouchable and unreachable. At this point it's part of his persona. So when he does release new music, it's something to be appreciated because you simply don't know how long it will be until his next offering. "Bottom of the Bottle" is a stadium-ready intro. "Boys Don't Cry" is probably the most KEY!sian release on the project as he sings through self-medication and drops this gem: "Boys don't cry, hurricane season but it's category 5." Most rappers wouldn't be able to make that line work with the sincerity that KEY! does.
Listen: Spotify | Apple Music
---
SiR – "Footsteps in the Dark"
This week had some truly powerful covers — see H.E.R.'s rendition of Green Day's "Boulevard of Broken Dreams", Jorja Smith's "Rose Rouge" and Black Puma's "Fast Car" for more. But perhaps the best of the bunch is SiR's tribute to The Isley Brothers' "Footsteps in the Dark". The song was released as part of RCA Records' "Black Sounds Beautiful" initiative, a campaign to celebrate Black Music Month 2020 throughout June. It was the perfect way to kick things off. SiR's vocal range allows him to make the track his own while also honoring the original.
Listen: YouTube
---