Hare Jordan Meets the Air Jordan 6 In This Week's Best Footwear Drops (UPDATE)
Alongside Nike's fastest running shoe ever, an Air Jordan 3 with exotic materials and a bold silhouette from New Balance.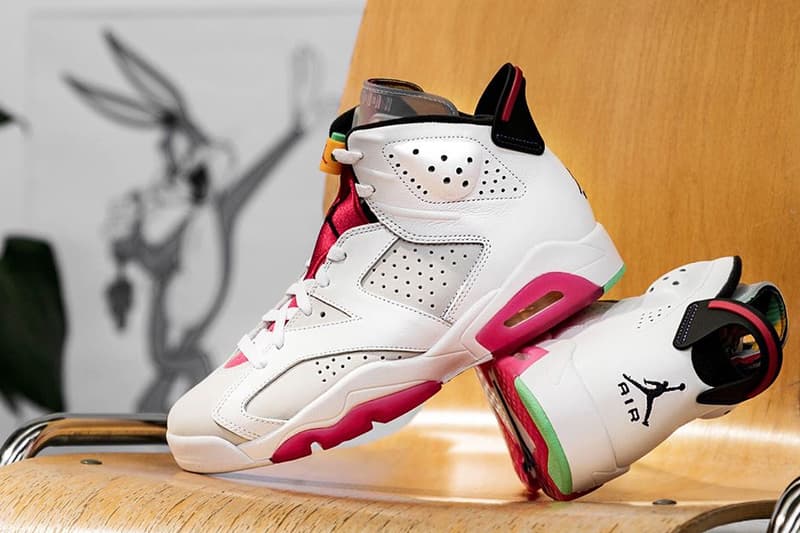 UPDATE: (June 4, 2020): The Air Jordan 6 "Hare" has been postponed until June 12.
---
ORIGINAL STORY: (June 1, 2020): It's the first of the month — as Bone Thugs-N-Harmony would say — and with the advent of May comes a full slate of brand-new sneaker drops. This week's lineup is quite Swoosh and Air Jordan heavy, but there's also new running shoes, popular lifestyle silhouettes and more. We'll bring you up to speed on everything, but let's take a refresher on last week beforehand.
First and foremost, please be aware that there are things much more important than sneaker releases going on in the world right now. HYPEBEAST stands as an ally in the fight against systemic racism, and wants our readers to stay informed, vocal and safe.
Kicking things off, Nike had a noteworthy week. We offered a detailed look at Travis Scott's Air Max 270 React ENG "Cactus Trails" ahead of its release. The Space Hippie collection, four silhouettes made of recycled, sustainable materials made its official debut after first being teased as part of the Swoosh's Olympic offerings. The Dunk continued its strong 2020 too, with official images of a "University Red" style popping up.
Moving from hoops to football, we were given a sneak peek at Neymar Jr.'s newest collaboration: a two-pack of Air Max 2090s inspired by his childhood. Edison Chen got in on the action as well, teasing what appeared to be a collaborative CLOT Air Max 1. Finally, pro skater Kevin Bradley and Nike SB joined forces for what might have been the most unique drop of the week: a two-pack of "Kevin & Hell" SB Blazers.
Jordan Brand's contributions were wide-ranging. The Air Jordan 1 "Neutral Grey" may retro for the first time ever in 2021 — a tidbit of news that undoubtedly sent Instagram archive pages into a veritable frenzy. OG streetwear don Hiroshi Fujiwara showed off a brand-new fragment design x Jordan silhouette that seemingly offers shades of the Jordan Delta. And to follow up the return of the Air Jordan 13 "Flint," the AJ13 appeared in a white and green makeup reminiscent of a legendary Ray Allen PE.
Rounding things off, Nike, Converse and Under Armour announced Pride collections. The first two's offerings are centered around a 10-tone "More Color, More Pride" flag, while UA's contributions are inspired by the DIY, tie-dyed nature of the original Pride flag. adidas and Allbirds announced a partnership with a goal of lowering footwear's carbon dioxide emissions. Last but not least, JJJJound showed off a collaborative New Balance 992 and PLEASURES crept in with a spiderweb-equipped Reebok Beatnik.
Let's dive into this week's goings-on. See a hand-selected dozen of the best releases below, see our Drops page for a full slate of arrivals and please note that release dates may continue to be pushed by the COVID-19 coronavirus.
Nike Air Trainer 3 "Viotech"
Release Date: June 1
Release Price: $130 USD
Where to Buy: Nike SNKRS
Why You Should Cop: Although the Air Trainer 3 is most well-known as an all-purpose performance sneaker crafted for the legendary Bo Jackson, it also made waves with lifestyle-geared makeups in the '00s, one of which is the "Viotech." Quite possibly the most beloved non-OG AT 3 style ever, the "Viotech" is back for the first time since 2002, and supplies a monarchial purple and gold color palette.
adidas Climacool Vento
Release Date: June 1
Release Price: $140 USD
Where to Buy: adidas
Why You Should Cop: It's important to manage your temperature when you're running in the sweltering summer months, so adidas has revived its famous Climacool line with a new Vento silhouette. Offering a breezy layered upper that's played up by a segmented BOOST midsole, the Vento is debuting in four colorways, with more releasing later in the month and over the course of the summer.
Nike Air Max 95 "Era"
Release Date: June 2
Release Price: ¥19,800 JPY (approximately $184 USD)
Where to Buy: Nike SNKRS JP and Nike Hong Kong
Why You Should Cop: A vibrant homage to maximalist mid '90s footwear, Nike Sportswear's Air Max 95 Era juxtaposes a University of Miami-esque color scheme with zebra print and cleverly-placed, multi-colored accents. An apt use of the 95's anatomy-inspired design, the "Era" is a fitting homage to the Sergio Lozano-designed masterpiece on its 25th birthday.
Nike Air Zoom Alphafly NEXT%
Release Date: June 2
Release Price: $250 USD
Where to Buy: Nike
Why You Should Cop: Nike Running's fastest sneaker ever, the Air Zoom Alphafly NEXT% is set for a full retail release after an extremely limited rollout earlier in 2020. With the Swoosh's finest innovations like snappy carbon fiber plates, Atomknit uppers, stacked midsoles and responsive forefoot Zoom Air pucks, the Alphafly NEXT% gives a little extra speed to world-class runners — and makes weekend warriors feel like they can take on the world too. You need to be a NikePlus member to buy them, but it's free and easy to sign up.
Nike Air Force 1 "Puerto Rico"
Release Date: June 2
Release Price: €130 EUR (approximately $142 USD)
Where to Buy: 43einhalb
Why You Should Cop: After 2019's bungled Air Force 1 "Puerto Rico," Nike has opted to keep its annual homage to PR simple and clean this year. Thankfully, 2020's iteration of the AF1 looks back to a classic 2005 pair by way of a straightforward color scheme and a flag proudly embroidered on the heel. Sometimes less is more when it comes to a tribute, and this pair puts PR front and center without trying to do too much.
Nike N.354 Air Zoom Type
Release Date: June 5
Release Price: TBC
Where to Buy: Nike SNKRS
Why You Should Cop: If you love running style but lampin' is more your speed than sprinting, Nike's N.354 Air Zoom Type just might be the perfect shoe for you. Inspired by an early prototype of the above-mentioned Air Zoom AlphaFly NEXT%, the Air Zoom Type takes an ultra-fast running shoe and reworks its DNA for casual wear while retaining some of its most potent tech. In short, it's one of the best N.354 styles to date.
Air Jordan 6 "Hare"
Release Date: June 5
Release Price: $190 USD
Where to Buy: Nike SNKRS, Foot Locker and Asphalt Gold
Why You Should Cop: "What's up, jock?" Bugs Bunny and Michael Jordan have been partners in crime since the early '90s, and now rascally rabbit and NBA icon have come together once again on the Air Jordan 6 "Hare." Inspired by a memorable Air Jordan 7 from 1992, the "Hare" 6s rework a vibrant color scheme for the modern day with a cleverly-presented translucent tongue and artful colorblocking — showing that Hare Jordan and Air Jordan are still incapable of doing any wrong.
Nike LeBron 17 "Graffiti"
Release Date: June 5
Release Price: $225 USD
Where to Buy: Nike SNKRS
Why You Should Cop: Lebron James's signature Nike Basketball line has become self-aware: it no longer looks solely to Nike and Jordan classics for special makeups and is now drawing from its own ranks. The LeBron 17 "Graffiti" is a homage to the LeBron 4 "Graffiti" — a colorway that's widely regarded as the best LeBron 4 of all time — and artfully bridges the gap between two vastly different eras of the King's storied career.
adidas Frankfurt
Release Date: June 6
Release Price: $100 USD
Where to Buy: END.
Why You Should Cop: Part of adidas Originals' "City Series," the adidas Frankfurt is a sleek strapped style that's seemingly equal parts football and cycling. Apart from its simplistic-yet-stylish fit method, it features a sleek blue suede upper and a milky midsole to fully lock in its heritage look.
Air Jordan 3 "Animal Instinct 2.0"
Release Date: June 6
Release Price: $250 USD
Where to Buy: Nike SNKRS
Why You Should Cop: Jordan Brand's Air Jordan 3 has always given off an undeniable air of luxury, and the "Animal Instinct 2.0" may be one of its most exotic makeups yet. Trading the fur of the first "Animal Instinct," the 2.0 supplies a much more cold-blooded reptilian inspiration, awash in slithering textures and equipped with brightly-colored embellishments. Elegant yet savage — much like Michael Jordan's fierce on-court nature — the "Animal Instinct" is luxe in both inspiration and build.
New Balance 327 Collection
Release Date: June 6
Release Price: $90-$100 USD
Where to Buy: HBX
Why You Should Cop: One of 2020's most popular new silhouettes, the New Balance 327 is back in a trifecta of revived palettes. If they look familiar, that's because they are: color schemes seen here in full were used as part of a split-hued pack that released earlier in the season. With a retro build and an extremely palatable price point, each of these 327s is an ideal summertime sneaker.
Nike Air Force 1 and Air Max 90 "Home & Away" Pack
Release Date: June 6
Release Price: TBC
Where to Buy: Nike
Why You Should Cop: With three Air Force 1s and three Air Max 90s, Nike Sportswear's "Rub Off" pack aims to encapsulate the devotion die-hard sports fans show to their chosen teams. Each features a wear-away upper that changes color with use to represent home and away uniforms and also boasts jewel swooshes, the latter of which is an especially rare embellishment for the Air Max 90 and a popular adornment for the AF1.