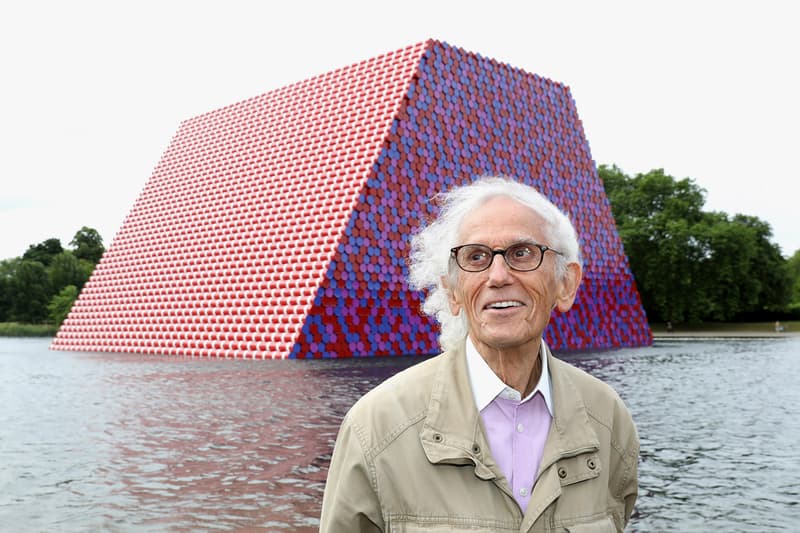 Christo, Artist Known for Monumental Site-Specific Installations, Dies at 84
The seminal artist showed the world the power of public art with wife Jeanne-Claude.
---
Bulgarian-born conceptual artist Christo has died at the age of 84 at his home in New York due to natural causes. Working with his late wife Jeanne-Claude, Christo was best known for his massive site-specific pieces that involved wrapping landmark buildings in fabric and creating temporary structures that called attention to the surrounding environment. "Christo lived his life to the fullest, not only dreaming up what seemed impossible but realizing it," the artist's office released in a statement. "Christo and Jeanne-Claude's artwork brought people together in shared experiences across the globe, and their work lives on in our hearts and memories."
For one of their first works together, the couple blockaded a street in Paris with 89 metal oil barrels to protest the Berlin Wall. Since then, they have hung a partition of orange fabric between two mountains in Colorado called Valley Curtain, surrounded a series of islands in Biscayne Bay with 603,870 square meters of bright pink fabric and constructed a floating dock system with 100,000 square meters of shimmering yellow fabric in Italy's Lake Iseo. In 2018, Christo finished a 20-meter high sculpture called The London Mastaba. Weighing 600 tons, the structure was made up of 7,506 painted barrels and floated in London's Serpentine Lake.
All Christo and Jeanne-Claude's works were meant to be temporary. "Artists – and above all architects – seek permanence," Christo said. "I don't. I like leaving nothing. That takes courage." A planned work, titled L'Arc de Triomphe, Wrapped, will be made posthumously in accordance with both artists' wishes in September of next year.