How To Enjoy Art From Home
From virtual galleries to online coloring books, new initiatives mean you don't have to leave the house to be creative.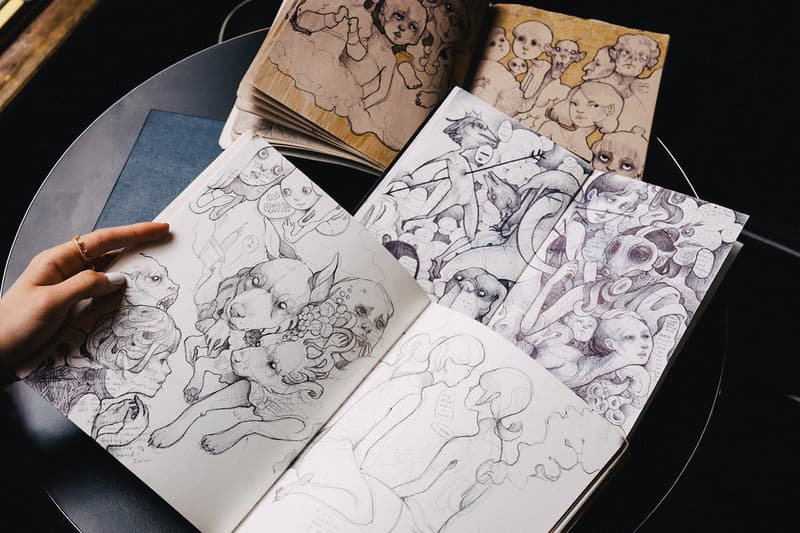 Self-isolation and social distancing policies mean that the majority of our time is spent indoors now. With museums and galleries shutting their doors across the world to stop the spread of COVID-19, those same cultural institutions have sought ways to bring that unseen art into our homes. On the other hand, artists themselves must keep the general public engaged and interested in their work — even when the situation seems unending.
Art not only remind us of our unity and strength, it also often gives us relief from everyday life. As people adjust to lives indoors, large cultural institutions and individual artists are looking to the digital world to share ideas and build online communities. These new initiatives are providing ways for many to find creative inspiration at home. Whether it's remembering how relaxing a coloring book can be or actively engaging in an art gallery building game, these activities highlight the importance of art during difficult times.
HYPEBEAST has compiled six categories of art-related activities to enjoy during this time of self-isolation, ranging from virtual exhibition walkthroughs to DIY art challenges.
Coloring Pages
Dozens of museums and libraries are releasing unique coloring books based on their famous collections. For pages of renowned collections, institutions such as the New York Botanical Garden, The Getty, the Smithsonian and the University of Oxford have drawn from their archives to create free and downloadable PDF pages of their work. NYBG's pages feature meticulously detailed images of flowers, while the University of Minnesota's coloring book presents mythical creatures from its library archives.
For a more contemporary take on downloadable coloring pages, MoMA has released black-and-white line versions of seminal American photographer Louise Lawler's photographs from her 2017 exhibition. A selection of her tracings include Jeff Koons' Rabbit sculpture and Takashi Murakami's Mr. DOB character. Plenty of recognizable, contemporary subjects are found in the 12 images available to use as coloring sheets.
Artists themselves are transforming their iconic images into coloring books for all audiences. Chicago-born artist Hebru Brantley depicts his characters like Flyboy and Lil Mama in simplified, comic book-like scenes. Elsewhere, NYFW's recent artist-in-residence Ashley Longshore is releasing original drawings of inspirational women like Greta Thunberg, Malala Yousafzai, Nina Simone and more.
Games
While video games or apps don't come immediately to mind when discussing art, artistic games can help engage creativity and problem-solving skills. StikiPixel's Occupy White Walls game allows players to build an art gallery from their own home using thousands of 3D architectural elements, materials, and lighting effects. They can then buy and exhibit art using virtual credits, curating — or creating for themselves — a collection that expresses their individual tastes.
Other examples include Journey, a mythic and allegorical adventure game, as well as Florence, which turns puzzle solving and digital creations into a series of gameplay vignettes. To try your hand at tagging like the graffiti master himself, KATSU has co-created a Fat Tag graffiti app with The Deluxe Edition, which allows players to tag any surface of a photo with a number of tools. Scale, rotate and opacity options are available for a more realistic experience of overlaying a tag onto a background or photograph.
Virtual Walkthroughs
With exhibitions coming to a halt due to the coronavirus pandemic, the rise of virtual museum exploration has become a safe alternative to attending exhibitions in person. Google Arts & Culture has partnered with more than 500 global art museums and galleries to give the public access to their collections. High-resolution images and detailed excerpts accompany pieces from New York's MoMA to The Palace of Versailles.
Other institutions, like The Broad Museum and Galerie Perrotin, have created digital initiatives that bring exhibitions and activities to the home. The Broad has enlisted talent from Los Angeles and afar to interpret its artworks online. For example, Yayoi Kusama's "Infinity Mirrored Room" is transformed into "Infinite Drone" with the addition of ambient music that provides a new spiritual experience. On the other hand, Galerie Perrotin's #Unlocked series serves up virtual exhibition walkthroughs and artist interviews for a more traditional depiction of works.
Highly-anticipated exhibitions you haven't had the chance to see yet may be available to view from your own home now. The National Gallery of Victoria Melbourne recently launched a virtual tour of its landmark "KAWS: COMPANIONSHIP IN THE AGE OF LONELINESS" exhibition, which spotlights murals, large-scale sculptures, street and public art. For other museums and galleries that are closed, the Smartify app offers audio and virtual museum tours, making sure museum collections are as accessible as possible.
Films
Anyone looking to stream hundreds of free experimental art should pore over multi-disciplinary artist Kate Lain's Cabin Fever Playlist. The crowd-sourced project features hundreds of free experimental art films across mood-based categories such as "Train Travel," "Plants" and "Diaries." Following shelter-in-place orders amid the coronavirus pandemic, the artist created the platform for her students, from the Armory Center for the Arts in Pasadena, that are currently quarantined at home.
For a more curated selection of films, art enthusiasts should check out this online exhibition hosted by New York City's P.P.OW. Gallery. Titled "Hell is a Place on Earth. Heaven is a Place in Your Head," the digital presentation features moving visuals by diverse video artists including David Wojnarowicz, Carolee Schneemann and more. Collectively, these films touch on the artists' unique perspectives surrounding spiritual, physiological and sexual freedom.
If you're on the hunt for visuals by emerging talent, BYT production house is curating a weekly collection of films made by independent collectives under a series called "Crew Love." Each rollout highlights 12 films with the first installment spotlighting documentaries about "Krumping" in Compton, villages in Ukraine, as well as a stirring clip on youth culture in Brooklyn.
Books
A number of online databases have cropped up during the time of coronavirus to stir up some good reading while at quarantine. For one, The Internet Archive launched the National Emergency Library platform, granting users free access to over 1.4 million books. From comprehensive museum catalogs spotlighting works by influential artists such as Jean-Michel Basquiat and Donald Judd, to publications exploring the central aspects of modern and contemporary art such as The Object by Whitechapel Gallery, the platform has plenty of art-related topics and beyond.
Another extensive collection of books to read online is available on Google Books. Not all titles are available for free, but the platform offers extensive previews including nearly 50% of From The Secret Life of Salvador Dalí penned by the surrealist master himself. If you're looking to read a book from start to finish, you'll need to click on "Search tools" and change "Any books" to "Free Google eBooks" on the interface of the website.
For those in search of classics like Alice in Wonderland and Cinderella online, the Library of Congress has got you covered with over 60 titles.
DIY Art Challenges
If you have the right materials at your disposal, there are a number of DIY art challenges to participate in hosted by artists, curators and more across their social media platforms. On March 24, The Sketchbook Project teamed up with the Brooklyn Art Library in New York City to launch the 28 Day Challenge, providing participants with a creative prompt every day for 28 days. You can sign up for free or help to support the library by making a donation on their website.
For artist-led therapeutic activities, San Francisco's Chandran Gallery has got you covered. The gallery joined forces with Oakland-based art company, People I've Loved, to host Instagram Live videos of artists creating works that help calm the nerves. From learning how to draw a bat with Marcel Dzama to sketching repetitive dog figures with Nathaniel Russell, the unique meditative art sessions are all available on @ifyouwereherenow.
One of the more popular Instagram art challenges right now is the #30dayartquarantine "brought to you by the coronavirus" launched by Canadian art blogger, The Jealous Curator (aka Danielle Krysa). Focusing on a list of daily prompts, the digital contest invites artists to "paint, draw, photograph, sculpt, collage… whatever you like." There are over 12,000 submissions on her Instagram page.