The Marathon Continues for Hit-Boy
The superproducer talks his GRAMMY win alongside Nipsey Hussle, the state of hip-hop, and how he's coming for the next decade.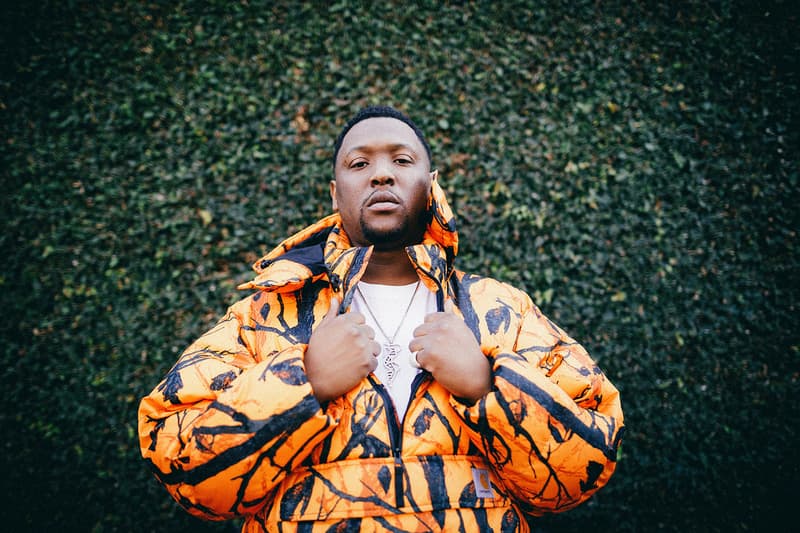 "Busy is a way, way understatement. I can't even breathe right now," Hit-Boy opened to me as we spoke over the phone — a call that was pushed back week after week due to the GRAMMYs and rigorous studio sessions with the likes of Nas, Big Sean, Tee Grizzley, Benny the Butcher and more filling up the producer's limited schedule.
Hit — real name Chauncey Hollis — began this decade much like he did the last, with a GRAMMY win for Best Rap Performance. Just nine years ago the producer became a household name for hip-hop fans across the globe with his game-like instrumental for Kanye West and JAY-Z's "Nigg*s in Paris," winning his first GRAMMY with the record in 2013. The track catapulted Hit to the forefront of the industry, and since then he's given birth to one of the most extensive discographies in music. Earlier this year his growing legacy came full circle, with Hit winning his second GRAMMY for "Racks In the Middle," the riotous West Coast track alongside the late and great Nipsey Hussle as well as breakout superstar Roddy Ricch.
"Winning a GRAMMY for Nip is bittersweet, I wish he was here," he lamented over the phone. "I knew when we recorded this track it was GRAMMY level. For that feeling to become a reality and for us to win, it feels great, but at the same time like damn, I wish Nipsey was alive to see it."
Hit and Nipsey were hip-hop kin, having had a relationship that spanned years and emphasized their shared California origins. Teaming up on a variety of hard-headed efforts such as 2014's "A Hunnit A Show" and "Alert," the two had a synergetic knack for bringing out their blunt West Coast realities. This year's win provided a much-deserved contrast from the year previous, where both Nipsey and Hit had been nominated but went home empty-handed. "Nip was really locked in making sure the verse was right and making sure his ideas came out concise," he remembers of their process making the song.
"We used to work on one song for nine or 10 hours you know? Nine or 10 f*cking hours."
While earning a coveted GRAMMY award is still the top-tier of musical recognition and achievement for many, Hit-Boy's journey is far from complete. His drive is categorized by the hunger for more and the ability to create organically. "I never worry about sounding the same because I'm always trying to switch up my own direction," Hit notes. In the last 10 years for Hit-Boy, this has become increasingly true, allowing him to command one of the most respected and diverse production discographies in the game.
Why else would Drake rap out "I should prolly sign to Hit-Boy cause I got all the hits, boy," on "0 to 100," a track that wasn't even touched by Hit? Because he is that producer. His expansive tastes and vivid styles have come to define his career, traversing everything from the most prominent of 2010s radio hits to some of the West Coast's most underground street anthems. Everyone from Beyoncé to Kendrick Lamar to A$AP Rocky to Mary J. Blige and Rihanna have been given the sanctified Hit-Boy treatment.
Hit-Boy's rise has coincided with much of hip-hop's newfound dominance as the most streamed genre in the United States. However, the uptick in the genre's popularity and an influx of new talent has forced Hit to crank it up to an unprecedented degree.
"Back in the day we didn't make as many beats," Hit exerts. "Now I have to make five times the beats because someone like Juice WRLD, rest in peace, will come through and he'll want to do five-six songs in a night. Roddy Ricch will swing through and he'll want to do three or four tracks in a session." This drastically differs from the lengthy studio sessions that artists used to have for a singular track. "We used to work on one song for nine or 10 hours you know? Nine or 10 f*cking hours. Coming from that to now having to just have hella beats at the ready has changed my perspective as a producer completely."
While many of today's hip-hop producers stick to their guns in terms of working alongside certain artists, Hit-Boy's expansiveness of diverse co-conspirators shows that he's not your run-of-the-mill beatmaker. I asked him how he would describe himself. Taking a moment to reflect, he simply replied, "relentless."
"I feel like a lot of people be like 'damn, you can jump from anybody like Rihanna to Tee Grizzley to Justin Bieber or Big Sean,' but it's because I'm always in the studio," he explained. Hit's work ethic has always been kicked into high gear, at times putting the rest of his life on hold. "That sh*t affects my real life, my family time, that affects me with women. It affects my whole life because I'm always in this sh*t. I'm very locked into what I believe in."
Hit-Boy's hunger for pushing the aural envelope began with his move away from Pasadena's gang-clad reigns of the late '80s and '90s and into the Inland Empire at age 13. Though moving to the Inland Empire took its mental toll on Hit, as it would with anyone moving out of their hometown at that age, the new atmosphere drove him into music. "That first summer in the IE is when I started writing songs. I had a homie in IE that had all the production tools like Fruity Loops and sh*t in his apartment. I started going to his crib and we began making album after album together. I was just 15 and was completely mind blown over this sh*t."
Hit's uncle, Rodney Bedford of R&B group Troop, equally helped in bringing out his passion for sound. "My uncle was always showing me stuff. He'd play me NWA's sh*t and their second album, in particular, I just remember them sounds. I remember, now looking back when I listen to it, Dre was really chilling with the breakbeats and he had so much soul and funk with it and it was somehow gangster at the same time [...] Just hearing gangster music and then smooth R&B vibes like Mary J. Blige and old school sh*t like Arethra Franklin and Etta James. I channeled all of that into my music."
Positing these influences and experiences into his own cultural products helped in mandating Hit's place as one of the best to ever do it, unleashing a career dominated by multi-platinum selling tracks. "I've developed so many techniques and skills over the years that let me chop up sounds and beats quickly in order to bring ideas to life," he prompts about his creative process, "I just kind of sit down and feel out the moment — that's what I'm going for unless its a specific request. My whole thing is not even having a sound but rather just having a template for that specific artist. I never worry about sounding the same because I'm always trying to switch up my own direction."
Though Hit is known as a producer, over the years he's also developed his total artistic package, rapping over his own productions on various HS87 efforts like the most recent The Chauncey Hollis Project, a project he notes he's still working on. "I've been working with all these young guys trying to keep up with them and then I have my own sh*t where I'm taking my time and really making sure my approach comes correct."
Speaking on the current state of hip-hop, Hit-Boy can't get enough of how young talent is overtaking the charts, and in effect, the industry. "You see Roddy kill sh*t?" he asks. "He's got popstars sweatin' out here." That said, while rapstars have become the generation's rockstars, hip-hop's rise for some hasn't been far removed from the overarching industry's challenges.
"I feel slighted a lot of times because I'm bringing all of this stuff to records and then these motherf*ckers don't even mention me or credit me."
"[Producers] still don't get the credit we deserve based on the work we put into this industry, we don't get the love," Hit-Boy laments. "I feel slighted a lot of times because I'm bringing all of this stuff to records and then these motherf*ckers don't even mention me or credit me. It's like 'god damn, what else do I have to do?' It's give or take. I don't know what it's going to take to get that respect." But the challenges for producers don't just stop at recognition, extending even to payment. "Even on the business end motherf*ckers be having albums out for two or three years and you still haven't been paid for what you did on that record. They don't respect the producers and that sh*t's trash because we really are the heart and soul to this."
Regardless of the obstacles he faces, the marathon Hit-Boy has been running for the past decade continues. "I'm turning sh*t up," he calmly utters about 2020 and the next phase of his career. Moving away from his archetypal hold as a single-focused hitmaker, he's diving into heavier-handed projects. "I'm executive producing a lot of projects. I don't really want to get into names but I am working with Tee Grizzley, Anderson .Paak, and I got a lot of cool sh*t with Big Sean. I'm excited for the big stuff I'm doing."