7 FW20 Runway Trends To Buy Before They Hit Stores
Skirts, sheers, heels and pearls for men? Here's how.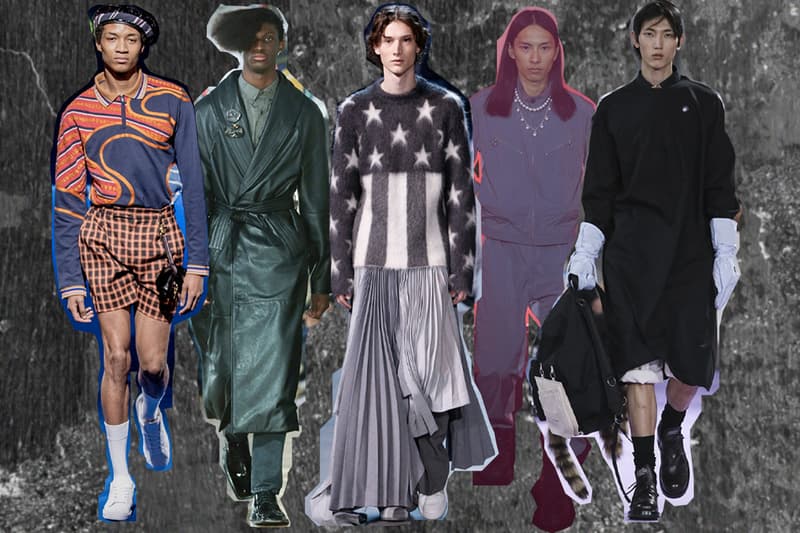 Earlier this month at London Fashion Week: Men's FW20 we saw dozens of designers offer up their interpretation of this season's biggest upcoming trends. Martine Rose celebrated leather with her selection of pants and thigh-high heeled boots, while the likes of Paria Farzaneh and Ahluwalia Studio showed us how to pull off big, bold prints.
Back in December 2019, Dior tapped Shawn Stussy for a collaboration that introduced leather and snakeskin prints, while New York-based label KOZABURO took to Rakuten Fashion Week Tokyo to show off pearl necklaces and an updated take on bondage gear with its intriguing selection of belts.
As a whole, the fashion industry is changing. Emerging names such as Charles Jeffrey LOVERBOY, Art School and Kiko Kostadinov brought skirts, dresses and tights to the forefront of their shows, encouraging androgyny while breaking down gender stereotypes. It's not just the fashion world that is changing, but the world around us and its attitudes, too. As a result, pioneers are paving the way for a more adventurous wardrobe — Louis Vuitton's pleated skirts and Raf Simons' graphic dresses being just another example. 
Runway shows are the birthplace for trends. But how do we take these looks and apply them to our daily fit, no matter how adventurous they may seem? HYPEBEAST has compiled a list of this season's seven best trends and just how to wear them — before the rest join you in envy.
Leather
Séfr Sin Faux-Leather Trousers
Swedish label Séfr is known for its masterful silhouettes, and its Sin Faux-Leather Trousers are arguably its best example. These trousers are an affordable (and vegan) way to approach the world of leather pants, and thanks to their slim cut, are more Jim Morisson circa 1970 than a badly-executed '80s throwback. Pair with a Cuban heel and a plain white T-shirt for a nod to another big trend this year. 
Rick Owens Leather Shirt Jacket in Black
Statement makers and fans of the Lord of Darkness' work rejoice — Rick Owens' Leather Shirt Jacket could be the piece for you. This piece is heavily indebted in workwear design cues, via its pointed collar, press-stud fastening, dual chest pockets and exposed seams, yet is updated using soft-touch smooth grain leather. The lamb's leather will develop a beautiful, unique patina over time, and can be worn as a singular upper piece or over a complementing Rick Owens T-shirt. 
Pearls & Gems
Alan Crocetti Pearl in Heat Sterling Silver & Pearl Necklace
Pull off a power move with Alan Crocetti's Pearl in Heat Sterling Silver & Pearl Necklace. This pendant is a showcase of craftsmanship and refinery, with a piece of sterling silver carved into the shape of a flame complementing the graceful freshwater pearl — together making a sort of visual oxymoron around your neck. And as with all Crocetti pieces, this necklace is handmade.
Sweet Lime Juice Classic Ball Chain Necklace with Blue Denim Clear Stone
East London-based jewelry atelier Sweet Lime Juice is the brainchild of the Swarovski Innovator Competition 2017 winner Simpson Ma. Its glitzy, sparkling gem-heavy offerings dissolve gender stereotypes, as shown here in its blue denim clear stone pendant. On the one hand, Sweet Lime Juice injects masculinity with its .925 sterling silver ball chain, and on the other, adds fun and flair with this heavy gem — step away from the Cuban links and throw this over your daily look for more of a statement.
Playful Prints
KANGHYUK Airbag Camo Print T-Shirt
Prints don't get any bigger than KANGHYUK's offering this season. Its Airbag Camo Print T-shirt is — like its entire collection — made from deconstructed deployed car airbags, making this piece just as durable and sustainable as it is utterly unique. This piece picks up on a lot of forthcoming trends, ticking the box for print, sustainability, high necks and boldly contrasting colors.
Off-White™ Short Sleeve Snake Print Shirt
Animal prints have been championed by the likes of Fiorucci and Dior for Fall/Winter 2020, and now Off-White™ explores the trend with its Short Sleeve Snake Print Shirt. Last season's neon hue is still going strong for FW20, here with the addition of big prints for a piece that's atypically Off-White™. Aside from the aesthetics, the shirt incorporates a timely camp collar and adds a touch of utilitarianism with its chest branding. 
Bondage
1017 ALYX 9SM Black Tri-Buckle Leather Belt Bag
Buckle up, because bondage is big business. One of the most accessible ways to get into it is through 1017 ALYX 9SM and its harness-esque pieces, such as this Black Tri-Buckle Leather Belt Bag. This Matthew M. Williams-designed piece goes beyond the tactical trend thanks to its minimalist approach, which is further elevated and in-tune with the season thanks to its premium black leather construction, metal hardware and off-kilter positioning.
Balenciaga Incognito Trench Coat
Leather trench coats were a common site on showgoers at London Fashion Week: Men's FW20. Balenciaga's Incognito Trench Coat is a masterclass in getting the look done right — long line, glossy but not oil-slick and double-breasted. It's packed with details from the buckled cuffs and waistline to the notched collar and branded funnel neck, which comes together to offer up one of this season's strongest pieces, tapping multiple subgenres at once.  
Heeled Boots
Vetements Metal Texan Leather Boots
Heels have been popularized by everyone from avant-garde fashion heads wearing Maison Margiela Tabis to those on the streets of London Fashion Week: Men's. One of the biggest footwear trends as of late is the Cuban heel, and Vetements' Metal Texan Leather Boots is a killer example of how to master the look. Touching on the sought after Calvin Klein 205W39NYC look of last season, Vetements opts for a slightly higher heel and more metal, making for a pair that you're sure to hear before you see. 
Gucci Black Kitten Chain Strap Boots
Gucci's Alessandro Michele continues to digress from strict fashion genres with this pair of Black Kitten Chain Strap Boots. This is a boot that is destined to bring out the strongest of strutters, putting their best foot forward to showcase that all-important gold-toned metal hardware — leaving the boot-less behind for them to watch those "KITTEN"-studded heels hit the ground with prowess. 
Skirts & Dresses
Louis Vuitton Pleated Skirt
Virgil Abloh's vision for Louis Vuitton is unconventional, introducing hyper-masculinity through utilitarianism alongside fluid tailoring, sheer fabrics and androgyny — all of which is wrapped up in this pleated skirt. It's made from tailored wool-canvas and utilizes the exquisite Plissé technique, giving the piece a floaty, elongated look. It's a daring choice, but as LV showcases, wearing it with suit pants and a simple top can create a stunning monochromatic look.
Raf Simons Labo Coat with Fron Yoke
Joining skirts in the crusade for androgyny is the dress, and while Raf Simons' Labo Coat is technically a slip-on-tunic-poncho hybrid, its length gives the allusion of a dress. Designers such as Yohji Yamamoto and Kiko Kostandinov have explored this look seasons ago,  but here Simons makes the dress more accessible. The ecru hue gets a subtle masculine edge thanks to its raw hem and "Youth" pin — the latter component being a trend in itself, as brooches and pins are on the rise this year.
Show Some Skin
Our Legacy Policy Lace Shirt
Our Legacy's Pre-Spring 2020 collection championed sheer, nude, see-through and skin-peeping pieces, with one shining example being its Policy Lace Shirt. This shirt combines a sheer floral-lace weave with mother of pearl buttons, a strong pointed collar and a relaxed boxy fit, ticking plenty of sartorial boxes while encouraging you to explore your fun side. 
Helmut Lang Pink Organza Masc Little T-Shirt
Helmut Lang is playful yet easy to wear, allowing you to add the accent of its hazy "Prism Pink" hue to any toned-down fit. It's made with craftsmanship in mind, with its rib-knit cotton jersey crewneck collar giving the T-shirt form to prevent it from losing its shape. Helmut Lang finishes this standout piece with "HL" embroidery on the front.