Virgil Abloh, Don C and More Share Anecdotes From Abloh's Life
The 'GQ' article features stories from 39 individuals in the creator's inner circle.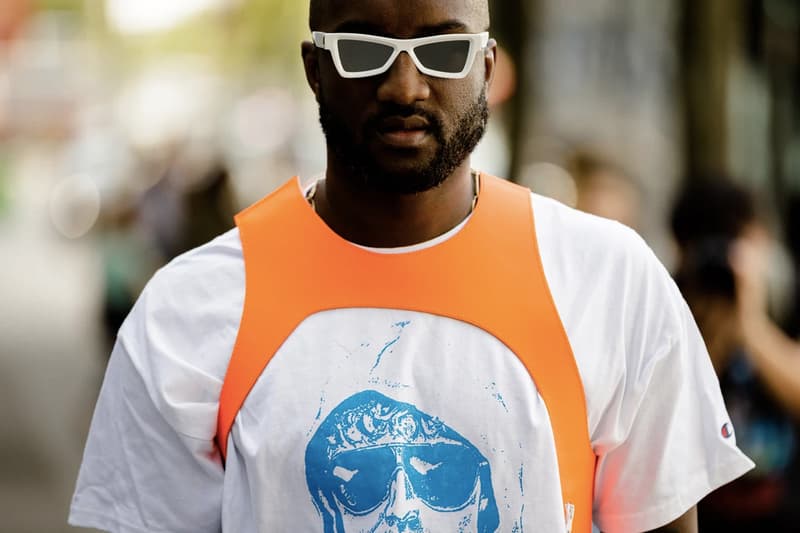 All eyes and ears in the industry have been turned toward multi-hyphenate Virgil Abloh as of late. His work by now is widely known, with the designer having founded luxury streetwear label Off-White™, claiming the role of men's artistic director at Louis Vuitton and pummeling the market with a series of non-stop collaborations in the fashion world and beyond — not to mention his ongoing DJ gig. Such engagements are the subject of GQ's latest cover story, which takes a deeper dive into Abloh's world with words from the creator himself, along with 39 individuals in his inner circle.
The article chronicles Abloh's Chicago beginnings and subsequent rise to fame, spotlighting prominent points in his life such as working with Kanye West and even teaching architecture in London. First-hand stories from Abloh help fill in the details around his cultural upbringing, while various anecdotes from his crew further illustrate his life.
Read on below for a selection from each chapter featuring quotes from the designer, as well as friends including Don C, Takashi Murakami, Samuel Ross and more.
For more from Abloh, check out his Black History Month playlist that he created for Apple Music.
"Chapter 1"

Abloh: "I often reference the 17-year-old version of myself, because I'm doing in large part the same thing today. Back then, I used to DJ and get my hands on my dad's records—Fela [Kuti] to James Brown to Miles Davis. I was only into the fashion that intersected with the niche cultures I was into—my favorite "fashion" brands were [skateboard companies like] Alien Workshop, Santa Cruz, and Droors."

Abloh: "Kanye wasn't going to put his art form in the hands of the art department at the record label. So he was like, 'I am going to hire you, and let's literally work on this 24–7, laptop in hand, nonstop.' So more than any title, I was just his assistant creatively. I believed that this was going to be another chapter in hip-hop."
"Chapter 2"

Don C: "Watch the Throne was when we really saw it moving. That's when Virgil came up with the concept of gravitating towards the youth. The Kanye camp was very close-knit, but Virgil encouraged us to welcome kids that wanted to hang with us. And that's what built the community more and more."

Abloh: "When Kanye and I were first going to fashion shows, there was no one outside the shows. Streetwear wasn't on anyone's radar, but the sort of chatter at dinners after shows was like 'Fashion needs something new. It's stagnant. What's the new thing going to be?' That was the timeline on which I was crafting my ideas."
"Chapter 3"

Davide De Giglio (co-partner, Off-White): "After six months, we had a company. When we were opening the first Off-White store, in Hong Kong, Andrea Grilli and I were in Milan; our artist was in New York; our contractor was in China; our partner was in Hong Kong; our graphic designer, Samuel [Ross] from A-Cold-Wall*, was in London; and Virgil was traveling the world 24–7. We made that Hong Kong store with one group chat and all met for the first time at dinner the day of the opening."

Abloh: "When I started, I couldn't beg a fashion writer to write about my project. But with Instagram, I took an open-source tool and made it my magazine. I once said to Kevin [Systrom, Instagram co-founder], 'You made it possible for me to have a fashion brand without using the traditional system.'"

Samuel Ross (creative director, A-Cold-Wall*; former Abloh assistant): "I was working with him primarily on iMessage back then, because you could send heavier files and I didn't have WhatsApp for desktop yet. The first thing that hit me working for Virgil is that 90-to-95-hour weeks need to be normalized. We were ideating everything together. Like the Rimowa suitcase, or the Chrome Hearts bench from this year, these are ideas we were working on four or five years ago. He was using foresight to align those projects, so that when the opportunity came along and he was situated in the right place or hierarchy, he could get it done."

Peter Saville (graphic designer): "[Before I met] Virgil, I was a little taken aback by how evident it was that my own history had been an influence to him. He had an interview I did as the voice-over for one of his shows, and then obviously the graphic elements of Off-White were also very familiar to me, associated with [Saville's design for the Manchester nightclub] Haçienda. But I was fascinated more than I was upset. I knew from the get-go that he was speaking to people that I never would."

Takashi Murakami (artist): "In 2017, Virgil and I were on a panel together with Yoon [Ahn, jewelry designer] and Don C. And Virgil mentioned my collaborations with Louis Vuitton sort of in a historical context and talked about fashion and art bridging cultures. To be honest, people don't ever mention my collaboration with Louis Vuitton. I really thought it was important, but no one really took note of it, and I was kind of disappointed. But then Virgil mentioned it in that panel years later, and I realized that there were people who were actually paying attention to that collaboration."

Tremaine Emory (co-founder, No Vacancy Inn): "Do you know what the Yellow Brick Road is? It's that picture from Paris with Virgil, Don C, Ye, Chris Julian, Taz Arnold, and Fonzworth Bentley that people made fun of: "Why are they there? Why are they dressed like that?" The Yellow Brick Road was the journey to where Virgil's at now, and where our tribe is at now, and where we're gonna go."
Join Our Discussions on Discord
The HYPEBEAST Discord Server is a community where conversations on cultural topics can be taken further.