The Five Best Collections From Paris Fashion Week FW19
From Louis Vuitton to GmbH.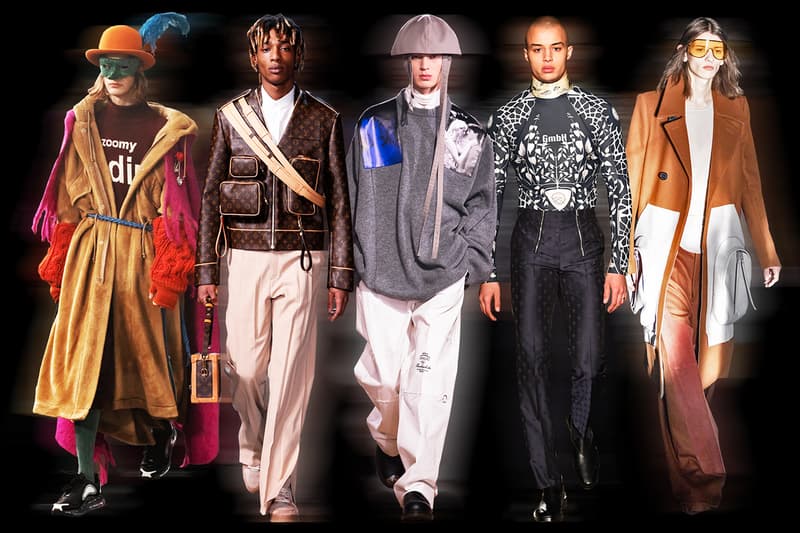 Following on from CELINE's first ever menswear show, the Fall/Winter 2019 season Paris Fashion Week has drawn to a close. The five-day event was filled with blockbuster shows from around the world, with some of the biggest designers in the world choosing to show their collections in the city. To make sense of the week, we've put together a list of five of the best shows from this season's schedule.
UNDERCOVER
On the second day of Paris Fashion Week, Jun Takahashi took over a huge theatre space to showcase UNDERCOVER's Fall/Winter 2019 collection. Building on previous seasons, the collection was themed around Stanley Kubrick's A Clockwork Orange. References to the movie included the show's styling, as well as slogans in the fictional Nadsat language appearing on knitwear pieces.
The show also debuted a number of new collaborations. Stand-outs included new work with Dr. Martens, a continuation of the label's Valentino collaboration — unveiled earlier in the day — and two Nike projects: new Air Max 720 colorways and a technical boot complete with React Element sole.
Raf Simons
Following UNDERCOVER's lead, Raf Simons also showed a collection packed with film references. For the Belgian designer, the focal point was two David Lynch movies — Wild at Heart and Blue Velvet – which were present in graphics printed on outerwear and knitwear pieces. For his first post-Calvin Klein collection, Simons presented a stripped back and elevated collection that built on themes from his tailoring and haute couture revival for Spring/Summer 2019.
The focus of the collection was undoubtedly the coats, which were adorned with hooks and charms, allowing pieces to be customized by the wearer. The show's soundtrack was a nod to signature Simons themes: Joy Division was played for the first section, while a Belgian post-punk band played live during the second.
Rick Owens
The less dramatic setting was a clue that Rick Owens' Fall/Winter 2019 collection may be less extravagant than previous works. The show — in the Palais de Tokyo — was illuminated only by huge Second World War lights, a nod to the idea that things could be, and have been, worse than they are now. The collection was inspired by KISS designer Larry Legaspi, a repeated reference point for Owens, and the Glam Rock influence was clear with a lightning bolt motif and huge platform boots.
Elsewhere, the collection featured Japanese selvedge denim, colorful coats with oversized pockets and a new sneaker collaboration. Almost 18 months after he parted ways with adidas, Owens used his Paris Fashion Week show to debut a new sneaker with Parisian vegan footwear label Veja.
Louis Vuitton
With this being Virgil Abloh's second season at the helm of Louis Vuitton, anticipation was always going to be high for this show. As Abloh had announced back in December, the collection was Michael Jackson themed — complete with a single white glove show invite. References to the late artist were more subtle than the glove, with Americana influences and loafers featuring throughout the collection.
Elsewhere, the Fall/Winter 2019 collection featured boxy tailoring, graffiti references and the flags of the world. As with last season's show, a number of famous faces walked the runway — Sheck Wes, Lucien Clarke and Octavian — while Dev Hynes composed and performed the show's soundtrack.
GmbH
With this season's penultimate show, Berlin-based label GmbH unveiled a collection based around the point of no return. Building on frequent GmbH themes, particularly the brand's exploration of immigration and identity, this collection looked at the "ultimate migration" of society moving away from Planet Earth. The collection mixed the label's signature aesthetic of sportswear-influenced pieces with tailoring and more refined designs, most clearly shown in a look consisting of shirt, tie and formal wool coat styled with an off-white puffa jacket.
Prints in the collection included an all-over print of the label's hammer and pick logo, as well as a reverse leaf print and painted-on effect on denim pieces. Another stand-out of the collection was the official unveiling of the brand's GEL-Kayano 5 collaboration with ASICS.
For more from Paris Fashion Week, check out this season's best street style.