7 Drops You Don't Want to Miss This Week
Featuring items from Nike ACG, Palace, BAPE, and PLACES+FACES.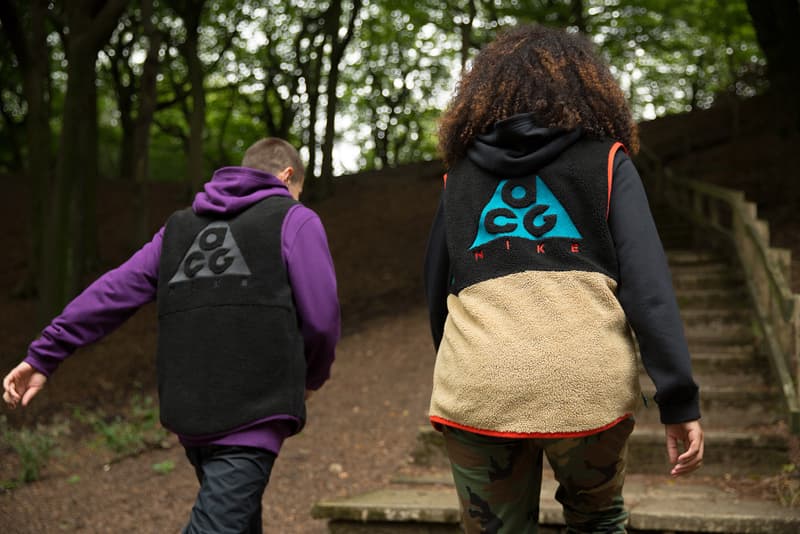 This week's list of product drops sees the shift from summer essentials to warmer clothing and outerwear — transitioning us fully into the fall season. In place of graphic tees, we now see long-sleeves, hoodies, and an overt push for vests. After the success of Bait's collaboration with Marvel Studios, the two are back together for another round, but now highlighting some of the villains of the Marvel Universe, as seen with the portrayal of Venom, Carnage, and Thanos. Gosha Rubchinskiy and adidas maintain a safe schedule of releases with its uniform-like collection that primarily uses the colors yellow, green, blue mixed in with shades of black and gray.
Keys items this week are BAPE's highly collectible multi-camo skate decks, Nike ACG's large-logo fleece vest, Studio Ghibli's homage sukajan jackets, and Palace's "Fun Crew" hoodie.
A Bathing Ape Multi-Camo Skate Decks
A Bathing Ape adds to its covetable accessories lineup with a new set of camo-covered skate decks. Releasing just before summer ends, the skate decks are offered in either white or black, both sporting BAPE's signature camo print in a multicolor scheme. The top side of the decks features BAPE's famous Ape head and "A Bathing Ape" branding. Each deck retails for $189 USD.
When: Now
Where: BAPE Web Store and Flagships
Nike ACG Fall/Winter 2018 Collection
Continuing its retro-inspired ACG re-releases, Nike is gearing up to drop its upcoming Fall/Winter 2018 collection. Complete with a new "Summit White" Dog Mountain sneaker, the forthcoming range sports familiar motifs and '90s-inspired graphics coupled with bold color blocking. Some key items include color paneled fleeces, hoodies and graphic T-shirts as well as a bright blue nylon backpack which all come dressed with the iconic ACG triangle logo.
When: August 25
Where: ACG Stockists including Size?
Palace Fall/Winter 2018 Third Drop
Keeping up its releases, Palace returns with its third drop of uniquely British streetwear. This time around an array of tracksuits decorated with white contrast piping leads the garment side of the drop. Standout accompanying pieces include the Lite Run It Jacket, Fun Crew Hoodie, Jimmy Piddle T-shirt and Pyramidal T-shirt. With accessories coming in the form of a rubber patch six-panel hat and a set of trail ready caps to the match the aforementioned run jackets.
When: August 24
Where: Palace Web Store and Palace London/NY
BAIT x Marvel Comics Series II Capsule
Following up their initial collaboration, BAIT teamed up with Marvel Comics once again for "Series II" run of hero and villain emblazoned streetwear staples. Focusing in on iconic graphics from the comic book company, some standouts include Ghost Rider's early The Deathrace design by none other than Stan Lee himself. An early illustration of Thanos from Infinity Gauntlet #4 artwork done by George Perez. With a clash between Venom and Carnage from Amazing Spider-Man: Maximum Carnage series and a vintage hero mash-up finishing things off.
When: Now
Where: BAIT Web Store
Studio Ghibli 'Ponyo' & 'My Neighbor Totoro' Sukajans
Celebrating the 30th anniversary of My Neighbor Totoro and 10th anniversary of Ponyo, Studio Ghibli recently put together a duo of Sukajans centered around the two popular animated films. Centered around the fan favorite Nekobasu and Ponyo's sisters, intricate embroidery are expressed on the sleeves, check and back region of the jacket. Accompanying the jacket are the release dates and taglines from each film framing the back motif.
When: August 23
Where: GBL.TOKYO Web Store
PLACES+FACES 2018 Collection Drop 1
After its last expansive Spring/Summer 2018 release, Places+Faces continues its drops with the first delivery of its Fall/Winter 2018 offerings. Focusing on garments this time around, the latest range displays the merch-inspired aesthetic that continues to be part of the creative collective's direction. Standout pieces include the large + vest, 3M reflect P+F T-shirts, while an HBX  exclusive colorway of Places' signature shoulder bag leads the set of accessories.
When: 10 AM EST August 23
Where: HBX
Gosha Rubchinskiy Fall/Winter 2018 Second Drop
Gosha Rubchinskiy FW18 Collection Second Drop
Gosha Rubchinskiy's second drop for Fall/Winter 2018 offers more sportswear staples, military-inspired designs and adidas collaborative goods. Included in the latest release are half-zip fleece pullovers, adidas branded track pants and crewneck pullovers, split-panel T-shirts featuring camo prints and vertical stripes, wide-legged trousers and pocket-lined, two-tone utility pants.
When: August 25
Where: DSM London Web Store
For more contemporary fashion, Bajowoo of 99%IS- discusses the importance of customization and destruction for creation.