Nike Pulls Balaclava From Shelves After Criticism of Brand Promoting "Gang Culture"
The Matthew Williams-designed piece is making some Londoners unhappy.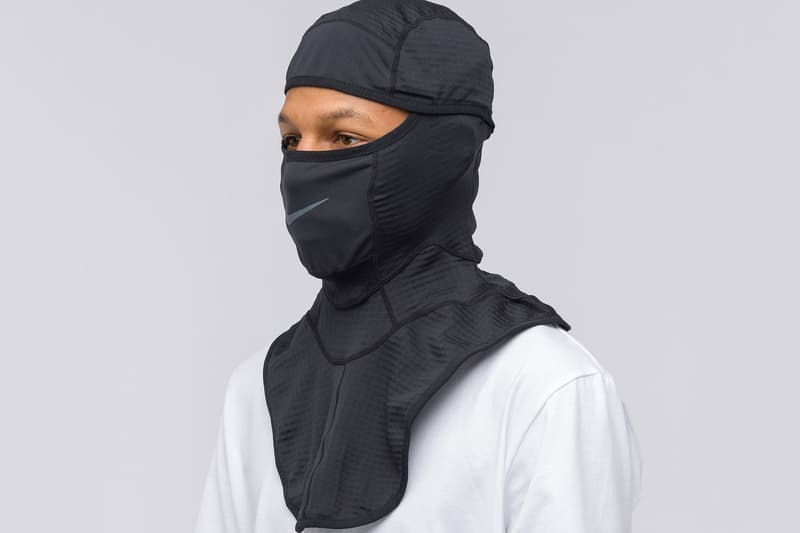 Nike has been accused of profiting off of London's "gang culture," with the recent collaborative Matthew Williams balaclava taking center stage as the target of public ire. Though gang-related violence is decreasing, the rise of other violent crimes in the city has led to police ordering music videos removed from YouTube earlier in the year. Nike's balaclava represents an affirmation of the public's growing fears regarding danger in London.
Twitter users began sounding off earlier this week, taking offense at the black model used by Nike's site, stating that the casting choice underlined racial stereotypes regarding gangs. Furthermore, other criticism sites the danger of making "gang culture" look appealing to impressionable youths, with the balaclava often styled with shoulder straps that partially resemble holsters. In a statement to The Independent, a Nike rep stated, "These products were part of a wider Nike Training collection, styled on different models and available in multiple markets around the world. We are in no way condoning or encouraging the serious issue of criminal and gang culture."
The $80 USD balaclavas are currently sold out at many major retailers, including Notre and have been removed from the retailer's site.
Most recently, the Swoosh's Q2 North American growth was overtaken by adidas.
This is a disgrace #Nike marketing Gang Culture a £70 Balaclava. #knifecrime is out of control especially in London. Gang Culture is becoming out of control. This is disgusting gang culture fashion for profit. I can't believe this is happening ! pic.twitter.com/w2gtAVK7Vt

— Pete Price (@PeteCityPrice) August 20, 2018
THIS IS NOT RIGHT @nike @nikelondon

I think you've made a big mistake on this one, targeting the current Gang culture for profit, there's 100's of dead kids parents that you should be thinking about before you made these, let alone put them out for sale. pic.twitter.com/lPRoYWzyWX

— MR DT © (@MrDtAFC) August 19, 2018
So we've had the #Puma "Drug House" promotion and now #Nike are using a black guy to promote a balaclava with straps and pockets. Where there's blood there's money. #knifecrime #nikebalaclava #london #traphouse #bbc #skynews #channel4 #itvnews #sportswear #crime #BLACKONBLACK #UK pic.twitter.com/d3kDCRdvnE

— Anthony Benjamin (@benjaminphotos) August 20, 2018
Now @Nike @nikestore @NikeStoreEurope Are endorsing gun and knife crime, as well as enforcing racial profiling. Well done!!!!!#nike #balaclava #racialstereotypes #knifecrime pic.twitter.com/YOmt0vmS6I

— Liss ?????? (@Liss_11) August 20, 2018