How Artist Bradley Theodore's Paint Stained Clothes Inspired a PUMA Capsule
Debuting a colorful iteration of the PUMA Suede.
Continuing the 50th-anniversary celebration of its most iconic silhouette, the Suede, PUMA presents its latest collaboration with the esteemed artist Bradley Theodore.
Birthing his career in the streets, Theodore gained relevance for his portraits of titular pop culture idols mixed with his nuanced style of bold palettes, thick brush strokes and skeletal structures. By combining the German footwear imprint's identity with his own aesthetics, his iteration on the Suede, alongside an accompanying apparel capsule, serves as a reference to his creative prowess.
HYPBEAST recently caught up with Bradley to talk about how this collection was brought to life.
Could you briefly describe how PUMA approached you for the capsule?
It was pretty organic. I was painting on a wall in SoHo and one of the PUMA team members walked up and asked if I was me. He said he liked my work, and then we were like, "Let's work together." Everything kind of just flowed on from there.
For anyone who may not be familiar with your art, how does this collaboration introduce people to your work?
I think the people that do know my work always know I'm extending my practice, from painting Rolls Royces at the Goodwood Festival of Speed last year, to wrapping decommissioned submarines with my work at the Port of Montenegro last month. For those not familiar with my art, this collaboration introduces them to the energy of my work.
I like to celebrate the fact that I'm still here, and in one piece!
How does the approach for designing clothes and shoes differ from creating your own work, and where do you find similarities?
I think the way PUMA and I collaborated was actually really similar to the way I paint. I and a group of designers basically sat down and jammed out. Honestly, it was no different from when two artists are painting a wall together.
What inspired the capsule's colorful aesthetic?
My inspiration for this collaboration came from the act of painting itself. When I'm painting in the streets, I'm wiping my hands off on my clothing in order to pick up my phone or grab a new brush. Organically, I started to have people comment on my paint stained clothes and they wanted to know where to buy them, so I wanted to bring that element of my style to the collection. I once had someone offer $10,000 [USD] to frame my pants!
1 of 3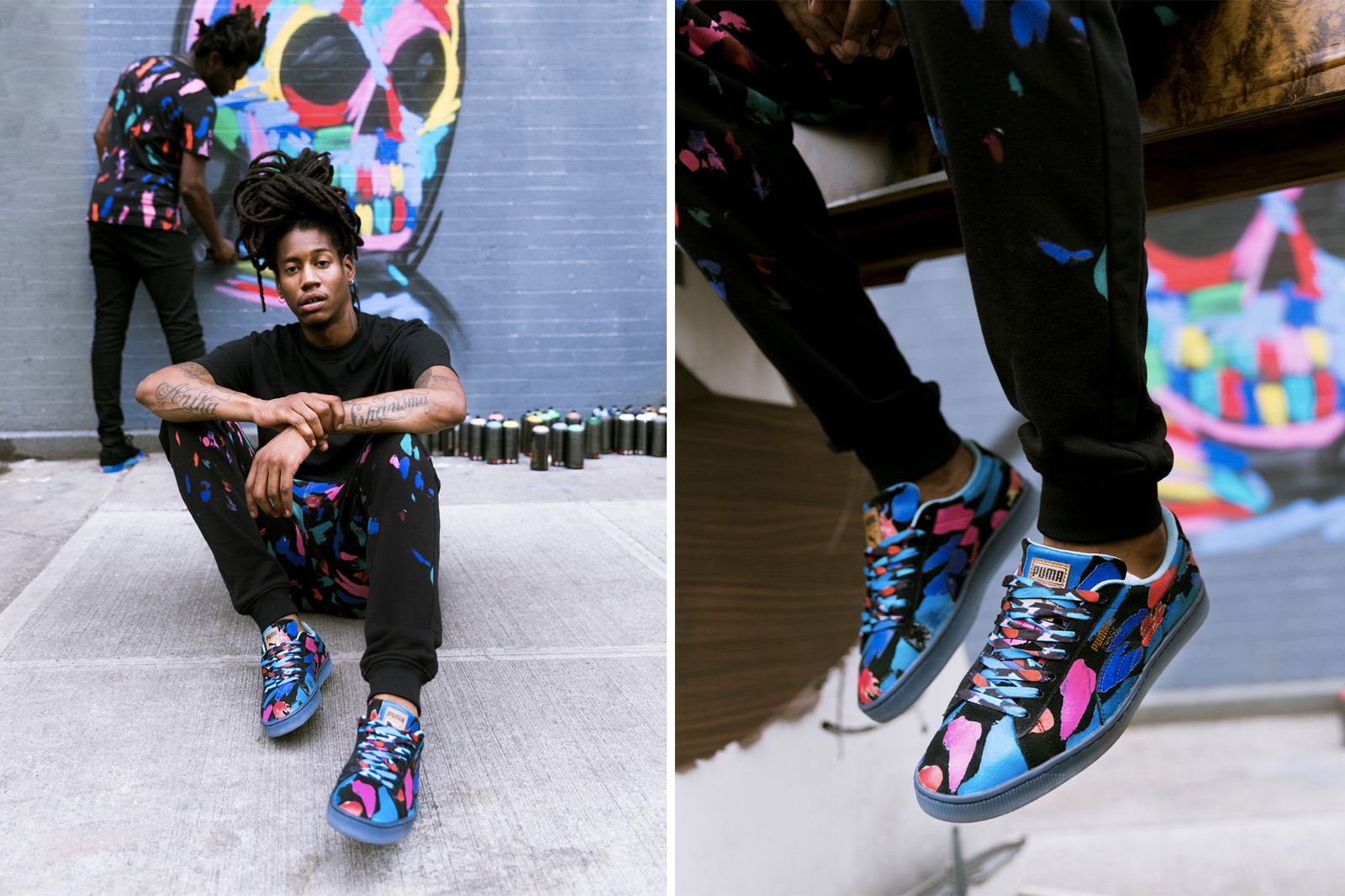 2 of 3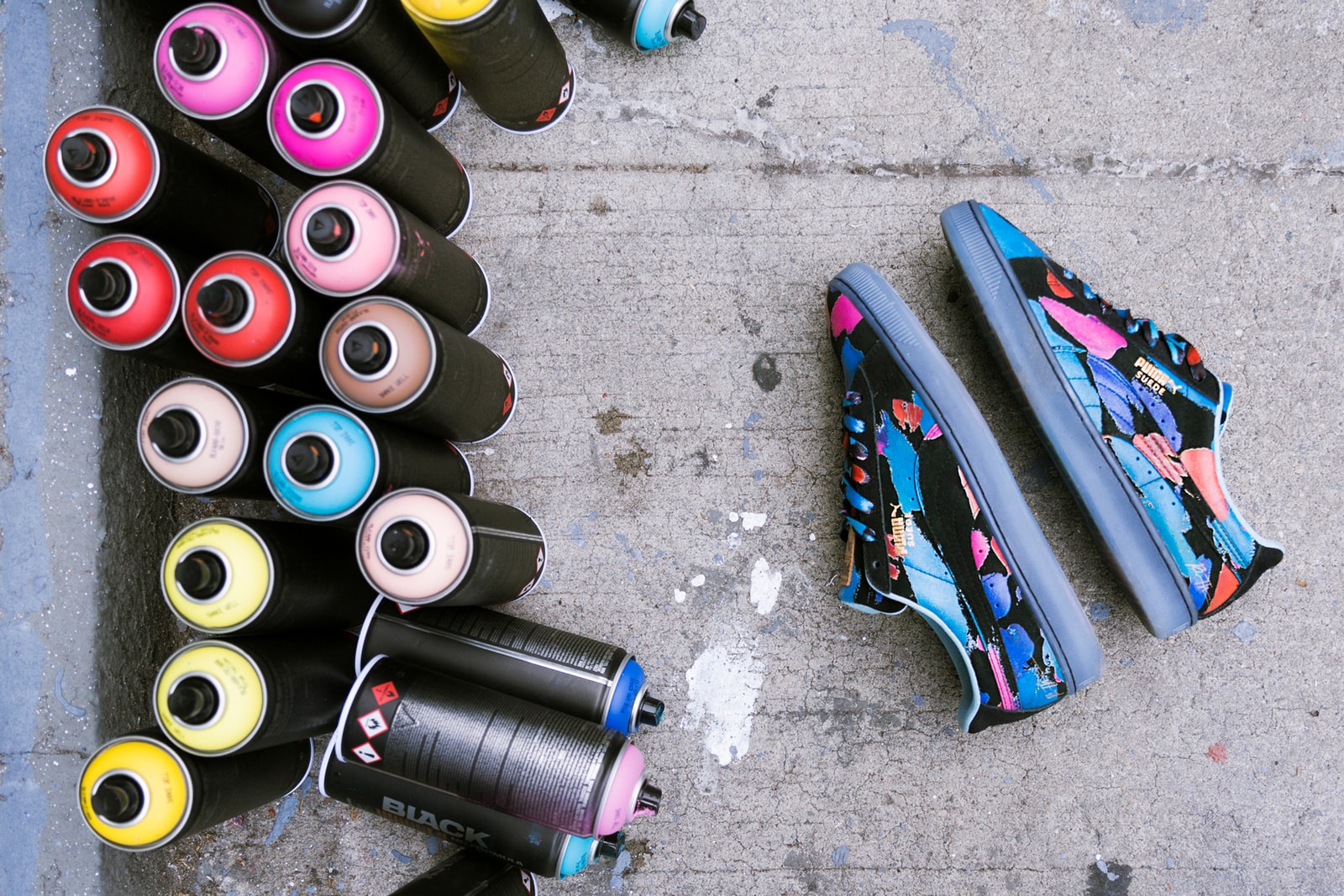 3 of 3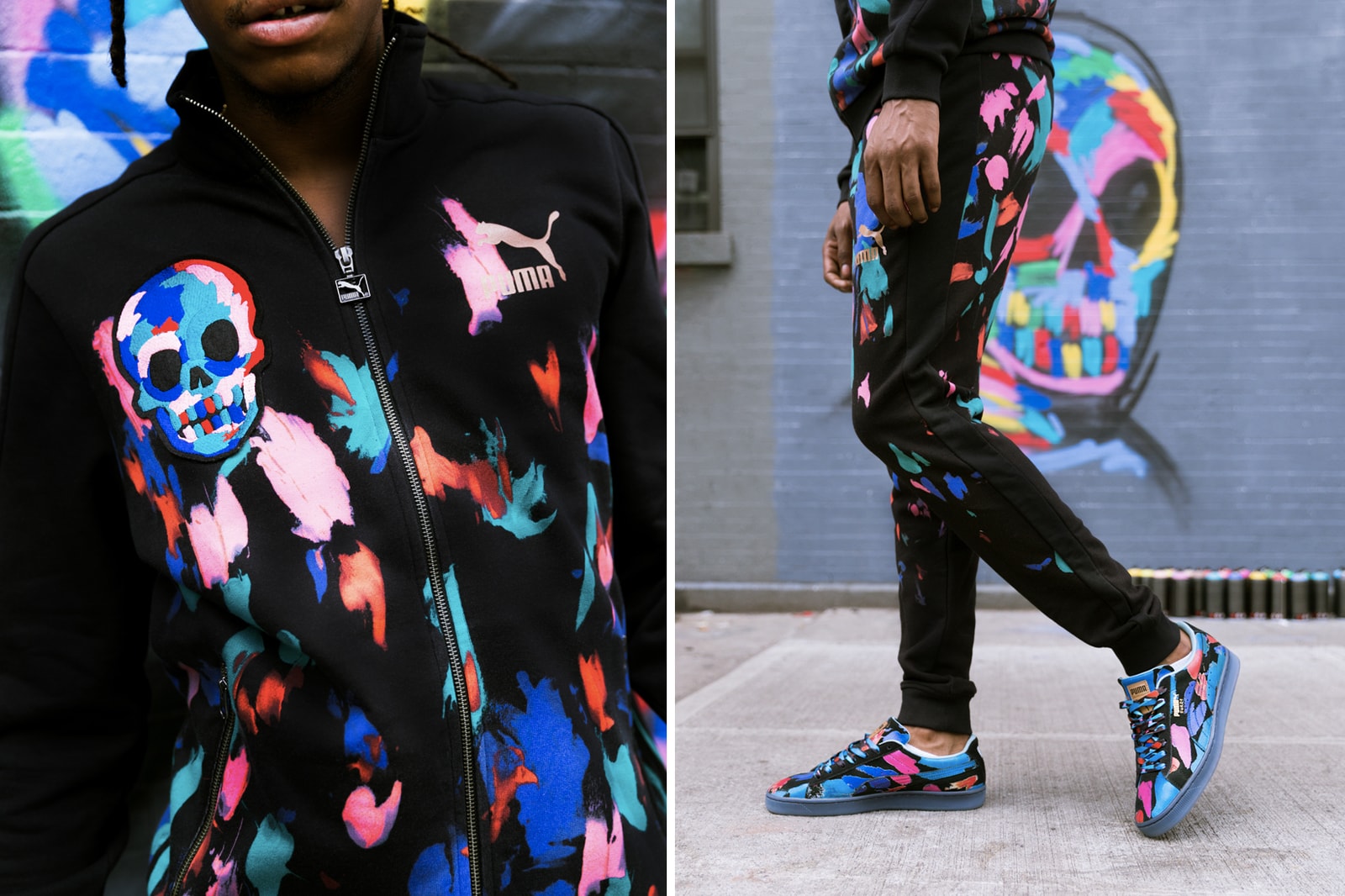 New York plays a role in your development as an artist. Why reference your state of residence throughout the collection?
I think New York is the testing ground for all artists –- it makes you, breaks you and puts you back together. So I like to celebrate the fact that I'm still here, and in one piece!
Your work is typically static, but when you bring your medium to clothing and shoes your work becomes dynamic. How does this change the essence/perspective of your art?
I don't think it changes the essence. My work has always involved fashion, so in a way, this collaboration feels like my work is coming full circle. One of the great things about this collaboration is the way it honors the tradition of artists and fashion brands, championed by the likes of Andy Warhol and Keith Haring in the '80s.
My inspiration for this collaboration came from the act of painting itself.
How did you balance your own creative identity while maintaining the DNA of PUMA?
I think PUMA's DNA is that of the streets and the rebel. Its style feels like there's never a question of "How?" You just "do." We're similar in that way, so it was less of a balance and more of a synergy.
With your upcoming release, what can people expect?
Lots of colors, in a sophisticated way. Each piece can be worn either by itself or all together, and still look hot.
---
Scroll through the images highlighting the collaboration above, and to shop the collection, head over to PUMA's website.