Why Trek Gear Is Normcore's Second Coming
Cagoules, anoraks, parkas and more.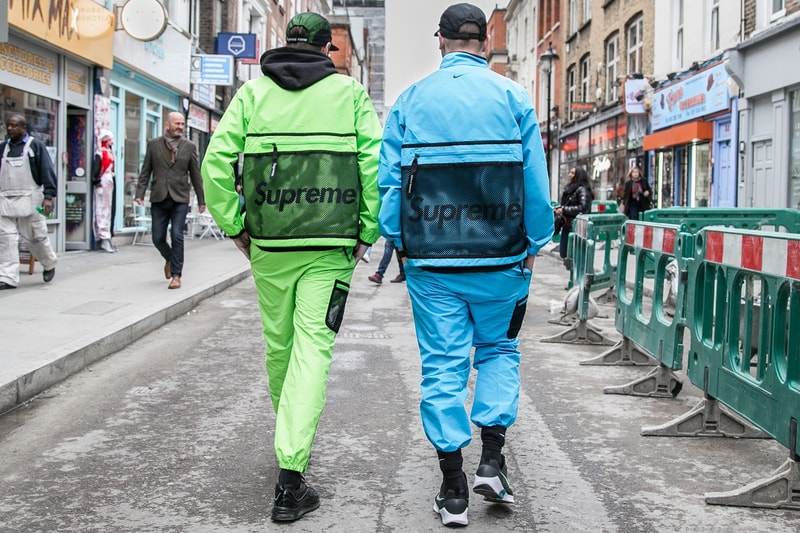 Like normcore before it, athleisure's moment on the runway ran a lengthy course until fashion's fickle tastes shifted to "the next big thing." Both styles were quickly adopted and subsequently ditched by fashion-forward consumers as fast-fashion and mainstream awareness caught on — however, despite athleisure's fleeting relevance, logo-heavy sportswear remains a popular staple, reaffirming the industry's penchant for high-low aesthetics.
This year marked a revival of sorts in normcore, channeled by brands like Vetements, Gucci and Off-White™ through self-aware collections, utilizing parody and out-of-fashion design touchstones to once again cull together an almost unintentionally fashionable look. The so-uncool-it's-cool-again trend initially returned in the form of oversized button-up shirts, quarter-zip pullovers and plenty of chunky sneakers.
These brands implemented a progressive step in functional fashion that took the style down different avenues; while normcore sought inspiration from the people of Walmart, this new trend was influenced by hikers and outdoorsmen. Passé designs and relaxed silhouettes were introduced to practical accessories like the trail sneaker and fanny pack — now worn across the body. The unstylish clothing of normcore thus became informed by the staples of outdoor apparel, giving birth to a new wave of outdoor-ready trek gear. Gone were the T-shirts with beer brand logos and stonewashed jeans and in their place were sweat-wicking track pants and multi-pocketed gilets. Still, this didn't happen simply because of some incendiary runway styling, the trend couldn't gain steam without an inexpensive, accessible buy-in — enter trail sneakers.
The unstylish clothing of normcore thus became informed by the staples of outdoor apparel, giving birth to a new wave of outdoor-ready trek gear.
The trail runner fad picked up later in the year after collaborations like White Mountaineering x adidas and 11 by BBS x Salomon displayed rugged runners in their Fall/Winter 2017 collections and eventually exploded when Supreme reworked Nike's functional Humara silhouette. Perhaps triggered by the high fashion clunky sneaker trend, the trail runner craze centers around attainable, workaday alternatives to pricey designer sneakers, resulting in runners from typically unfashionable labels like Hoka One One and Brooks appearing on the feet of fashion cognoscenti.
Though trail shoes were the first clear signifier that changes were brewing, weather-fighting outerwear also picked up steam. Brands ranging from GmbH to Golf Wang introduced their own heavy-duty outerwear while Opening Ceremony and Martine Rose offered their takes on stalwart labels Columbia and Napapijri, respectively. Typically uncool gear like puffer jackets, fleece layers, and comfortable sneakers began to appear on the backs of influencers and on store shelves, as Vetements' self-aware styling trickled down into mainstream consciousness. Despite Balenciaga's prophetic normcore parkas from its Fall/Winter 2017 collection, one of the earliest collections to tap outdoor apparel came by way of Miuccia Prada.
Its influence on the following year's designs are debatable, but Prada Spring/Summer 2017 was objectively the year's first notable runway show with nods to trek gear. The show made waves by emphasizing oft-unfashionable elements of outdoor clothing: parkas with internal straps for easy carry, buckled raincoats, taped-seam jackets and backpacks with waist fasteners, all in bright colors and doctor's-office-wallpaper patterns. Tourist clothing inspired the airport-friendly slide sandals and functional accessories like carabiner-bearing necklaces, bush hats, and even a metal canteen. Though the collection's inspiration came from travel, it was the utilitarian nature of the designs that lead to the ensuing trend.
Prada Spring/Summer 2017 was objectively the year's first notable runway show with nods to trek gear.
The outdoor apparel trend reached even greater heights during the Spring/Summer 2018 fashion week circuit; collections by the likes of Louis Vuitton, Off-White™, Lanvin, Christopher Raeburn and Balenciaga included boldly-colored cagoules, anoraks, and parkas that featured gratuitous zippers and elasticated closures. Labels ranging from Calvin Klein to Boss introduced outerwear outfitted with oversized pulls, while Martine Rose and Patrik Ervell provided original takes on sporty parkas and track-wear. Raf Simons dedicated his entire collection — from umbrellas to sacoche bags — to rainwear, a motif also tapped by Heron Preston and sacai. Outdoor clothing even informed small details like hi-vis paneling and climbing-inspired pants in Vetements and Stella McCartney's Spring/Summer 2018 collections. As fresh as it felt for outdoor gear to return to the runway, the trend has been a cornerstone of streetwear style for years.
Brands like Patagonia, Canada Goose, and Moncler have enjoyed continued support from the same youthful fans who mix and match military surplus fishtail coats with vintage Tommy Hilfiger windbreakers. But among this group, outdoor clothing has always been in style, with labels like Stone Island, BAPE and Supreme creating their own iterations of outdoor outerwear; one could even argue that the latter's ongoing collaborations with Stone Island and The North Face have fostered trendy appeal for the labels, turning them into wardrobe staples for a wide swath of stylish consumers thanks to the streetwear giant's cosign.
The beauty of the movement is that those who don't aspire to purchase the designer interpretations can still partake.
Japanese labels have long toyed with outdoor clothing; labels like Descente ALLTERRAIN and Mountain Research blend understated style with functional details, while other labels like ALDIES and Nasngwam infuse progressive silhouettes with off-kilter patterns and colors. Outdoor clothing is such a cornerstone of Japanese casualwear, that a magazine christened GO OUT exclusively covers fashion and gear for adventures. Meanwhile, Japanese designer collaborations have made a bigger splash among the fashion set in the West; Junya Watanabe and The North Face's 2017 fall/winter collaboration reworked duffel bags into coats and stadium jackets, while fellow COMME des GARÇONS alum Chitose Abe took a more low-key approach. Her sacai imprint collaborated with The North Face on new takes of recognizable silhouettes, focusing on technical performance and innovative fabrics instead of forward-thinking silhouettes.
Although the trek gear trend is centered around designer interpretations of outdoor staples, part of its lasting appeal in the streetwear community is arguably how accessible the core brands are; basic shells from Patagonia aren't hard to find or prohibitively expensive — your local thrift shop is likely a variety of them at bargain prices. Dedicated fans looking to take the next step may opt for progressive options by the likes of 11 by Boris Bidjan Saberi or Stone Island, or heritage items from Japanese labels like and wander and NANAMICA before moving onto the runway interpretations. The beauty of the movement is that those who don't aspire to purchase the designer interpretations can still partake — even when fashion designers mine the trend dry, classic shell jackets and pullover anoraks will remain an inclimate weather staple.