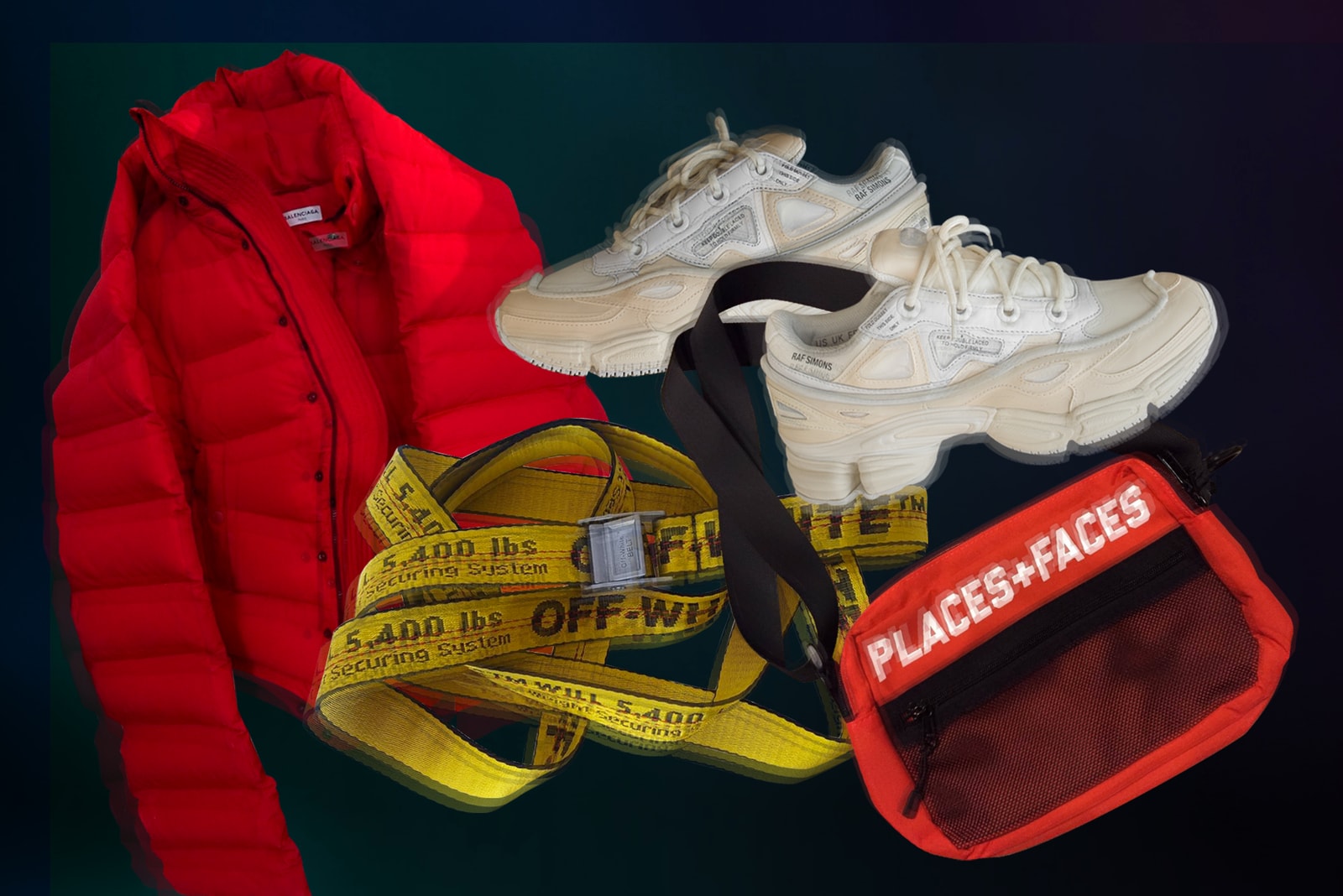 Top 10 Fashion Trends 2017
The height of social media is a landmark for the way we not only communicate but consume fashion. As the cultural conversation becomes increasingly dictated by global digital transmission, dismantled regional barriers have produced an ever-flowing cycle of sartorial fads. Other forms of media may still be influential vessels in translating runway trends across various markets, but it's the way these fads are interpreted and how frequently they're captured on the street that makes them influential. Here are 10 of 2017's biggest trends, in no particular order.
01
CLUNKY SNEAKERS
With sneakers still staking their spot as consumers' primary footwear choice, this year's most popular silhouette took design cues from an unlikely source – your dad. While brands like Nike, adidas and New Balance aren't new to the clunky sneaker game, the runway, on the other hand, debuted a gamut of #dadcore wonders all throughout the fashion week circuit. From Balenciaga's mega-hyped Triple-S kicks, Kanye's monstrous YEEZY BOOST 700 "Wave Runner," Acne's "Sofiane" sneaker, Gucci's "Rhyton" shoe and Vetements's various Reebok collaborations, 2017 was when footwear got big, bold and gloriously ugly.
02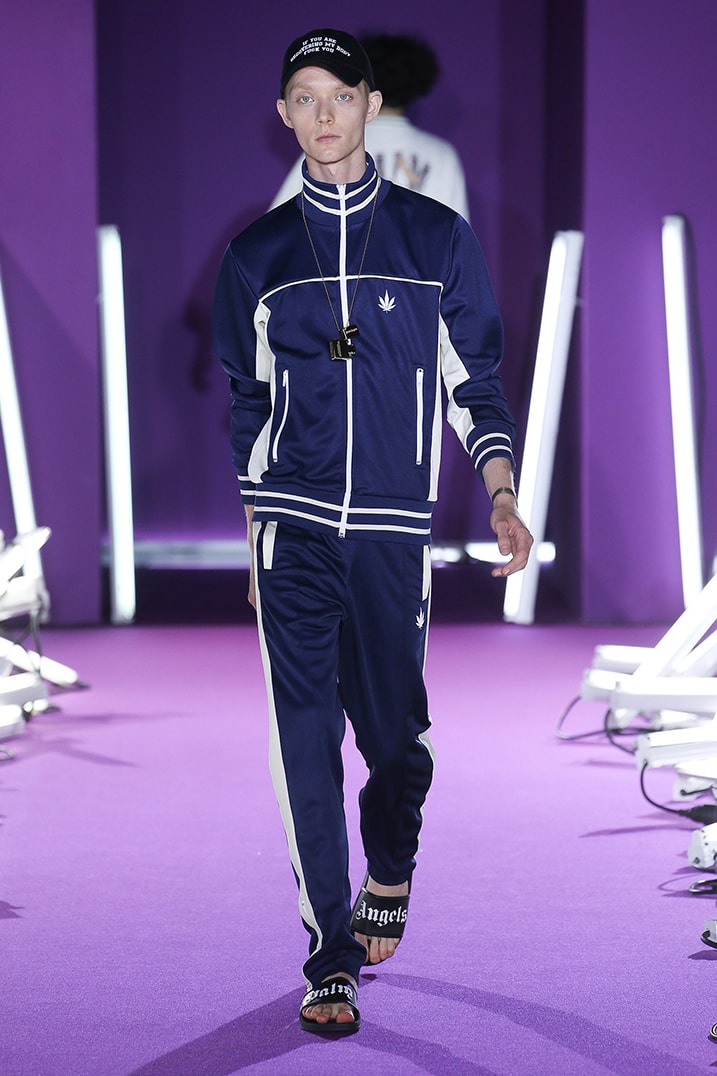 SIDE-STRIPE PANTS
SIDE-STRIPE PANTS
Pants are rarely the most exciting piece to a fit, but the style set made an accessible statement with them this year by way of side-stripes. Of course, track pants by the likes of adidas, Needles, Vetements x Champion and Palm Angels were the biggest side-stripe stars of 2017, but sporty, tuxedo-inspired versions by designers such as Gucci, Alexander McQueen, Neil Barrett and Calvin Klein also swirled around the blogosphere and social media. Whether worn fitted or wide-legged (and almost always paired with sneakers), the popularity of side-stripe pants asserted fashion's obsession with high-low aesthetics and added a much-needed dynamic energy to the bottoms category.
03
BUSINESS CASUAL 2.0
Suiting is, and probably always will be, an essential part of menswear (or #menswear, if you can recall the small but influential Internet movement from over a decade ago). However, as streetwear raised through the ranks in the fashion echelon and became a defining part of the contemporary style zeitgeist, polished tailoring and heritage footwear waned in relevance for trendsetters and fashion media outlets. This year saw a return of suit-y staples both on the runway (notably Balenciaga, Vetements, Gosha Rubchinskiy, MISBHV and Prada) and Instagram, yet the resurgence served more as a satirical reimagining of corporate clothing as opposed to a glamorization of it. Swathed in a color palette of conference room blues, reds, beiges and grays, "business casual 2.0" looks were defined by shoulder-padded blazers, slouchy dress pants and ill-fitted oxford shirts and often styled with clunky sneakers (see above), hoodies or squinty Matrix-style sunglasses. Looks like "normcore" never really left after all.
04
PUFFER COATS
Though puffer coats have been dipping in and out of the style sphere for a few seasons now, their prominence reached new heights in 2017. Famously boasted in Raf Simons and Balenciaga's Fall/Winter 2016 collections, where they were inflated to Michelin Man proportions, puffers soon became a key outerwear piece for high fashion and streetwear labels alike. Coats by Vetements, Supreme, Palace, The North Face, Stone Island, Moncler and ALYX made considerable commotion on the street style circuit, and as fast fashion giants like Urban Outfitters, Zara and H&M continue to churn out trendy puffers en masse (a sign that they've officially gone mainstream), it doesn't look like they'll be going away anytime soon.
05
SIDE BAGS
Fanny packs, bum bags, waist bags — to avoid geographic vernacular discrepancies, we're deeming this trendy accessory a "side bag." Though they've been trending in Europe and Australia for years, the lightweight, pragmatic pouch hasn't been able to shake off its affiliation with American middle-aged tourists until recently. The luxury sector hinted the trend a few years back during the Spring/Summer 2016 men's fashion week circuit, but this year turned side bags into ultra-hyped commodities thanks to Gucci, Balenciaga and, of course, Supreme x Louis Vuitton. This newfound acceptance of the bags also welcomed an unorthodox method of wearing them — across the shoulder in this case, hence "side bags."
06
MODERNIZED WORKWEAR
MODERNIZED WORKWEAR
There's always been a niche for heritage workwear in men's fashion, but this year saw a significant influx of modernized blue collar clothing and accessories. From industrial belts and bombers to hi-vis safety vests and carpenter pants, contemporary labels like Off-White™, Heron Preston, YEEZY, Richardson, ALYX, Heliot Emil, GEO, A-COLD-WALL*, Peels NYC and Landlord all took jabs at workwear chic by melding together traditional utilitarian silhouettes with contemporary streetwear designs. High fashion houses such as Vetements and Junya Watanabe also played a part in making workwear a luxury commodity via their extensive collaborations with legacy brands such as Alpha Industries, Carhartt, Levi's and Dr. Martens.
07
LOGOMANIA
Just when we thought minimalism had officially replaced bold graphics and logos for the longterm, the return of flashy branding came at full effect this year. Thanks to the massive popularity of Gucci's "bootleg" T-shirt and logo socks, Gosha Rubchinskiy's throwback sportswear collaborations with Kappa, FILA and Sergio Tacchini, Vetements's Champion and Reebok-collaborated tracksuits, Balenciaga's various logo-emblazoned caps, hoodies and outerwear and Supreme x Louis Vuitton (which brought together the holy grail of fashion insignias), logomania was 2017's most recurrent street style trope.

08
RAVE REVIVAL
Though it might seem niche, old-school rave trends played a big influence on this year's menswear landscape. The term "rave" covers a broad span of electronic music subgenres, but gabber — an aggressive style of hardcore techno that birthed in Rotterdam during the early '90s — and its strong ties to boldly-colored sportswear and clunky sneakers (especially Air Maxes) was the most prominent, tapped by the likes of European fashion heavyweights such as Gosha Rubchinskiy, Vetements, Balenciaga, Dior and MISBHV. Sartorial touchstones popularized by rave subculture cybergoth also echoed in various sought-after pieces, including Vetements's biohazard puffer, Gosha's RETROSUPERFUTURE collaboration, Heron Preston fall/winter black leather trench coat and flame skull graphic long-sleeve, and ALYX's fetishistic belts, harnesses and wallet chains. Not to mention, A$AP Mob, Virgil Abloh and Midnight Studios's Shane Gonzales launched an event and T-shirt collaboration dubbed "Midnight Rave" a few months ago, which culled references from Los Angeles warehouse rave parties.
09
SOCCER SCARVES
SOCCER SCARVES
Thanks to the popularity of throwback sportswear by way of Eastern European designers like Gosha Rubchinskiy and Demna Gvasalia (and Drake of course), soccer clothing has been a fixation among fashionistos and streetwear aficionados as of late. Though track pants, which have been trending for a while, and soccer jerseys dipped in and out of street style recaps all throughout this year's fashion month circuit, soccer fan-style scarves made one of the heftiest appearances. Between Gosha's numerous adidas Football-collaborated scarves, Balenciaga's oversized logo iterations, Vetements's emoticon neckwear and Y/Project's royal graphics pieces, the statement winter accessory's vivid colors and bold branding is a further testament to 2017's maximalist fad.
10
OFF-KILTER STYLING
The massive popularity in oversized clothing has prompted some head-scratching styling trends this year. You've probably noticed a rotation of hoodies dangling from necks, jackets worn off the shoulder, button-up shirts half-tucked in and sweaters tied across torsos in street style recaps, lookbooks and Instagram feeds, asserting that the proper way to wear clothes in 2017 was improper. In fact, Balenciaga, the biggest offender in unorthodox fashion antics, even created a series of jackets that were designed to be worn off-shoulder.