How Trail Runners Became This Season's Favorite Silhouette
From rave culture to Supreme collaborations.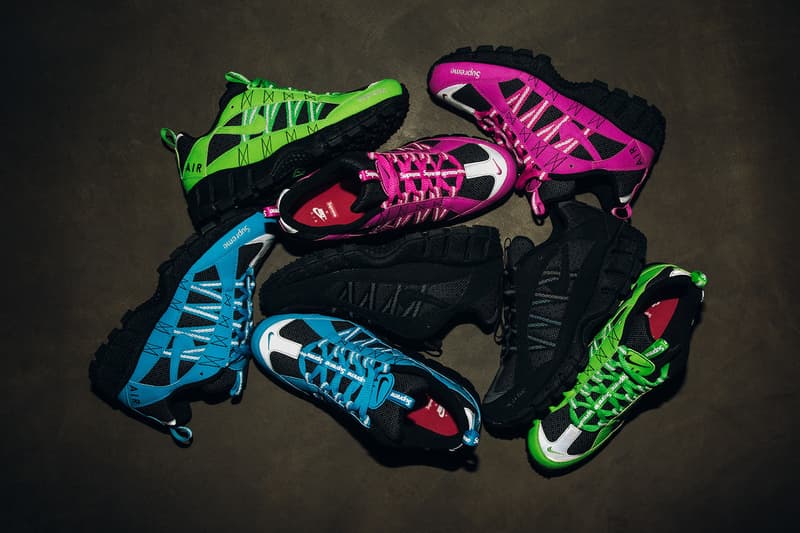 When Supreme announced this season's Nike collaboration, the New York-based brand continued its trend of working with more under-the-radar sneakers. Previous releases such as the Air Force 2 and the Air More Uptempo had been cult shoes, loved by a small but devoted following, that were then catapulted back into the mainstream by a Supreme cosign. For Fall/Winter 2017, the label did the same: releasing four different colorways of the Air Humara, a relatively obscure trail sneaker that made its debut in 1998.
Supreme isn't the only brand to have worked with the uber-technical trail running silhouette, however. This season has also seen Patta and ASICS work together on the latter's GEL-Mai silhouette, while the latest White Mountaineering x adidas collaboration also included trail running styles and Pharrell's ongoing adidas project expanded to the NMD Hu Trail.
In some ways, the sneakers are part of the much-documented focus on chunkier footwear, which has taken in everyone from New Balance to Balenciaga. "Trail shoes naturally have this look anyway," explains John Stewart, adidas Running's Director of Merchandising, "so they become a little more acceptable to a fashion lens."
When Stewart describes what makes a good trail runner, he points to things like "different levels of grip," "a rugged outsole," and "durability" — all of which could be used to describe many of the so-called "dad" sneakers. This link is also highlighted by Alex Powis, editor of CREPE CITY magazine, who points to another popular sneaker "Raf [Simons]'s take on the Ozweego has a certain trail vibe to it, with its overly pronounced sole unit."
Another reason for the style's popularity according to Stewart is the current trend for styles associated with the 1990s, when "a lot of those silhouettes followed this aesthetic." In the '90s, technical footwear took on a subcultural importance far beyond its original purpose. The FILA Trailblazer, for example, was originally intended as a hiking and trekking shoe before it became intimately tied to the UK raving scene.
"It was all about being different back in the day."
The cultural importance of these shoes isn't confined to raving, either. Speaking about the ASICS collaboration, Patta's Tim Sabajo explains how the brand had always wanted to work with this kind of sneaker: "For us it's a memory thing," he expands, "back in the day when almost everybody was rocking runners you wanted something else, and that's what the trail/cross trainer is. That type of shoe is more of a style thing, it was all about being different back in the day, styling on fools and giving them neck injuries by walking with heat they never saw before."
Although they have an overly technical look, trail sneakers are in many ways a retro sneaker with their cultural legacy and an aesthetic that can be seen as chunky and old-fashioned. "It's a push-back against the more recent obsession with 'future' in sneakers," says Powis of the style's popularity. "When things get predictable, the more adventurous people often search for areas in style where the masses are too afraid to go, making that area an expressive safe space. These spaces are often deemed as ugly, and more often than not, that's the allure for those who go there first."
Trail runners have also been seen as a gateway to other more experimental forms of footwear — something which could explain the style's popularity. As Powis points out, trail runners are obviously more conceptual than most other commonly-seen sneakers. "The trail runner is definitely the easiest tech shoe to incorporate into your everyday wardrobe," explains Lee Goldup, menswear buyer at Browns. "This style of sneaker looks the most belligerent – they've got an aggressive quality to them, which is key to this trend. The silhouette is similar to a lot of existing sneakers from the likes of Nike and adidas, but has an extra edge, so it's perfect for the man who wants something just a bit different."
For Goldup, what separates the trail runner trend this time around is the way that people are wearing the shoes. "You can wear these on a trail run along with all your other performance wear," he says, "but they also look great worn with a pair of Gucci trackpants and a Mackintosh 001 coat. Pairing technical footwear from the likes of Saloman and Hoka with high fashion is definitely a newer trend that's very noticeable," he says, "and that feels very of the moment."
"This style of sneaker looks the most belligerent – they've got an aggressive quality to them."
As for where this trend goes next, Goldup points to a range of brands to watch such as the Saloman S/Lab Black range ("one of the best technical footwear styles out there), Hoka One One and Alyx collaborator Roa. Powis also suggests that one-to-watch is Jon Tang's FRONTEER label, which he says has "been very influential in predicting this trend early and pushing it into existence."
There's a more general point for Powis, though, about how the second coming of the trail runner will develop. "You have to remember that this is very much a thing from an older generation," he explains. "They know the history, because they were the ones who reappropriated these silhouettes the first time round. What's about to happen is the younger generation getting their turn to play with it."