Here's How NYFW Attendees Wore Color This Season
Red, orange, blue, khaki and your always classic city-slick black.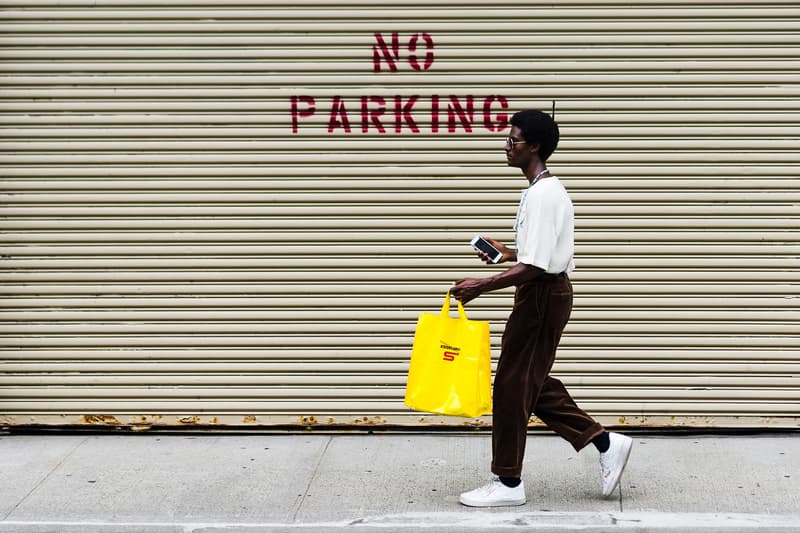 New York Fashion Week: Men's is shifting the landscape of fashion — quite literally in the sense that it's putting into effect plans to "decentralize" the gathering's primary show location. But it's also been changing the direction of menswear in terms of genre. Among the chief Fashion Week cities (including London, Paris and Milan), New York has been, and still is, the largest proponent of embracing new designers, especially those from the streetwear category. This season of NYFWM was particularly pivotal for menswear's evolution, as it saw the CFDA give a dedicated stage to young streetwear-centric labels — such as Feng Chen Wang, Head of State and LANDLORD – alongside menswear heavy weights, such as Raf Simons and BOSS by Hugo Boss.
This diversity and democratization of fashion was also reflected on the streets, where industry insiders showed their ability to mix high with low, and demonstrated their preference to err on the side of casual. And though the "streetwear meets high-fashion" observation is far from anything new, this season saw a more committed recalibration of proportion, where streetwear brands seemed to play a bigger role than luxury labels, and the hybrid approach to fashion was cemented from a trend into a new standard.
We selected a few standout fits from this week's motley array and arranged them into color combos and pattern categories. The offering below ranges from the classic New York black uniform to the complementary blue and orange color scheme; the intensely confident reds to the casually cool khakis; the timelessly versatile stripes to the assertively distinct all-over prints.
City-Black Uniforms
A classic look is without doubt the all-black uniform. This outfit is not only easy to put together and wear throughout the day, but is also striking and low-key at the same time. To give more dimension to the colorless look, mix different materials and textures. In this case, a silk button down is worn with some simple black trousers and rounded out with a pair of polished leather boots. A dad cap with white graphics, a black leather belt with a silver buckle and a silver chain add some contrast to the overall look.
Though not quite all-black due to the loud camo-print cargo pants, and definitely not low-key, this outfit was still composed around the black color theme. Here, an industrial bike chain lock is worn, ironically or not, around the neck like a necklace, tying together the black and white theme of the pants. A Supreme cross body bag and an 032c T-shirt signal allegiance to streetwear imprints, while a black bandana and black sunglasses round out the monochrome outfit.
A classic black kung-fu jacket with a subtle graphic print that comes through via a sateen finish is worn over an essential white Tee and black jeans outfit. It's a different take on the classic black leather biker jacket/white shirt/black denim combination, that is also more lightweight for the warmer months.
Blue & Orange
Although orange has experienced some crazy hype thanks to certain streetwear labels, orange and blue, as a color combo, has played a consistently critical role in our visual and pop culture history. Some iconic examples include Van Gogh's Starry Night painting, the Americana symbol of orange stitching on blue denim, and the cinematic blue and orange color scheme that has defined the standard Hollywood film aesthetic. In an interesting full-circle kind of way, Heron Preston's signature graphic, as seen on this white tee, throwsback to classic art history through a modern streetwear perspective, implementing the orange and blue combo for an eye-catching graphic relevant to today's trends. The rest of this outfit maintains a clean canvas of white and beige, with some clean hits of black on the pants and Vans.
Blue and orange make a striking silk button down shirt from Necessity Sense's forthcoming Spring/Summer 2018 collection. The rest of the outfit consists of solid black via the pants, patent leather shoes and dad cap, framing the focal piece of the outfit so that the saturated hues speak for themselves. The luxurious silk material upgrades the otherwise casual outfit and gives more dimension to the pale blue.
A washed indigo button down from Moschino, slightly oversized in fit and tucked casually for a modern look, is paired with a vintage Louis Vuitton cross body bag. The aged leather on the bag creates a natural orange hue that is easy on the eyes against the pale blue of the shirt. The signature LV monogram print also creates a nice dialogue with the large Moschino graphics on the shirt, for an old-school version of bold branding.
Red
Red is such a commanding color that it only takes one red garment to make a bold statement. This look, however, goes all-out with a double-dose of red that sees a mechanic shirt paired with velvet corduroy drawstring shorts for a diversity of texture and tones. To keep the color theme clean and focused, the accessories and footwear stay within the black & white palette. In this case, white frame sun glasses, striped socks and classic Vans Sk8-Hi sneakers keep with the retro theme and add to the contrasting textures and patterns of the outfit.
Unlike the previous example, this outfit sees a concentrated use of red that is equally bold thanks to the striking Supreme graphics. The composition is interesting because the Supreme x Nike Uptempo sneakers completely contradict the rest of the outfit, which goes with a traditional menswear theme in its navy trousers and Glen plaid blazer. Adding to the old-meets-young outfit, the classic New York plastic bag motif appears via the Chinatown Market tote bag for an added element of NYC culture and bold branding.
Maroon is a less vivid and more sophisticated hue of red that is easier to wear because it pairs well with neutrals. In this look, the maroon silk shirt/robe from Maison Mihara Yasuhiro (previously MIHARAYASUHIRO) Spring/Summer 2017 is the focal point of outfit. The garment's elongated and flowy silk material acts as the canvas for contrasting white graphics and embroidery. Black pants and white low-top sneakers echo the black and white details of the maroon garment for a balanced and clean look.
Khakis & Workwear
The workwear-inspired army green/khaki and navy scheme is another classic color theme for the warmer seasons. The outfit on the left has a more worn-in look, with a washed-out finish on the dark gray work shirt, some bleached discoloration on the olive green trousers, and naturally aged brown leather shoes. The outfit on the right is a more polished take, with a crisp olive green Kimono-inspired coat, matching olive green pleated trousers, a clean white on blue button down, and a pair of patent black leather shoes.
Navy and grey is another utilitarian color combo that makes for a casual, neutral outfit. In this instance, work shirts in navy blue and light grey are worn half-buttoned and with their sleeves rolled up for a lived-in look aesthetic. The piece on the left features sew-on patches for a bolder graphic effect, while the look on the right keeps with a laid-back monochrome look. Black trousers or raw denim jeans, and simple, worn-in sneakers complete the workwear-inspired look.
In this look, an army green workwear coverall is worn with the top rolled down and paired with a white graphic tee that boasts a graffiti style portrait print. The loose fit of the pants and the layered effect of the rolled down sleeves create a modern silhouette, while the bold graphic shirt brings in a retro '90s elements. Finally, a pair of classic Air Jordan 1s in the "Chicago" colorway round out this signature streetwear outfit.
Stripes
Maybe it's the background's yellow bumpers and metal gates paired with the outfits' yellow accents and Breton stripes that makes this photo come together, but these two looks encapsulate real everyday NYC style, regardless of the Fashion Week context. A dad cap, a canvas tote bag, a cozy tee, some loose fitting black or white pants and some worn-in sneakers — in this case, classic Converse high-tops and super rare vintage Nike Waffle Trainer LD-1000s from the '70s — make for a simple, versatile and unfussy look suitable for any city environment.
Here, a black/white striped button down is worn with a black/grey striped pair of drawstring pants for a subtle twist on a casual, neutral-toned outfit. A long white coat that sees elements of a trucker jacket at the breast pocket and a pair of white tennis sneakers frame the outfit and give it a summer-friendly look. A pair of yellow-tinted sunglasses add a subtle dose of warmth to the monochrome look. It seems that yellow is the consistent accent color of choice for black and white outfits. Perhaps it's the subconscious influence of the cityscape's black & white zebra walks and yellow cabs/traffic lights.
Stripes play a subtle part in this clean outfit by way of faint grey lines on the black trousers, giving the high contrast black and white outfit some subtle textural contrast. A loose fitting white linen Oxford shirt is a summer staple that can be worn with almost anything. A bold neon yellow OFF-WHITE Industrial belt is one of this season's most trendy accessories, and when paired with a black Prada cross body bag, makes for a trend-conscious street-meet-high-fashion combination. Finally, a pair of Nike Cortez sneakers in the OG colorway keeps with the overall black and white theme, adding a few hits of primary color with the red and blue accents at the Swoosh and midsole.
Prints
Venturing into the more high-fashion side of menswear, these two outfits combine traditional garment elements — the panama hat and the kimono-style robe — with modern tailoring and accessories. The outfit on the left keeps to a clean black and white theme, while the look on the right features a lightweight black robe covered in colorful embroidered designs that create a delicate all-over print.
In this streetsnap, the summer staple floral shirt sees two traditional Asian-inspired prints and some safari-inspired styling. Animal motifs have been especially relevant this season, as emphasized by Gucci's latest collection themes and designs. For both of these outfits, the floral shirt is worn with light neutrals– in this case, beige or white– to keep the attention on the intricate pattern.
To end on a more interesting note, this head-to-toe print outfit from Mexican designer Ricardo Seco features a '70s inspired color palette and design. Yellow-tinted aviator sunglasses, bright purple socks and black leather slip-on loafers add some saturation to the darker hues while sticking with the overall vintage retro theme.